Many parents know that walkers can be dangerous for their child, but are less aware of the other risks for development. The American Academy of Pediatrics (AAP), supported by a host of other credible organizations that address children's safety, suggests against using baby walkers. Walkers do not provide any advantage to a child's development. They do not teach infants to walk or help them walk sooner than they would without one. Babies need opportunities for pulling up, creeping, and crawling, which they can't do in a walker.
While baby walkers can seem like a great way to help your child learn to walk, they can actually slow down development. They do not teach an infant to walk, and they do not help them walk sooner than they would without one. In fact, babies who use walkers often actually have delays in motor skill development, because they are not able to get the practice they need pulling up on furniture, creeping, and crawling. It is also dangerous when a child uses a walker; they can sustain injuries from falling down stairs or getting burned by hot objects.
There is a lot of research that shows that walkers are not safe for babies or useful for their development. Walkers do not help babies learn to walk any sooner than if they didn't have the support of a baby walker. Don't spend money on this feature, it's better to provide your child with opportunities for creeping, crawling, and pulling-up on safe furniture. These are the movements that will help your child develop strong core muscles to prepare them for walking.
Walkers do not help a baby learn to walk any sooner than they would without the walker. In fact, the more time a baby spends in a walker, the more delayed their ability to sit and stand may be. Using a walker can also cause your baby to develop an uneven gait when walking on his or her own. It is best to avoid using a walker
Walkers can prevent babies from pulling up, creeping and crawling. These movements build strength in the legs, arms and shoulders that babies need to learn to enjoy walking.
Baby walkers are really more of a safety hazard than a helpful development tool for your child. Babies who use walkers get less exercise and actually learn to walk later than their non-walker contemporaries.
For first-time parents, the sheer amount of gadgets available to growing babies can be overwhelming. But there's one device that experts say parents should avoid: the infant walker.
A recent study shows that even after new safety standards were issued in 2010, infant walkers are still associated with thousands of injuries to children each year.
The study shows that while injuries have decreased in the last 10 years, infant walkers are still responsible for many injuries to the head and neck — including skull fractures.
Creative Baby Woodland Activity Center$50
This baby activity center from Creative Baby is most similar in style to a traditional baby walker, except without the wheels.$50 AT WALMART$80 AT MACY'S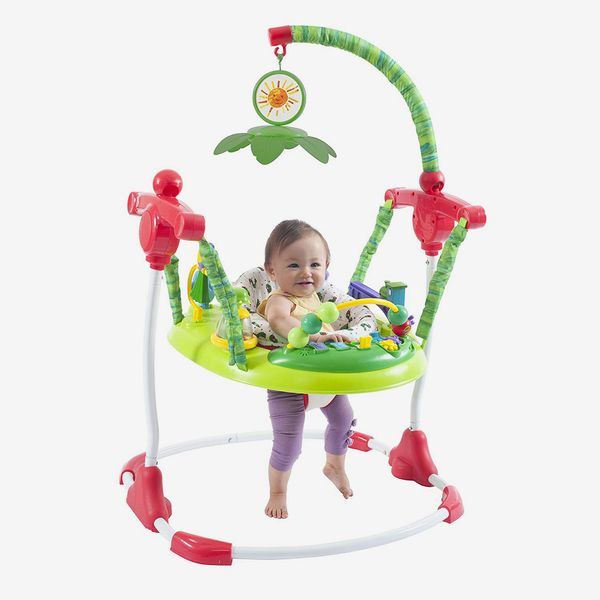 Creative Baby Eric Carle The Very Hungry Caterpillar Activity Jumper$93
It's available with the motif of The Very Hungry Caterpillar by Eric Carle, for the more literary types.$93 AT AMAZON$100 AT WALMART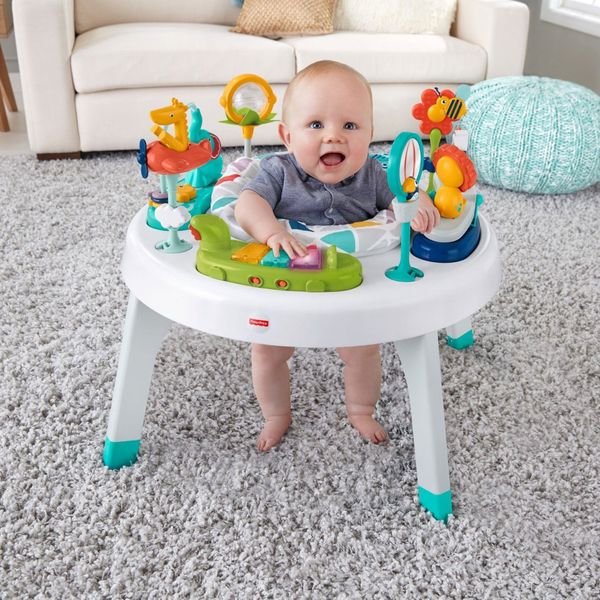 Fisher-Price 2-in-1 Sit-to-Stand Activity Center$89$100 now 11% off
The other common type of activity center, like this one from Fisher-Price, transforms from a place for a baby to sit to a toddler-sized play table once they're old enough to stand.$89 AT AMAZON$90 AT WALMART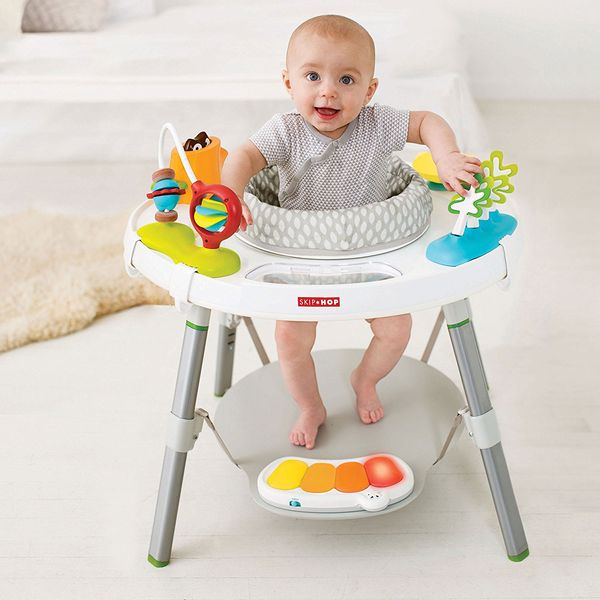 Skip Hop Explore and More Baby's View 3-Stage Activity Center$95$142 now 33% off
This activity center from Skip Hop is arguably the most luxe and customizable, since it has a foot support platform that you can perfectly adjust to your toddler's height.$95 AT AMAZON$140 AT TARGET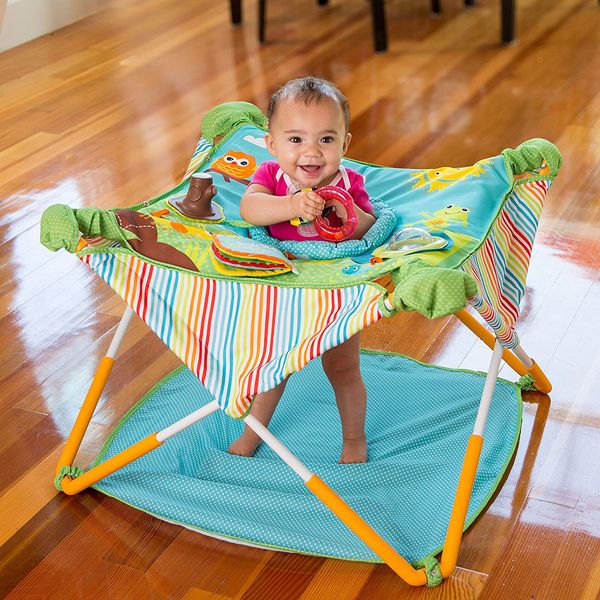 Summer Infant Pop N' Jump Portable Activity Center$54$70 now 23% off
There are also a couple of portable stationary activity centers, like this one from Summer Infant that comes with an umbrella so your child can play outdoors.$54 AT AMAZON$80 AT WALMART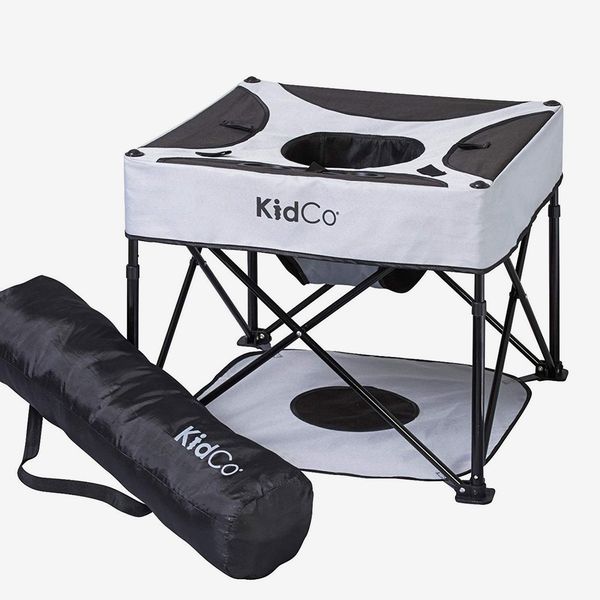 KidCo GoPod Activity Station, Midnight$64 now 6% off$60
This portable stationary activity center from KidCo is even more simple, with no toys or other bells and whistles. But it packs up small and only weighs seven pounds, so it's a great travel option.$60 AT AMAZON$55 AT TARGET
If you want to go even simpler, Dr. Hoffman recommends a pack-and-play, which does not move around. Dr. Smith also likes "good, old-fashioned belly time," during which you simply place your child on their stomach and let them bob around to help develop their muscles and coordination. "They're going to get as much out of a cardboard box as they will out of an expensive toy," says Dr. Hoffman, "so I think not overthinking it and not worrying, just being a present parent and having lots of opportunity to engage the child in play," is the best thing you can do for their development.
GET THE STRATEGIST NEWSLETTER
Actually good deals, smart shopping advice, and exclusive discounts.Email
The Strategist is designed to surface the most useful, expert recommendations for things to buy across the vast e-commerce landscape. Some of our latest conquests include the best acne treatments, rolling luggage, pillows for side sleepers, natural anxiety remedies, and bath towels. We update links when possible, but note that deals can expire and all prices are subject to change.
Every editorial product is independently selected. If you buy something through our links, New York may earn an affiliate commission.
Are Baby Walkers Bad for Development
"If you're thinking about getting an infant walker, don't," says Dr. Ben Hoffman, chair of the American Academy of Pediatrics (AAP) Council on Injury, Violence, and Poison Prevention. It turns out infant walkers — specifically those saucer-shaped ones with wheels that let babies toddle around a room before they know how to walk, not the kind toddlers can push around once they are already mobile — are rather dangerous. That's supported by a new study, published in the journal Pediatrics this month; Dr. Gary Smith, founder and director of the Center for Injury Research and Policy, of the Research Institute at Nationwide Children's Hospital, and his team looked at baby walker–related injuries across the United States and found that about 230,000 children were treated in the ER during that time period.
The biggest concern with baby walkers is falling, says Dr. Hoffman. "The most severe injuries tend to result from falls down stairs and off of desks, but there is still a significant risk even on flat surfaces, just with tip-overs," he says. Both Dr. Smith and the AAP, as an organization, are calling for a nationwide ban on the sale and manufacture of infant walkers. "The take-home message is if you've got one, get rid of it. Take the wheels off and dispose of it," Dr. Smith says, and Dr. Hoffman wholeheartedly agrees. But taking away your kid's infant walker doesn't mean you have to take away your kid's ability to bounce up and down. "Kids like that kind of motion, so something like a stationary activity center, which looks like a walker but doesn't have wheels, is a great alternative," says Dr. Smith. In a paper from 2001, the AAP also recommended stationary activity centers as a safer alternative to infant walkers, though it stopped short of endorsing specific products.
Instead, for developing infants, Dr. Smith suggests looking at the Juvenile Products Manufacturers Association (JPMA) to find stationary activity centers that meet basic government safety requirements. According to its website, "To become certified, each product is sample-tested at an independent laboratory to verify it meets the highest standards for safety, performance and functionality." We went and picked seven of the most stylish and practical, including a couple of portable stationary activity centers.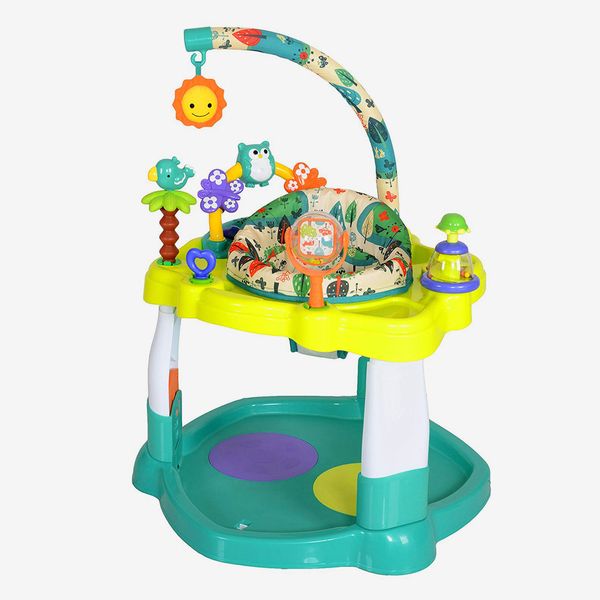 What are infant walkers?
Infant walkers, designed for use by children between the ages of five to 15 months, are circular, wheeled devices with a suspended seat in the center for your baby to sit in. The suspended seat allows your baby's feet to touch the ground and "walk" around.
And while these devices used to be must-haves for parents helping their babies learn how to walk, they have become serious safety hazards and should be avoided at all costs.
Injuries can happen in a split second
"It may seem obvious that a child could get away from you quickly and tumble down the stairs. But some of the other injuries that people don't frequently think about are from being able to reach up higher and pull things down on top of themselves — reaching for a stove or grabbing for a candle," says pediatrician Kimberly Giuliano, MD. "They can get into things that would otherwise be out of their reach."
"Children can be very fast in a walker — capable of moving several feet in a manner of seconds — even faster than a running adult," Dr. Giuliano says.
And don't even think about placing your baby in an infant walker outdoors. The ground may be flat and they may be near soft grass, but the danger of wheeling into a pool or out onto the street is very real.
Walkers don't always help children walk either
In addition to being a safety hazard, Dr. Giuliano says there's also a general misconception about the value that infant walkers provide to children.
"They can delay a child's motor development," she says. "The walking motion that you do in a walker is using muscles very differently than when you're actually walking on your own. Therefore, a child who walks in a walker may walk later than a child who's given the time to explore those muscle groups independently and figure it out themselves."
Another study conducted in 2019 further proves Dr. Giuliano's point, sharing reports of lower locomotive development test scores for babies who used baby walkers than those who did not.
Try safer alternatives
For parents who are just hoping to have five minutes to fold some laundry or get dinner on the stove, Dr. Giuliano says there are stationary play devices that are a much safer alternative. A simple solution is to safely place your baby in a high chair.
Other options include the use of a playpen or blocking off a portion of the room with baby gates. However, even when using these recommended methods, Dr. Giuliano advises parents to make sure their child is in sight at all times.
And when it comes to using any infant device, it's best to make sure the device is right for the size of the child. "As a child gets to be bigger and taller, there is the concern that they could potentially topple over a play device," Dr. Giuliano says. "A child who lunges a lot, if their waist is very close to the top of the device, there's a possibility that they could topple it over."
If you have additional questions about devices that pose a safety risk to children, ask your pediatrician or follow our guide to childproofing your home.