Baby don't sleep at night because they have no established sense of night or day, and their cycles are far shorter than 24 hours long.
Babies only begin to develop a sleep/wake cycle around two to six months of age. Before then, they have no established sense of night or day. With no internal clock and no sense of being tired because they are in light or dark surroundings, babies don't understand that night is the time to sleep and day is the time to stay awake.
Babies don't sleep like you. A baby's need for sleep is not exactly the same as an adult's. Your newborn won't stay awake for more than a couple of hours at a stretch because he has a tiny stomach that requires many feedings in a 24-hour period. As your baby grows, he can go for longer periods of time between feedings and will require fewer night feedings.
Babies don't sleep all night long because they're not developmentally ready to do so. In fact, up until three or four months of age, babies are actually biologically programmed to get up several times a night to eat.
At night, babies are very active and don't sleep as well. This is because their bodies still need a lot of good rest in infancy. When they're not sleeping soundly, they're usually waking up often, which leaves them feeling tired and cranky the next day.
We will explain why babies don't sleep, and the strategies you can use to help both of you get more sleep.
Looking down into the pushchair I saw a young baby drifting off to sleep, and then flick his eyes open. At one point one eye was open and the other was shut.
"What a lovely baby," I said. "How old is he? Your first?"
"Yes. Four weeks. But he hasn't slept through the night once since he was born. I don't know what to do – do you?"
This mother's sleeplessness explains why Google is so often asked: "Why don't babies sleep at night?" To find out the answer you need to go back to the beginning.
If you're a mother, when you conceived your baby, they brought a number of changes into your life – and theirs. For you there was a new lifestyle (healthy food, physical changes, no drinking) and a huge responsibility. For your baby, it was the beginning of a life where their only guide for nine months would be their genes and the environment in your womb.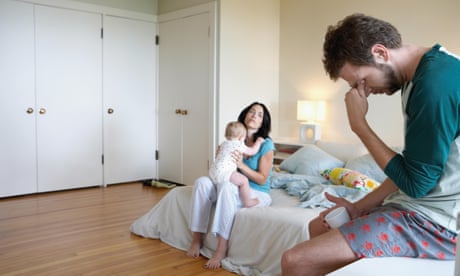 Advertisementhttps://e92b2bd78de881427f11ff7048de39db.safeframe.googlesyndication.com/safeframe/1-0-38/html/container.html
Your baby will have rapidly developed a sense of time from the rhythms in the womb, including your heart beat. They will also have had two sets of timing genes. The first set ensures they sleep, just like other animals. This very large set of genes is very robust indeed: every baby sleeps, and no disease or experience will change that. The second set of genes creates their 24-hour sense of time throughout the day, including waking and sleeping.
Genes are, of course, a bit of a lottery. Although you may have a very distinct sense of sleep and the timing that suits your day (and night), your baby's genes are a mixture of yours and your partner's. Babies are different and have different sleep patterns, so the chance that their sleep patterns will match yours is very small.
During pregnancy, your baby experienced the rhythm of night and day, sleep and wake, only through you. These messages are confused in pregnancy because your sleep patterns change for many different reasons (physical changes, baby's movements, needing to urinate more at night, tiredness and not getting enough sleep yourself). Your baby may have been soothed by the experience of you moving around during the day, and more active at night when you rarely moved. Throughout pregnancy, your good sleep will have helped your baby. We know that around the 32nd week of pregnancy, your baby sleeps too.
That's one of the reasons why sleep needs to be a high priority for every pregnant woman; another is that sleep is vital for giving birth. Although being fatigued during pregnancy is normal, women who sleep less than six hours a night, on average, have longer labours and are 4.5 times more likely to have a caesarean delivery.Advertisementhttps://e92b2bd78de881427f11ff7048de39db.safeframe.googlesyndication.com/safeframe/1-0-38/html/container.html
At birth the need to feed dominates a baby's world – and that of its parents. Feeding is hard work for a baby, and makes them tired – so they sleep, rest and recover. Then the need to feed comes again, often in a pattern of every four hours or so. Babies have no established sense of night or day, and they tend to have cycles that are far shorter than 24 hours long. This is because their timing systems for the 24-hour day are not yet fully formed at birth, and they won't function consistently until a baby is about two to six months old.
So the short answer to the question is this: babies don't sleep through the night because they can't.
At between two and six months, a baby's timing systems should develop so that their sleep has clear patterns. A very recent scientific discovery has shown that although a baby's sleep, like an adult's, is divided into a time of dreams (REM – rapid eye movement sleep), and quiet deep sleep (non-REM), a baby has far more REM sleep than an adult. It appears this is necessary to consolidate a baby's rapid learning about the world, including their understanding of night and day. And for a baby, sleep is vital for brain development in other ways too.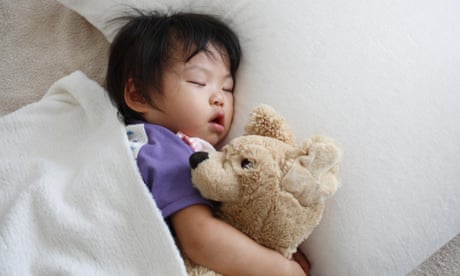 That's all very well I hear mothers (and partners) say, but what can we do to make our baby sleep at night? We're desperate. Do we let them cry or not? Does breastfeeding help? How can we make sure they are safe?
Most sleep advice for babies applies to the whole family. The difference is that babies have to learn the timing of day and night only from signals in the environment.
Sunlight is the strongest environmental signal of all. Going outside is vital for your baby (and you) in setting your internal clocks to the same time. So the darker the bedroom, the better it is for sleep. In contrast, the light-emitting screens of televisions, phones or computer devices used before sleep, or "night lights" during sleep, are not a good idea.
Night is signalled by a fall in temperature, so cooler bedrooms are better. It is important to establish a regular pattern of waking and going to sleep, so the routine becomes familiar and pleasant.
Breast milk contains the hormone melatonin, which signals your sleep time to your baby, just as it did during pregnancy, if you decide to breastfeed. In the early weeks a baby is likely to doze off for short periods during a feed. Carry on feeding until you think they have finished or are fully asleep.
Guidelines are available for keeping babies safe while they're asleep: Helping Your Baby to Sleep (NHS) and Keeping Your Baby Safe (NIH) offer good advice.
Also, trust yourself: if you can't bear your baby's distress when they still wake up crying at 14 months, go to them.
And try not to worry. In the end, all of us will sleep.
… we have a small favour to ask. Millions are turning to the Guardian for open, independent, quality news every day, and readers in 180 countries around the world now support us financially.
We believe everyone deserves access to information that's grounded in science and truth, and analysis rooted in authority and integrity. That's why we made a different choice: to keep our reporting open for all readers, regardless of where they live or what they can afford to pay. This means more people can be better informed, united, and inspired to take meaningful action.
In these perilous times, a truth-seeking global news organisation like the Guardian is essential. We have no shareholders or billionaire owner, meaning our journalism is free from commercial and political influence – this makes us different. When it's never been more important, our independence allows us to fearlessly investigate, challenge and expose those in power. Support the Guardian from as little as $1 – it only takes a minute. If you can, please consider supporting us with a regular amount each month. Thank you.
Tips on How to Get Newborn to Sleep at Night
Even the best snoozers sometimes have issues getting a peaceful night's sleep. Here's how to handle common sleep problems in babies. They might not be able to tell you what's wrong, but you can figure it out!
When your newborn isn't sleeping well at night, it can feel like there is no end in sight. Here's how to handle common sleep problems in babies of all ages, from a newborn to a toddler and beyond.
IN THIS ARTICLE
Sleep. No one in your home is likely getting much of it, especially during the first few months. And even once your little one is sleeping through the night, baby sleep problems can still crop up from time to time.
In short, dealing with nighttime disruptions is often simply a part of new parenthood.
Most issues related to a baby not sleeping are caused by temporary things like illness, teething, developmental milestones or changes in routine — so the occasional sleep snafu likely isn't anything to worry about.
Still, persistent sleep problems that make it hard for your baby (and you!) to get the rest you both need could be a sign of a bigger issue.
Some babies, especially older ones, can have a hard time breaking sleep habits they've come to like and expect, like being rocked or fed to sleep at bedtime or when they wake up in the middle of the night.
That's why it's helpful to know the possible reasons why your baby won't sleep. Here are some of the most common baby sleep problems at each stage during the first year, and solutions to help your restless little one get her Zzzs.
Sleep problems: 0 to 3 months old
At the newborn stage, babies are still adjusting to a regular sleeping pattern.
Newborns generally sleep about 14 to 17 hours in a 24-hour period, waking up frequently for feedings both day and night.
A 1- and 2-month-old should get about the same amount of sleep, 14 to 17 hours a day, broken into eight to nine hours of nighttime sleep and another seven to nine hours of daytime sleep over the course of several naps. A 3-month-old needs 14 to 16 hours of sleep in a 24-hour period.
Even with all that snoozing, it can feel like your baby isn't sleeping all that much. Very young babies often sleep in short, catnap-like spurts, in part because they need to eat so often.
So if it seems like your sweetpea is constantly bouncing back and forth between dozing and waking, hang in there. It's completely normal right now and it will soon start to change.
That said, there are some challenges that can make sleep harder for newborns to come by. At this age, two of the most common issues are:
Resisting back-sleeping
What it looks like: Your baby fusses or won't settle when laid on her back to sleep. Babies actually feel more secure sleeping on their tummies, but that sleep position is linked to a much higher incidence of sudden infant death syndrome (SIDS). So experts recommend always putting your baby on her back to sleep.
How to solve it: If your baby just won't settle down on her back, talk to your pediatrician, who may want to check for any possible physical explanations. Much more likely is that your baby just doesn't feel as secure on her back. If that's the case, there are a few tricks you can try to encourage back-sleeping, including swaddling your baby and giving her a pacifier at bedtime. Just skip the sleep positioner, and stick with a consistent routine. Eventually, your baby will get used to sleeping on her back.
Mixing up day and night
What it looks like: Your baby sleeps all day, but then stays up all night long (not such a party for you!).
How to solve it: Your newborn's nocturnal ways should correct themselves as she adjusts to life on the outside, but there are a few things you can do to help baby differentiate between day and night, including limiting daytime naps to three hours, and making clear distinctions between day and night (like keeping baby's room dark when she naps and avoiding turning on the TV during nighttime feedings).
Tips for building baby's bedtime routine
0:54Steps to Help Baby Sleep
Restless sleep due to frequent late-night feedings
What it looks like: Most 2- to 3-month-old babies, particularly breastfed ones, still need to fill their tummies at least once or twice during the night. Waking up every two hours for middle-of-the-night chow-downs, on the other hand, is typically too much of a good thing by this point — and for most babies, not necessary.
What to do about it: First, talk to your child's pediatrician about how often baby should be eating overnight. If you get the go-ahead to cut down on overnight feeds, ensure baby's eating enough during the day by offering a feed every two to three hours. Then, work on slowly stretching the time between nighttime feedings.
Sleep problems: 4 to 5 months old
By 4 months, your baby should be sleeping about 12 to 16 hours a day, broken up into two or three daytime naps totaling three to six hours, and then another nine to 11 hours at night.
How many hours should a 5-month-old sleep? These days, 10 to 11 hours of sleep at night is the norm. Your baby should also take two to three naps during the day.
Sleep regression
What it looks like: At 4 months old, your formerly sleepy baby may be ready for anything but bedtime — even though you're ready to drop. Welcome to sleep regression — a perfectly normal blip on the sleep radar that many babies experience between at around 4 months, then often again at 6 months, 8 to 10 months, and 12 months (though it can happen at any time).
Why is this happening right now? The 4-month sleep regression typically strikes as your little one starts to really wake up to the world around her. With all this fascinating new stuff to play with and see and people to encounter, life is just too much fun at this stage to waste time sleeping.
There's no official way to "diagnose" sleep regression — but chances are you'll know it when you're dealing with it. If your baby was starting to develop a pattern of sleeping for predictably longer stretches but is suddenly fighting sleep or is waking up a lot more often, you likely have sleep regression on your hands.
How to solve it: Stick with or start your baby bedtime routine — the bath, the feeding, the story, the lullabies and the cuddles. Also be sure your baby is getting enough sleep during the day to make up for lost sleep at night, since it's even harder for an overtired baby to settle down at night. Keep in mind, too, that sleep regression is temporary. Once your baby acclimates to her new developmental abilities, sleep patterns should return to baseline.
Changing nap routines throw baby off at night
What it looks like: As babies get older, they nap less. If your baby seems happy with her changing schedule and sleeps well at night, embrace this milestone and carry on. But if your little one is napping less but fussing more, or having trouble going to bed at night, she may be overtired and in need of some naptime encouragement.
How to solve it: Try an abbreviated bedtime routine before each nap (some quiet music, a massage or some storytelling) and be patient — it may simply take her longer to settle into a routine, but she'll get there.
Sleep problems: 6 months old and up
These days your baby's sleep pattern likely looks a whole lot different than it did just a few short months ago.
At 6 months, your baby should clock 10 to 11 hours of sleep at night and take two or three naps during the day.
By 9 months, she'll start sleeping for a little longer at night — around 10 to 12 hours — and take only two naps during the day. Around 12 months, your baby might show signs of being ready to drop to just one long midday nap (though for most babies, that happens at around 14 to 16 months)
What's more, babies who are 6 months old and up are completely capable of sleeping through the night. And yet, there are still plenty of things that can disrupt their snooze time.
Not falling asleep independently
What it looks like: Almost everyone wakes up a couple times during the night — adults and babies alike. A lifetime of good sleep habits depends on knowing how to fall asleep alone both at bedtime and overnight, a skill babies need to learn. If your 6-month-old still needs to be fed or rocked to sleep, you might want to consider sleep training (also known as sleep teaching or self-soothing training).
How to solve it: Start by revamping the bedtime routine. If your baby's dependent on a bottle or breast to sleep, start scheduling the last feeding a good 30 minutes before her usual bedtime or nap. Then, when she's sleepy but not asleep, make your move and place her into her crib. Sure, she'll fuss at first, but give it a chance. Once she learns to soothe herself — perhaps by sucking on her thumb or a pacifier (harmless, helpful habits for babies) — she won't need you at bedtime anymore.
As long as your baby can drift off on her own, it's fine to go in to her if she wakes up at night. That doesn't mean you need to pick her up or nurse her, however. Once she's mastered the art of comforting herself, your voice and a gentle stroke should be enough to get her settled into sleep once more.
How you tackle sleep training is up to you. Letting your 6-month-old (or even 5-month-old) cry for a bit before going into her (or cry it out) usually works. Here's why: By 6 months, babies are well-aware that crying often results in being picked up, rocked, fed or potentially all three. But once they understand that Mom and Dad are not buying what they're selling, most will stop crying and get some rest, usually within three or four nights.
Keep in mind that the American Academy of Pediatrics (AAP) recommends sleeping in the same room as your baby (but not in the same bed) for at least six months and possibly a year. But even if you encounter this problem when you're still room-sharing, the basic idea behind sleep training remains the same: At the end of your bedtime routine, say goodnight and mean it — even when you hear protests and tears as you leave the room.
If your baby wakes up during the night while you're room-sharing, it's fine to assure your little one that everything's okay, but have a plan in place as to how (and how often) you'll respond to her cries.
Don't have a plan yet? There are many sleep training strategies, so decide what you think might work best for you and give it a chance to work.
Restless sleep due to frequent late-night feedings (again)
What it looks like: By the time many babies are 6 months old, they don't need middle-of-the-night feedings anymore. So if your baby is not sleeping without nursing and rocking first, or she still gets up multiple times throughout the night and won't go back to sleep without the same send-off, she may have become wise to the fact that crying often results in being picked up, rocked and fed — pretty good motivation to keep right on crying. (Talk to your baby's pediatrician before cutting out night feeds.)
What to do about it: If you're comfortable trying sleep training, it can be a good option for babies who wake up frequently to feed throughout the night. Either way, your little one needs help learning how to self-soothe so she can fall back to sleep on her own.
Waking early
What it looks like: Your baby is waking up early — and staying awake, sometimes as early as the crack of dawn.
What to do about it: If your baby is at least 6 months old, there are a few tactics you can try to get her to sleep in later, like adjusting her nap schedule, experimenting with different bedtimes and making her room more light- and sound-proof.4:45Sleep Regression
Teething pain keeps baby up
What it looks like: If your baby is showing signs of teething during the day — such as drooling, biting, feeding fussiness and irritability — teething pain may also be waking her up at night. Keep in mind that teething-related sleep issues can begin almost any time during the first year: Some babies get their first tooth by the time they're 6 months old with teething pain starting as early as 3 or 4 months, while others are toothless until their first birthday.
How to solve it: While you shouldn't ignore your baby, try to avoid picking her up. Instead, offer a teething ring, some gentle words and pats, or maybe a lullaby. She might settle down on her own, though you might have to leave the room for that to happen. If tender gums seem very painful to her night after night, ask your pediatrician about offering some baby acetaminophen at bedtime for babies 2 months and older or baby ibuprofen for infants 6 months and older.
Sleep problems at any age
Some sleep issues can flare up at any point during your baby's first year (and well beyond). Two big ones you might encounter include:
Disruptions in routine
What it looks like: It doesn't take much to turn a baby's sleep routine on its head. A cold or an ear infection can wreak havoc on sleeping patterns, as can emotional challenges such as Mom returning to work or getting used to a new babysitter.
Traveling is another surefire sleep-schedule disrupter, and major milestones — like mastering crawling or learning to walk — can also temporarily interfere with sleep.
How to solve it: Although babies with changing sleep routines can be a little fussier, you've got to cut your baby some slack in the snoozing department during these transitions. Do what you can to comfort your little one through the disruptions to her schedule.
Then try to get back into your regular groove as soon as you can — following the same comforting pre-bed routine in the same order as usual (a bath, then a feeding, then a story and so on).
Trouble settling down to sleep — even though baby seems very tired
What it looks like: What happens if babies don't get enough sleep? They can become overtired — where they're exhausted and moody but also too wired to relax.
It's a classic case of what can happen if babies don't get enough sleep: Your baby is cranky and showing other signs that she's more than ready to take a nap or go to bed. And yet, she won't actually power down.
Younger babies might fight the soothers that normally help them nod off, like rocking or feeding. And babies over 5 or 6 months who are capable of falling asleep on their own struggle to doze off when they're put in their crib, or wake up and have a hard time falling back to sleep.
How to solve it: Put your baby down for her nap or bedtime when she's tired, but not too tired. When you start to spot signs that she needs a rest like rubbing her eyes, yawning, looking away from you or fussing a lot, that's your cue to get her into her crib or bassinet.
Resist the urge to get her to stay up later – chances are it will cause her to become overtired and ultimately make it harder for her to fall asleep.
Also, try to ensure that your little one is logging the total hours of sleep she needs. If she wakes very early from her last nap of the day, for instance, consider putting her to bed a little earlier to make up for the lost shut-eye. If she has a rough night or wakes extra early in the morning, offer more naptime that day.
Sleep problems after illness
A sore or scratchy throat, congestion and fever can all make it harder for babies (and adults!) to snooze soundly.
Of course, you want to do what you can to soothe your sweetie and help her get the rest she needs, whether that means popping in for a dose of fever-reducing meds if your pediatrician says it's okay (either infant acetaminophen for babies at least 2 months old or infant ibuprofen for babies at least 6 months old) or a quick nursing session, or holding her upright while she sleeps to ease her congestion.
But sometimes, especially if wake-ups happen for several nights in a row, it's possible for a baby to get used to the midnight visits, snuggles and even feedings. And that could potentially lead to sleep issues even after she's feeling better.
What it looks like: Your baby's normally good sleep habits got disrupted when she was sick, but now that she's healthy again, she's still waking up crying for you during the night.
How to solve it: Once your baby is back to her healthy, bubbly self during the day, it's time to get back to the usual sleep habits at night. It might take her a few nights to get reacquainted with the normal routine, so hold steady. The more consistent you are, the sooner she'll get the message nighttime is for sleep, not hanging out together.
Speed bumps in the sleep department are a common, and even normal, part of babyhood. The good news is that they're usually solvable.And even if you can't do much to fix them (like a newborn mixing up her days and nights), take comfort in knowing that they're temporary. As your baby grows and changes, so too will her sleep.