Twin Baby Shower Games for a baby shower for twins include fun ice game, water breaks, and more. Have a twin baby shower with games that focus on double digits because you're about to come up with double the diapers and bottles! Start off your very special day with our fun and easy-to-play games such as My Water Broke Twin Baby Shower Game and Double Doodie!
Twins make everything twice as fun, including baby showers! Combine the excitement of welcoming two new additions with the unique challenge of our twin baby shower games for double the fun and extra-special memories!
Help make your twin baby shower memorable with fun baby shower games. Our twin baby shower games include ice breakers, quizzes and team competitions to keep your guests entertained and help you celebrate showers with twins!
Twin Baby Shower Games are fun ways to celebrate a new baby shower for twins. These games are also great for any other two kids as you can introduce your sweet children as twins at the party with these fun games.
Virtual Twin Baby Shower Games
One of the biggest twin pregnancy excitements for any mom-to-be is the baby shower. If you've been tasked with organizing a twin baby shower then you have a lot of planning ahead of you and an unforgettable experience to craft.
Preparing for hosting a great baby shower is a fun and thoughtful activity that has one main aim: to shower the anticipating mom with gifts, love, and happiness. And that's entirely up to you and the other guests.
After you've decided on a theme and have sent out crafty baby shower invites it's time to plan the twin baby shower games – they're at the heart of any baby shower. You want them to be fun, engaging, and challenging, and also running throughout the whole party to ensure that the guests are entertained at all times.
Here we present you with the best twin baby shower games ideas that will rock your party. Feel free to customize them and don't be afraid to unleash your creative flair!
The Best Raffle Baby Shower Diaper Game
For this game, you will need to cue in the guests in advance and tell them to bring along packs of diapers. When entering the party each guest will receive one raffle ticket against one pack of diapers. The number of packs of diapers one could bring is unlimited and only increases the chance of winning the prize.
What's in it for the mom? She will be stocked up on diapers ranging in sizes for the double-trouble that's to come, so go ahead and help a friend out.
The best thing is that you don't have to make the raffle tickets from scratch. M&H Invites has already done that for you. All you have to do is purchase the 50 Peas in a Pod Twins Diaper Raffle Tickets and either hand them out at entry to the party or alternatively, send them out with the baby shower invites. These are printed on a premium matte card stock making them easy to write with loads of different pen types.
Diaper Shower Games Continued: Double Diaper Time
What is the biggest struggle that a new mom of two experiences? You guessed it right, putting diapers on her twins!
This game allows the guests to get immersed into the day of the life of a mom of twins, and also gives them the chance to win fun prizes.
So this is how the game goes. Each participant will need a cloth diaper, a few safety pins, and a doll. Pair up the guests and tell them that each team has to put the cloth diaper on the doll using only one hand. You might even want to tie their other hand behind their back to make sure that there is no cheating. Once they're finished it's up to the mom to decide which team has done the best job. The criteria is that the diaper is put on as neatly as possible. The winning team gets their prizes and the mom gets the cloth diapers.
This is a great way to gift the mom with cloth diapers so make sure you bring good-quality ones. We recommend you the Gerber Birdseye 3-Ply Prefold Cloth Diapers because they're made of 100% birdseye cotton material that is wonderfully absorbent and prevents skin irritations and diaper rashes. As a plus, they can also be used as a burp cloth, washed, and reused again. Cloth diapers are a great sustainable alternative to traditional diapers and a great baby shower gift.
More Unique Games to Play: My Water Broke
The Water Broke is one of the most fun twin baby shower games and a classic one! It's easily customizable for a twin baby shower and will provide entertainment throughout the whole party.
What you will need for this game are tiny toy babies which you will freeze into ice cubes. The My Water Broke Baby Shower Ice Cubes Game 1″ Tiny Plastic Babies provide 36 ice cubes and are extra cute.
Give each guest a delicious drink at the start of the party and put two ice cubes in each glass for the two babies-on-the go. The first guest to have their ice cubes fully melt and the toy float to the top has to yell, "My water broke"! They will then present the tiny baby toys to the host and get their prize in return.
But the fun doesn't end here, because you are sure to hear the phrase "My water broke" being yelled at until the last ice cube melts. Let's hope that the mom's water doesn't break during the party because no one will take her seriously while this game is going.
The Socks Dilemma: One of the Funniest Twin Baby Shower Games
Yet another one of those unique twin baby shower games that put the guests into the mother's shoes. A hardship any mom of two is faced with is pairing the freshly washed tiny socks out of the laundry basket. Somehow there is also a runner amongst those baby socks…
But that's a universal struggle, so the guests should be quite skilled at this game. What you need to do is buy a bunch of baby socks in all sorts of crazy patterns and colors (the more diverse the better). As a given, these will remain for the mom so pick wisely! Little Me offers a great assortment of 20-Pack Newborn Baby Infant & Toddler Boys Socks which are ideal for boy baby shower games. If the twins on the go are girls, go for the Zaples Baby Non-Slip Grip Ankle Socks with Non-Skid Soles for girls.
Both of the boy-girl twins' socks are super comfortable and the multiple designs will match your twins' outfits with style. To make it a full-set baby shower gift we recommend you add the Born First – Show Off Matching Onesies by TwinStuff. You are guaranteed to be the best baby shower host of all time!
After you've bought loads of different pairs of baby socks, throw them all in one pile on the floor and mix them up. The guests will have to pair up as many socks as they can during a certain time frame decided by you. The person with the most pairs of baby socks wins this game.
Don't Say "Twins". Can You?
If you are looking to incorporate more ongoing twin baby shower games into your party, try this one. You need to get clothespins and make a sign that reads "Don't Say, Twins".
When the guests enter the party attach an equal number of clothespins to them. The rule is that every time someone mentions the word "twins" they get one of their clothespins taken away. But here is the twist: the person who hears them say "twins" gets their clothespin for themselves. The person with the most clothespins at the end of the party shower wins the game. What a challenge!
Twin Baby Shower Games and More Things to Plan for the Baby Shower
Congratulations, you've been selected as a host for a twin baby shower. Your role is very appraised but also important because you are responsible for providing all the fun. The best way to do this is with twin baby shower games. There is plenty to choose from, but we've selected the most unique games to play and have given you ideas on how to execute them.
Don't shy away from going all out loud and making sure there are enough gifts to shower the mom with. Gather your creative thoughts and get ready to leave everyone at the party amused!
Twin Baby Shower Names
Twin Baby Shower Themes and Games
We have some amazing twin baby shower ideas for you. Having a twin baby shower theme makes everything easier because you can apply it to everything from the invitations through the thank you cards and everything in between.
Don't be afraid to get creative and make the most of this exceptional celebration! Pinterest will keep you occupied for hours with hundreds of ideas. Check out our twin baby shower board on Pinterest!
Here are my favorite twin baby shower themes. Try one of these for your twin baby shower or see if they spark a new idea of your own.
Twin Baby Shower Theme Ideas
Thing 1 and Thing 2 (from The Cat in the Hat)
Two Peas in a Pod
Noah's Ark
"Wombmates"
Twice is Nice
Double Your Fun
*For more themes for twins check out our Twins Baby Showers: Great Ideas for Themes, Food, and Decor.
Twin Baby Shower Party Games
Once you've chosen a theme and picked out cute corresponding invites, it's time to come up with some entertainment that your guests will still be talking about when your twins are in college. twin baby shower
Remember to keep the games simple and easy enough for everyone to enjoy, and make sure you have lots of prizes on hand. Five dollars at the ninety-nine cent store will go a long way.
Focus on prizes that come in twos – earrings, gloves, socks, or even packs of double mint gum or double stuffed Oreos! Here are a few of my favorite shower games:
Konga
Baby Girl' Tutu Skirt – Blue
Baby Girl' Tutu Skirt – Blue
Buy now
My Water Broke Twin Baby Shower Game
Freeze little toy babies in ice and then place a cube in everyone's drink. Make sure that you warn everyone so that no one drinks the baby by accident. That could really spoil a good party. twin baby shower
As the party progresses, the ice will melt and the babies will "pop" to the top. The guest whose ice melts first has to shout, "MY WATER BROKE!" and hand their baby to the party organizer.
Even though only the first guest to have her water break gets a prize, everyone will probably shout, "MY WATER BROKE!" when their baby floats to the top, creating a fun and raucous atmosphere.
How Many Kisses?
Fill a plastic baby bottle or any large container with Hershey's Kisses and have your guests guess how many are in the container! The person whose guess is closest to the real number wins a prize. twin baby shower
You can customize this by using blue and pink kisses if you're having girl/boy twins or two bottles of blue kisses if you're having identical boys.
T-W-I-N-S
Forget B-I-N-G-O when you can play T-W-I-N-S. Create bingo cards using twins related terms like, "double stroller," "double trouble," "double blessings," "Twice as Nice," "Baby A," "Baby B," "Two peas in a pod," "dynamic duo," "identical," "fraternal," etc.
Konga
Baby Girl' Tutu Skirt – Blue
Baby Girl' Tutu Skirt – Blue
Buy now
Personalize this by adding your last name, your husband's last name, the names you're considering for your twins, and anything else you'd like to include.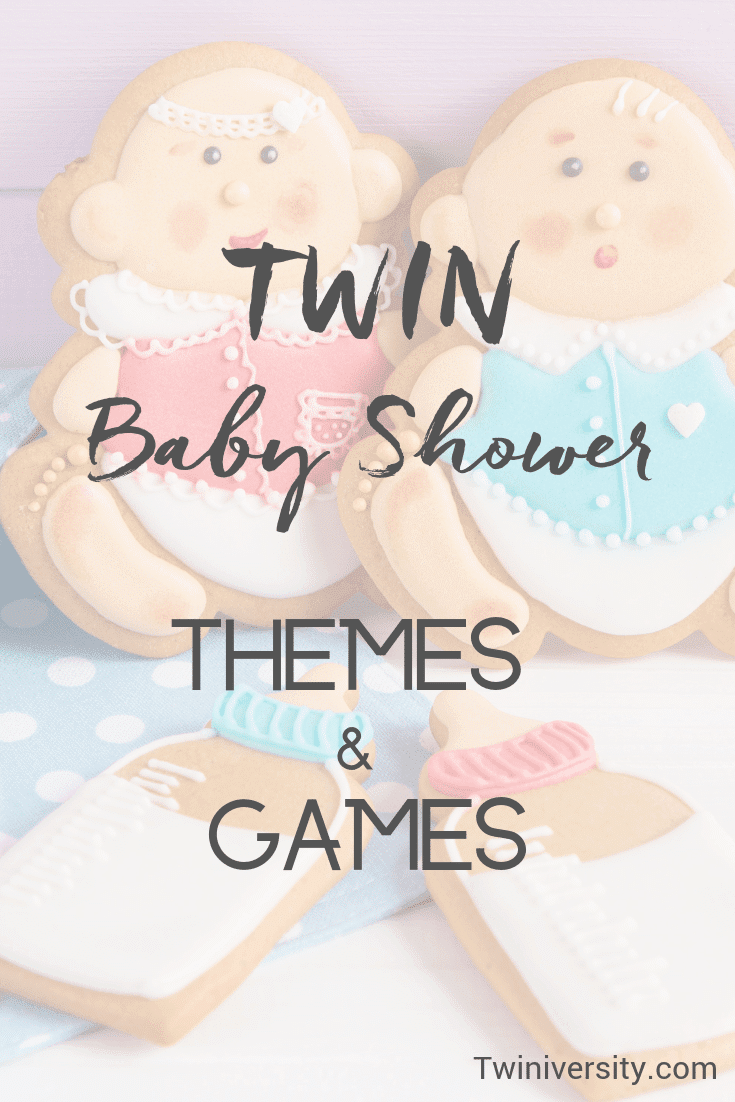 What's My Name?
Can't decide what to name your twinnies? Your shower is a great place to get some ideas. What better focus group could you find?
Give every guest some paper to write down their name suggestions and why they are suggesting them. When you get home, go over all the ideas. twin baby shower
You might just learn from your mother's card that your great great grandfather was named Alexander, which is a name you were already considering! This may just be the convincing you need to make that big decision for baby Alex!