The cocoon for baby is filled with super soft, hypoallergenic cushioning that comforts new babies and helps them to sleep soundly. It can also be used as a car seat liner, play pad, or just for traveling. The elastic/snap closure attaches easily to most cribs or bassinets, and there is also a loop at the bottom for easy hanging on strollers or other travel items.
Babies are so delicate and small, that it's very hard for them to be comfortable enough to get a good night's sleep. This Cocoon For Baby will help you to make your baby feel secure, comfortable and happy during their most delicate times.
The Cocoonababy is suitable for use until the child tries to change position in the nest (around 4 months of age). For use during the first weeks when your baby is asleep, day and night. Later during "awake time" your baby should also spend time out of the Cocoonababy nest, for example on their tummy on a play mat.Is the Cocoonababy SIDS safe?
Unfortunately, there is no guarantee against Sudden Infant Death Syndrome (SIDS) as the exact cause of SIDS is unknown. Research has identified some factors that increase the risk of SIDS. These include sleeping baby on the stomach or side, overheating, and exposure to cigarette smoke. Accidental suffocation such as during bed sharing or from soft objects may also play a role. Another risk factor is being born before 39 weeks of gestation.
Therefore, although the Cocoonababy was developed in 1995 by a pediatric physiotherapist in collaboration with medical professionals and has been extensively used in hospitals and in homes around the world since (including in thousands of Australian homes) with no single case of SIDS ever reported, the Cocoonababy, like any other baby mattress, is not a guarantee against SIDS.
Regardless of the mattress you decide to choose for your baby, we recommend that you follow these safe sleeping guidelines:
Sleep baby on the back from birth, not on the tummy or side
Sleep baby with head and face uncovered, using a sleeping bag rather than a blanket is a great solution
Keep baby smoke free before birth and after
Provide a safe sleeping environment night and day
Sleep baby in their own safe sleeping place in the same room as an adult caregiver for the first six to twelve months
Keep the temperature of the room where baby sleeps between 18 and 20oC
In addition, when using the Cocoonababy, make sure that you follow all the instructions for use. All accessories designed for use with the Cocoonababy nest such as the Cocobag, a high-waisted sleeping bag and the Cocoonacover also conform to safe-sleeping practices by eliminating the need for loose blankets.
How To Knit A Cocoon For Baby
Knit a cocoon for baby to provide warmth and comfort, in a fun and fast knit. Knitting for a baby is a rewarding experience. But as a new parent, you need something that can be finished quickly and will act as both a whimsical toy and cozy cocoon. Giving you 18 inches of fluffy joy in an hour or less, this cocoon will bring smiles to the faces of babies and the knitters who give it.
The pattern is knitted flat, from the top down, and the only techniques you need to know are how to knit and how to purl (no need to know how to bind off).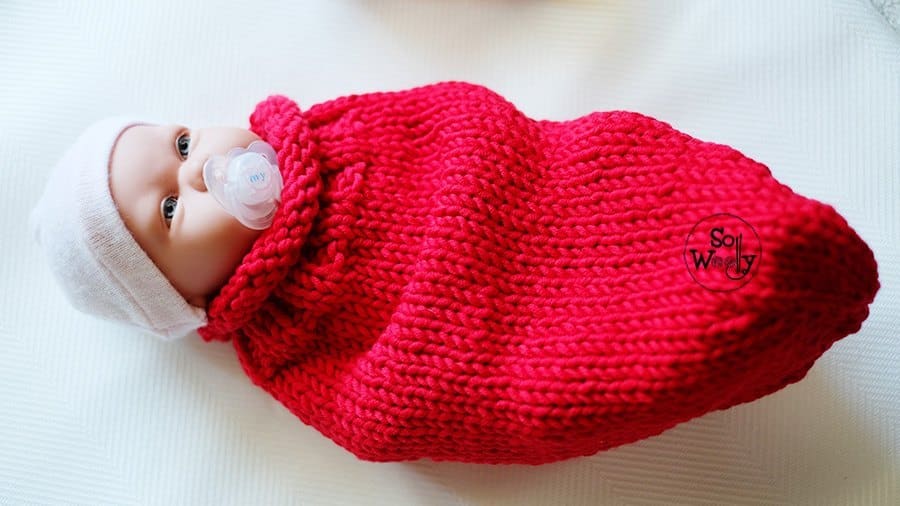 Starting at the edge in Stockinette stitch (it's going to roll up a bit), we knit a 2 x 2 Rib edge, and then change to Stockinette stitch for some rows. To finish, we'll decrease stitches in some rows, to shape the cone.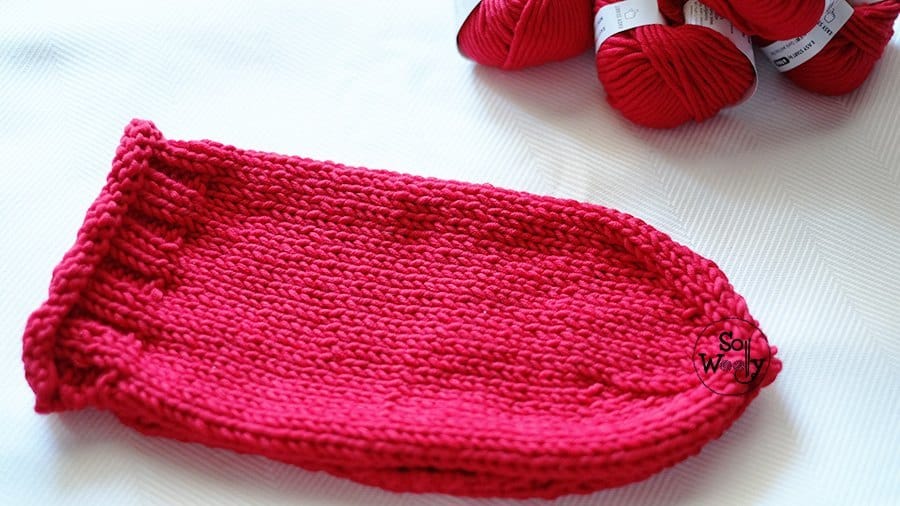 Materials
2 x 10 mm (15 US) knitting needles #ad
125 gr of Merino Wool (Chunky: for 9 – 10 mm knitting needles) #ad
Measurements
41 cm x 41 cm (16 x 16 in)
Gauge
10 stitches and 15 rows = 10 cm / 4 in
Abbreviations
CO: Cast on
st: Stitch
K: Knit
P: Purl
WS: Wrong side
RS: Right side
k2tog: knit two stitches together
How to knit a Cocoon for a Newborn Baby, step by step
Every odd row forms the RS of the pattern.
CO 42 st.
Knit 4 rows in Stockinette stitch (knit every stitch in rows 1 and 3; purl every stitch in rows 2 and 4).
Knit 6 rows in 2 x 2 Rib: k1 (edge), *k2, p2*, k1 (edge).
Knit 38 rows in Stockinette stitch (knit every stitch in every odd row; purl every stitch in every even row).
Decreases
1º Row: K1 (edge) *k8, k2tog*. Repeat from * to *, ending with k1 (edge).
2º and every even Row: P across.
3º Row: K1 (edge) *k7, k2tog*. Repeat from * to *, ending with k1 (edge).
5º Row: K1 (edge) *k6, k2tog*. Repeat from * to *, ending with k1 (edge).
7º Row: K1 (edge) *k5, k2tog*. Repeat from * to *, ending with k1 (edge).
9º Row: K1 (edge) *k4, k2tog*. Repeat from * to *, ending with k1 (edge).
11º Row: K1 (edge) *k3, k2tog*. Repeat from * to *, ending with k1 (edge).
13º Row: K1 (edge) *k2, k2tog*. Repeat from * to *, ending with k1 (edge).
15º Row: K across.
17º Row: *k2tog* across.
Cut the yarn, leaving a 15 cm – 6 in tail, and pull it through every stitch using your yarning needle.
Join both sides until you've reached 15 – 6 in before the edge. Sew up the button (no buttonhole is needed since the stitches are big enough)
And…congrats! You've finished your cocoon 
Sleeping Cocoon For Baby
The Sleeping Cocoon is the most versatile, most comfortable, and safest way to sleep with your baby. With features like a fully adjustable height, complete padding on all sides, and an innovative design that provides optimal head support and neck alignment while your baby sleeps. The Sleeping Cocoon offers the extra space needed to safely put your child down for a nap in bed with you without worrying about suffocation. Sleep tight! The Sleeping Cocoon is a super-soft, stretchy fabric liner that helps prevent your baby from accidentally rolling from their back to their tummy while sleeping.
Also known as cocoons or pods, a baby nest is essentially a mini cushioned day bed that comes with padded sides to provide your little one with a safe, snuggly and compact spot to relax. It might sound like an absolute luxury, but during those precious early days you spend a lot of time juggling your little one with life admin.
What's more, they come in the cutest designs and fabrics, so you'll find it impossible not to post Insta-worthy baby snaps all day long. And with celebrity fans including Kim Kardashian and Lauren Conrad, you know it's a baby trend worth getting onboard with.
How to safely use a baby nest
They are great for freeing up your arms during the day, but baby nests are not recommended for use during the night or for unsupervised sleep. According to The Lullaby Trust, sleeping on anything but a firm, flat surface can increase the risk of sudden infant death syndrome (SIDS).
'Babies are highly evolved to sleep in a very particular and safe way and certain things can interfere with this evolved type of sleep,' says Rachel Fitz D, Baby and Parenting Expert and speaker at The Baby Show. 'What parents should do if they are going to use a nest is only use them on a flat surface, during the daytime in order to have a quiet safe place to put the baby, to allow the parent to get on with other jobs. But they shouldn't be used for overnight sleep or sleep at all if the parent is not going to be present.'
To keep your newborn safe and snug, follow baby sleep safety guidelines outlined by The Safe To Sleep campaign:
Always put your baby to sleep on their back for naps and at night.
Never use soft objects, crib bumpers, toys or loose bedding anywhere in babies sleep area.
Always place a pod or nest on a firm, flat and stable surface.
Keep your baby in the same room as you and never leave your baby in a nest unsupervised.
Do not use baby nests at night. Check out our rundown of the best Moses baskets for night time snoozing.
Ensure your baby does not get too hot during sleep. If it's cold, use a lightweight baby sleeping bag.
The best baby nests to shop now
From DockaTot's achingly cool designs to Cam Cam's Scandi-inspired floral nests, keep scrolling for the best baby pods to shop now.
1
BEST STYLISH PRINT BABY NEST
Dockatot Deluxe+ Dock – Pristine White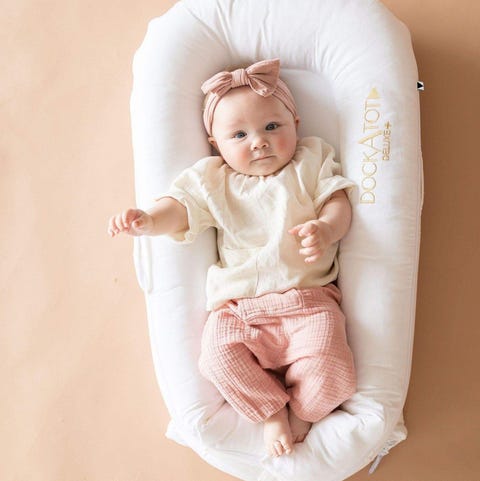 Dockatotmamasandpapas.com
£130.00
Swedish brand DockATot (previously known as Sleepyhead) calls its pods a 'docking station' for babies, and the brand has won numerous design awards. We had one when my son was born and our tiny tester clearly loved having a dedicated pitstop downstairs. He always seemed really content in his little pod. Every part of this nest is washable which comes in very handy, and the clip at the end meant we could extends its use. But best of all we loved the removable covers that come in a range of gorgeous prints including William Morris, marble and lush fern, perfect for Insta-worthy baby pics.
Dimensions: 73 x 40 x 13 cm
2
BEST PORTABLE BABY NEST
Day Dreamer Breathable Nest Spring Water
Koo-dijojomamanbebe.co.uk
£80.00
This simple but effective cocoon from baby brand Koo-di comes with mesh sides to increase airflow. While you should never leave your little one unsupervised in a nest, additional ventilation will definitely put anxious mama's minds at rest. It also comes with a handy storage bag with a carry handle so you can take it on mini breaks or easily switch rooms at home.
Dimensions: 90 x 52.5 x 12 cm
ADVERTISEMENT – CONTINUE READING BELOW
3
BEST BABY NEST FOR AIRFLOW
Sleep Tight Botanical Print Baby Bed
Purflojojomamanbebe.co.uk
£135.00
Thanks to a breathable mesh base and sides, this 100% cotton pod from Purflo been cleverly designed to allow air to safely circulate, giving new parents peace of mind and new babies a lovely spot to relax. It's also light and portable and the botanical print design will look at home in any nursery. The matching swaddle bag is super-cute too.
Dimensions: 60 x 53 x 17 cm
4
BEST VERSATILE BABY NEST
Kally Baby Nest
Kally Sleepkallysleep.com
£79.99
Looking for a cost-effective nest? This neutral white baby pod from Kally Sleep has been designed by sleep-safety experts and its hypoallergenic cover comes with Oeko-Tex certifications, making it extra safe for rest, play and supervised tummy time. Plus it's cheaper than most of its competitors and it's light enough to easily move about the house or even take away for the weekend. Furthermore, Velcro straps release at the bottom, turning it into an emergency changing mat too.
Dimensions: 80cm x 45cm x 15 cm
5
BEST BABY NEST FOR CUDDLE TIME
Organic Baby Lounger
Snuggle Mefruugo.co.uk
£57.29
If you're struggling to pop your new baby down, this sumptuous lounger from cult US baby brand Snuggle Me Organic is a big hit across the pond. Made from all-natural and hypoallergenic fabric, it comes with extra squishy sides to mimic the feeling of being cuddled. What's not to love?
Dimensions: 74 x 44 x 13 cm
ADVERTISEMENT – CONTINUE READING BELOW
6
BEST BABY NEST FOR STYLE
Baby Nest Fiori
Cam Cam
£130.00
This floral print baby nest from Copenhagen-based brand Cam Cam is simply adorable. Thanks to a padded foam mattress and soft organic cotton sides it has all the features you'd expect from a quality pod, plus it comes with an adjustable length to fit your growing baby. Our mum tester praised this pod for saving her arms on many occasions, and she particularly loves the fabric. We're huge fans of the changing bag, swaddle and mat in the same super cute fiori print too.
Dimensions: 88 x 47 x 14 cm
7
BEST BABY NEST FOR MULTIPLES
Sand Cozy Nest
Buddy & Hopealexandalexa.com
£127.00
A cross between a nest and a play mat, this cosy cocoon from Swedish brand Buddy & Hope is ideal for multiple babies, playing and fine-tuning tummy time. It comes with a seriously cute cotton flounce and it's lightweight and easy to carry about, but due to its size it is better suited to older babies and homes with a bit more floor space.
Dimensions: 100 x 100 x 18 cm
8
BEST BABY NEST FOR REFLUX
Cocoonababy Pod Support Nest
Red Castlejojomamanbebe.co.uk
£130.00
What the Cocoonababy lacks in style, it makes up for with popularity amongst its customer base. According to the Mum grapevine, fractious newborns love this simple product and it's a big hit with parents desperate for chill time too. The nest's cocoon-like shape is said to reduce reflux and startle reflex, plus it promotes a semi-foetal position that is said to mimic the womb, helping everyone bank a bit more me-time.
Dimensions: 69 x 40 x 19 cm
ADVERTISEMENT – CONTINUE READING BELOW
9
BEST BABY NEST FOR LARGER BABIES
Cosy Nest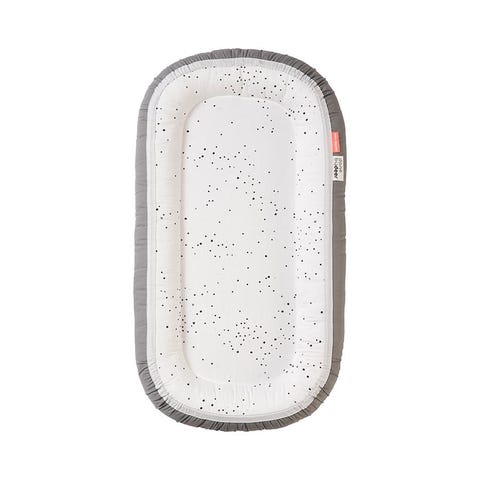 Done by Deerbabymori.com
US$79.95
This chic little baby nest from Danish brand Done by Deer has everything you'd expect from a quality pod including a machine washable cover and tube plus a cosy foam mattress, but it also comes out ever so slightly longer and wider than some of its counterparts, making it a great option for larger babies.
Dimensions: 93 x 50 x 12 cm
10
BEST BABY NEST FOR GROWING TOTS
Doomoo Cocoon Organic Cotton Baby Nest
Babymoovamazon.co.uk
£74.99
The Doomoo is designed to be adjustable, so it will see your little one from the newborn stage right up until they're able to use it as a play chair/teddy storage. While you should always follow sleep safety guidelines, this nest is made using fabric that claims to help regulate baby's body temperature and offers ventilation, giving you extra peace of mind.
Dimensions: 80 x 50 x 12 cm
Sweet and cozy, this cocoon sleeping bag is perfect for your little one. The design and materials make it soft, breathable and gentle on delicate skin.