We all know the tradition that dictates blue is for boys and pink is for girls but in this present day, the truth is you can dress your baby in whatever you feel comfortable with! We offer plenty of neutral baby colours in our collections that are versatile, and there is no reason why you can't buy pink for boys and blue for girls too. That's not to say that if you have a boy, you have to go against the traditional if you simply like the colour blue – it's 100% up to you what colours you'd like to dress your child in, whether you're a traditionalist or a contemporary.
There are some wonderful neutral colours for newborns and babies, and we also take a peek into why we have blue for boys and pink for girls, with a surprising outcome…
PERFECT NEUTRAL BABY COLOURS
The most popular gender-neutral colours for babies are yellow and green. These hues are ideal if you do not know the gender of the newborn baby beforehand.
These fresh colours epitomise new life and look wonderful little bundles of joy! We have always tried to incorporate these two colours into every collection to offer more choices for new parents, and for their friends and family to help prepare for new arrivals.
Another "colour" you cannot go wrong with is white. Although technically not a "colour", but the absence of all colours, white babygrows and bodysuits are the perfect combination of tradition whilst being completely neutral. Our Newborn First Outfits and Pima Cotton Clothes Collections include a range of beautiful pieces in white; they are a classic staple for any newborn, and garments you can pass down from generation to generation. Not to mention super soft and perfect for sensitive newborn skin!
Muted and pastel shades of many colours are a great neutral option for babies. Colours that have been popular in recent years have been grey, navy, browns and creams.
Ivory is a popular colour for christenings and special occasions, but there's no reason why you cannot incorporate these creams into your baby's day-to-day wardrobe too. A huge advantage of cream and ivory is that it looks great mixed and matched with white staple pieces.
Whilst blue is stereotypically associated with boys, we like to think of it as a gender-neutral colour, and many of the Mums that come into the shop in Belgravia love the pale blues for both boys and girls. A lovely sky blue or teal looks just as wonderful on little girls as it does on little boys.
WHERE DID "BLUE FOR BOYS" AND "PINK FOR GIRLS" COME FROM?
Like any tradition, this particular way of thinking has been developed over decades and even centuries.
Pre 20th Century, it was very typical for all babies to wear white, or other light colours, only. A risky strategy you may think for obvious reasons, however, it was much easier to bleach garments than it was to clean coloured clothing. As we came into the 20th Century, pastel colours became increasingly popular, and this caused the introduction of pink and blue, but with a different outcome to what you would expect.
In fact, boys were often dressed in pink, and girls in blue. In an article of Ladies' Home Journal in 1918, the reasoning was that blue was "more delicate and dainty" and therefore "prettier for the girl" whilst pink was a "stronger colour" more suited to boys. This is quite the opposite to what we know in present day!
Colours for babies was also largely based on the complexion and hair colour of the child, with blondes suiting blues and greens, and brunettes suiting pinks. Something that still stands true today. This is a similar equation for eye colour; blue for blue-eyed babies, and pink for brown-eyed babies.
By the 1940s, the colours had switched and this is purely down to manufacturers. It is interesting to look through the following decades, as a shift in baby clothes trends does correlate with economic and cultural climates at the time.
For example, unisex styles began to emerge during the 60s and 70s as did female liberation, free love and flower power. If we fast-forward to the 70-80s, blue for boys and pink for girls became popular again. Why? Because this was the emergence of prenatal testing; for the first time ever, parents were able to find out beforehand what gender the child was, and therefore sought out these specifically coloured products in the midst of their excitement.
WHAT DO YOU LIKE?
Whether you're a traditionalist or enjoy throwing the rulebook out, dressing your baby is an exciting time. As a general rule of thumb, muted or pastel shades for newborns and babies creates a classic look. A pop of colour is great, but can be overpowering on such a little human. Beyond this, the most important factor is dressing your little Pepa in comfortable and durable clothing that you love. Clothing that will also stand the test of time so you can not only use again but you can treasure in years to come.
Tradition dictates that blue is for boys and pink is for girls, but we like to think that any colour is appropriate for your baby, as long as you like it!
Colours For Baby Boy Clothes
These sources have a lot of great options that work for any baby and there are SO many great color options. Here's my faves!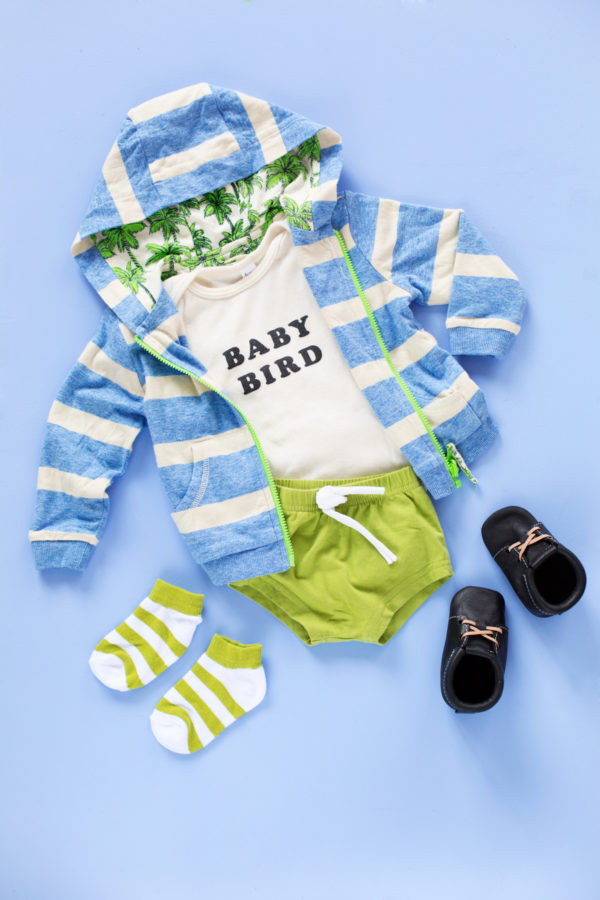 Join the Studio DIY fam!
Design tips, real estate gems, colorful small biz finds & more… in your inbox!SUBSCRIBEI consent to receiving emails and personalized ads.
Outfit Details: Baby Bird Onesie | Palm Print Hoodie | Green Bloomers | Green Striped Socks | Black Oxford Moccs
This one will come as the biggest shock to you guys… bhahahaah! Kidding! Clearly, Arlo wears a lot of J&J. Here's why: First, the colors. I love that they are bold and bright but slightly different, not just typical primary colors. Same with the silhouettes, they are great basics but are a little different than what you'd find at a big box store. Arlo lives in one pieces like the tank shorty and the long sleeve jumper. They also just came out with striped PJs which I am OBSESSED WITH.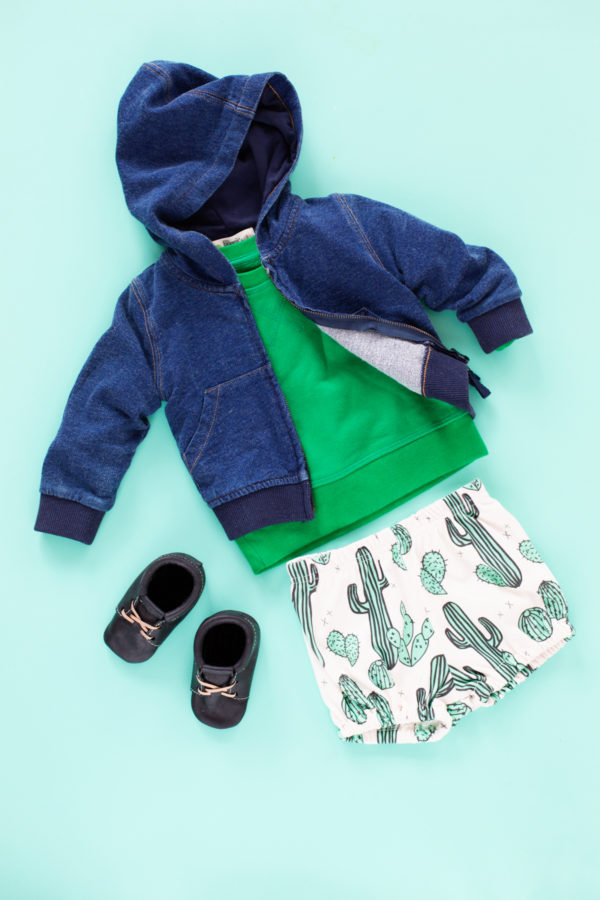 Outfit details: Green Sweatshirt | Denim Bomber Jacket | Cactus Shorts | Black Oxford Moccs
Admittedly, we only own those cute cactus shorts up there from this company but I'm obsessed with their prints. Lots of fruit and food and cuteness and it's all organic.
Outfit Details: Blue Sweatshirt | Cloud Cardigan | Blue Striped Pants | Mint Moccs
Primary is an awesome source for affordable basics like onesies, leggings, etc that come in fun, bold colors not just baby blue, pink and white like at a lot of stores. You also get a discount for buying multiple, which is a great way to stock up on items to layer with other patterned pieces. We have a ton of the short sleeve onesies and long sleeve onesies for Arlo because we find onesies SO much easier to dress him in when he's going to just be crawling around the house all day since sometimes shirts can ride up.
Outfit Details: Peach Tee from June & January | Striped Sweater from Baby Gap (Similar) | Denim Overalls | Green Booties
I LOVE The Bonnie Mob in general, but especially for sweaters and special occasion pieces. I find a lot of knitwear for babies is super neutral so I love that they incorporate color, pattern and RAINBOWS into theirs!! The little rompers literally MURDER me. How cute for a holiday or first birthday!? And the sweaters are super warm but not itchy or uncomfortable. We have a ton of them ready to go for our trip to the east coast! They also have really cute denim, too.
Outfit Details: Striped Sweatshirt | Ice Cream Pants | Scarf | Pink Socks
I love Kira Kids for graphic t-shirts/sweatshirts and really cute patterned pants. I love that the themes (ice cream, rocket ships, unicorns) are kid appropriate but they are really well designed and not cheesy. The colors are super fun, too.
Outfit Details: "I Like You A Lot" Romper | Sweater | Striped Socks | Mint Moccs
In general, I wish Target had a bit more color variety in their boy clothes section but Joy's collection is an exception! I love her use of mint and turquoise, the patterns and the KNEE PATCHES!! So darn cute.
Outfit Details: Sprinkle Onesie from Baby Gap | Yellow Hoodie | Velour Joggers | Neon Pink Moccs
Gap has a lot of really cute colorful stripe stuff right now. The stripe sweater we got awhile back that's one of my faves now comes in a few other fun varieties! I often check the "girl" section here too for clothes for A, too.
Outfit Details: Striped Sweatshirt | Knee Patch Pants | Scarf | Neon Moccs
We're just talking shoes here, but these are almost exclusively the shoes Arlo wears! I love them because they come in a zillion colors and don't involve any laces or velcro. He also loves to chew on them, haha, so they serve a great alternate purpose. ????
Outfit Details: Striped Sweatshirt | Ant Pants | Neon Pink Moccs | Neon Sunglasses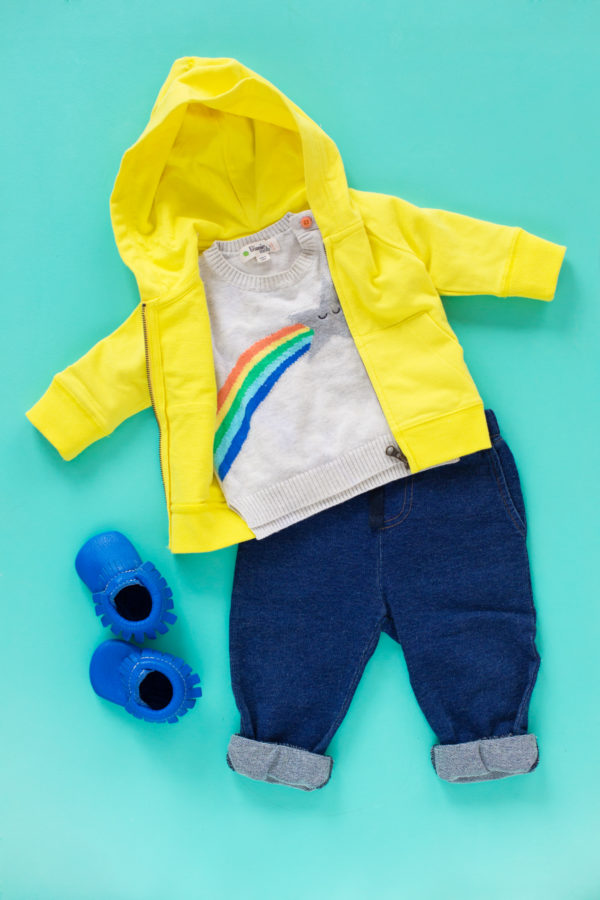 Best Colours For Baby Boy Clothes
Are you expecting a baby and ready to start buying clothing but don't know the gender? A big benefit of neutral colors is that you don't need to know your baby's gender to start preparing and purchasing clothes or other items.
Neutral colors are great if you're waiting to be surprised by the gender. They're also perfect for keeping the gender a secret from friends and family even if you decide to know ahead of time.
Your options will expand and you won't be limited to a specific section of baby clothing. Neutral colors are currently in high demand, which also creates more choices than ever before.
Reusing neutral-colored clothing for siblings is ideal. It's a great way to save money, time spent shopping, and create less waste if you have multiple children. Just make sure you buy quality clothes that will last.
As stated in the introduction, specific gendered colors have changed back and forth throughout history. So, there's really no reason to stick to the pink-and-blue scheme.
Neutral colors make it easier for your child to pick their own clothing as they get older, too. They help with creativity and don't limit your child's imagination to outdated stereotypes.
The Best Neutral Colors
White and cream tones are simple and classic options. Choosing an off-white color better complements skin tones. However, be prepared to fight stains if you choose white clothing for your baby!
Black and gray are not traditionally baby colors but they're great neutral colors. They're very easy to mix and match to create a variety of outfit combinations. Also, these colors won't show dirt and stains as much.
Shades of brown also mix and match perfectly. Colors like tan, oatmeal, and beige work well for neutrals. They also go well with popular muted and earth tones you've probably seen recently in baby boutiques.
Greens are popular among neutral colors and tend to be visually soothing. Sage, hunter green, and olive are examples of neutral greens. Pastels and emeralds have also become trendy lately.
Some blues can work as neutral colors, too! Consider navy blue, cobalt, sky blue, teals, and any pale blue colors. Basically, pick a muted blue that isn't overly vibrant.
Yellow colors like mustard, ginger, and honey are safe bets if you don't know your baby's gender yet or if you're buying clothing as a gift. Yellows pair well with browns, greens, and whites.
Oranges are very fun neutral colors. These might include colors like ginger, gold, burnt orange, and honey hues. Also, consider salmon and sherbet orange colors. Neutral oranges work well for both boys and girls.
Seasonal Clothing
Always consider the season and climate you are in before purchasing baby clothes. Think ahead and buy clothes appropriate for each season. This might also help you decide on color choices depending on your tastes.
For example, buy spring clothing if you're shopping in January because you'll probably only get 2-3 months out of winter baby clothes.
Think about your geographic location or the location of others if buying clothes as a gift. Clothing for a baby in Southern California might not work in New York depending on the time of year.
Observe product descriptions carefully when buying online, as they often tell you if the fabric is light or heavy in weight. This is crucial to keeping your baby comfortable year-round.
If you don't take seasons into account, you might end up spending money on clothing that your baby never gets to wear. Unfortunately, millions of baby clothing items are tossed out each year, and many of them are unworn.
Safe Baby Clothes
Neutral colors, soft organic baby clothes, and other organic baby supplies go hand in hand. Bright colors often contain fluorescent agents that might be harmful to your baby's skin.
If possible, stick to organic cotton baby clothes like the outfits for sale at Hanna Andersson Baby Clothes. Combining organic clothing with subtle colors helps prevent rashes on your baby's sensitive skin.
Organic fabrics come from nature, and they're made from natural resources. These properties make them an excellent choice for baby clothes.
Nylons and polyesters often cause discomfort to sensitive skin because they can't absorb moisture or regulate a baby's body temperature. Avoid these fabrics if at all possible to keep your little one comfortable. If you want to find the best baby clothes, start with organic cotton.