Whether you're celebrating at home or in a public space, they lend themselves to the occasion beautifully.
Related: Five Baby Shower Etiquette Questions, Answered
Mint and Gray
If the guest of honor is "mint to be" a parent, this is a beautiful color palette to explore. It's particularly suited for a garden or tea party, too. And if you want a bit more color, try adding in a few pops or dusty rose.
Yellow and White
The sunny hue is great for distinctly-themed events like a celebration for the "parent-to-bee," but also works just as well if you choose to forgo a theme. In that case, add in some hints of green and stud centerpieces with yellow tulips or sunflowers.
Pastels
For something a little whimsical, try a rainbow of pastel colors. Think lavender, robin's egg blue, pale yellow, mint, and a soft bubblegum pink.
Black and White
This graphic color palette isn't at all stark. Lean on mudcloth patterns for a modern celebration, or opt for stripes if you want your event to skew more classic.
Lavender, White, and Gold
For a baby girl, a soft shade of purple—like lavender or lilac—looks just as feminine as pink, especially when paired with white and pops of gold.
Mustard, Burnt Orange, and Gray
For a baby boy, this suite of rich colors lends a cool retro vibe—especially when paired with pops of navy.
Turqoise and Yellow
This cheerful color palette works great for both boys and girls. To keep it chic, not overwhelming, lean on white, then use the bright colors as accents—think yellow, white, and moss-colored flowers in turquoise vases rather than blue tablecloths with yellow napkins.
Orange and Peach
For a little cutie on the way, an orange ombre effect with pops of green is a super sweet color palette to carry throughout.
Green and Gold
Whether you're planning a woodland, safari, or secret garden-themed baby shower, this a combination of a deep green and a sparkling gold looks incredibly sophisticated.
Nude and Brown
Though these muted shades may sound like an interesting choice for a baby shower, an array of tonal colors is just right for a boho-inspired event. To up the glam factor, add pops of metallic bronze or gold.
Best Colours For Baby Shower
The only thing sweeter than honey? The arrival of a new baby! This gender-neutral baby shower idea is just bee-autiful and pretty simple to recreate. Tiny honey pots or beeswax lip balms make buzz-worthy baby shower favors. Yellow, white, black, and honey-gold balloons with pops of flowers are easy to build into a fun table like this one, and a honeycomb cake rounds out the darling decor for your queen- or king-bee-to-be.
Beauty & the Baby Baby Shower Theme
Photo: Living Lesh
Disney themed baby showers don't have to be overly cartoonish. This couple poured their love of Beauty and the Beast into a precious, girly baby shower theme that's heavy on the royal details and light on the pink froth. An over-the-top cake, simple color palette, and rosebuds everywhere got the theme across without making guests think they were walking into a theme park.
Twinkle, Twinkle Little Star Baby Shower Theme
Photo: Our Life in Rose Gold
The little star of the day might not be here yet, but their light is already shining! A gold or silver palette, plus star-studded details, an understated little cake, and whimsical balloons create a simple and sweet "Twinkle Twinkle" shower or sprinkle that will have the mama-to-be positively starry-eyed!
Into the Woods Baby Shower Theme
Photo: Etsy/LFRustics
Rustic baby shower theme ideas are a popular choice for both boys and girls—take it a step further with woodland details like tree-trunk cake stands and an assortment of brown-and-white desserts. Effortlessly styled pine cones, bunches of branches, and an "it's a boy" banner help this forest baby shower tower over other baby shower themes.
Le Petit Prince Baby Shower Theme
Photo: 100 Layer Cake
The Little Prince is one of those children's books that will never go out of style—just like this timeless baby shower theme. Simple blue, white, and gold details with little stars, plus a crown cake-topper tie together this book-themed baby shower idea.
The Velveteen Rabbit Baby Shower Theme
Photo: Buffy Dekmar Photography
Here's another gender-neutral baby shower idea with a literary twist! The Velveteen Rabbit is really the love story of Child and Toy. This absolutely stunning book-themed baby shower idea comes to life with rabbit cookies, lots of pretty veggies, and even an excerpt from the story scrawled on the table runner.
Rainbow Baby Shower Theme
Photo: @dessertinc_
Showering a rainbow baby-mama is a truly special way to celebrate one of life's biggest blessings. A rainbow-themed baby shower should burst with color and joy. Play up the cute baby shower theme with balloons, treats, and toppers but avoid overdoing large details like the tablecloths (here we love the way the colors pop against the stark white table). A classic rainbow is gender-neutral, but a baby boy's rainbow shower might use a chic grayscale color scheme.
Peter Pan in Neverland Baby Shower Theme
Photo: @chicfully_kreations
"Never grow up" is a phrase we mamas constantly chant in our heads as we watch our babies get older. With that forever-young sentiment in mind, draw some inspo from this Lost Boys baby shower theme. Add greenery, little gold leaves, and a silhouette of Peter Pan (or Tinkerbell!) for a Peter Pan baby shower theme that will have guests feeling like they can fly.
Baby in Bloom Baby Shower Theme
Photo: MJKreations
There are so many ways to create an elegant floral baby shower theme! This one bursts with blushes, bolder pinks, and whites. In lieu of games at a flower shower, consider making DIY floral crowns or another flowery craft that can double as the guests' favors. Another fun activity would be planting some seeds in the babe-to-be's honor.
All White Everything Baby Shower Theme
Photo: Mimmo & Co
A monochromatic baby shower is the definition of class. Decorate the space in various shades of white and cream for a dreamy day that makes Mama feel extra special. White wrapping paper will come in handy, and a sea of white balloons as far as the eye can see will make the space feel fun, even in the absence of color.
French Market Baby Shower Theme
Photo: Me & Mr Jones
This blogger took her love of all things French and celebrated the bebe-to-be with Francophile flair. Mini baguettes, macarons, croissants, and other French-market-inspired foods, as well as boulangerie-esque paper wrapping and chic white flowers, push the baby shower theme without taking it to a cheesy place (well, Brie notwithstanding…)
Boho Baby Shower Theme
Photo: Style Me Pretty
Bring on the browns, creams, and touches of peach or sage. A bohemian-inspired baby shower can be small-scale or super grand. Outdoor pillow seating, rustic tablescapes, and dried foliage are all exquisite touches. To achieve a similar vibe to the shower pictured here with less effort with these colors, a "naked" cake plus a simple scene of plumes and lace will do the trick.
Nautical Baby Shower Theme
Photo: @salma.decocake
If they're a boating or preppy family, the parents-to-be will be touched with the color scheme of a nautical themed shower. Make it feel more traditionally boyish by sticking with white and blue; add pink touches to give it a girly feel; or bring in metallics to make it formal. Just don't go "overboard" with the anchors, and this theme can definitely be done in a tasteful way!
Peace Love & Baby Shower Theme
Photo: Catch My Party
A '70s baby shower theme is so groovy. Peace signs, vintage tapestries and art, low-key food, and Polaroid pics as favors drive it home. If the expecting parents love all things '70s, you can't top a peace-and-love baby shower for the little one on the way.
Cute Dinosaur Baby Shower Theme
Photo: @thefamilycakes
Who knew dinos could be done in a way that's cute, not corny? The key to making any "character" party for pint-sized-paleontologists (and their parents, too!) more contemporary and not tacky is to pick a pretty color palette. In this case, pastels or monochrome black-and-white do the trick.
Fairytale Baby Shower Theme
Photo: @flourishpaperworks
Celebrate a little prince or princess on the way with an elegant take on a fairytale shower. Vintage linens, heavy florals, and other whimsical touches will carry out your theme in a tasteful way. Think ribbon and fine china rather than crown decals.
Great Gatsby Baby Shower Theme
Photo: @emc_creatives
Embrace the roaring '20s with a Great Gatsby baby shower theme. This spread features elegant black-white-and-gold desserts, a tuxedo-inspired cake, and even a gilded phone. Floating candles, lots of shine, and a 1920's-inspired backdrop instantly transform any space into an art-deco dream. We think the details are the bees knees (that's 1920s speak for the coolest ever!).
The Adventure Begins Baby Shower Theme
Photo: Parties 365
A travel-themed baby shower is super cute for boys or girls. This couple was so inspired by their own love of flight that they threw their little one's party in actual airplane hangar! That might not be an option for most, but you can still add touches that will transport your guests. Consider miniature globes, maps as table runners or backdrops, and vintage suitcases stacked up as centerpieces. The travel-theme diaper cake decked out with a passport is just too cute… and don't forget to sprinkle some "in-flight snacks" throughout the space!
Ready to Pop Baby Shower Theme
Photo: Everyday Reading
In reality being "ready-to-pop" can feel…not so cute. But in baby shower form? Totally adorable. Fill the room with things that go pop (think: balloons, popcorn, champagne bottles… the list goes on) in the parent-to-be's favorite colors. Other nice touches? A pop-music soundtrack playing in the background and a pop art-inspired cake table like the one shown here.
Tiny Dancer Baby Shower Theme
Photo: @gloevents
A ballerina-themed baby shower is an on-point idea for the girly mama to be. Tulle everywhere is a great place to start; crystals and pink roses don't hurt either. Keep the music soft and classical, and consider serving treats like tuxedo-inspired chocolate covered strawberries, champagne and sparkling grape juice, and a generous crudité and cheese platter. It's a theme as polished and elegant as a prima ballerina!
Noah's Ark Baby Shower Theme
Photo: Kelly Nan
This cute Noah's Ark theme baby shower actually was for twins—a nod to everything coming in pairs! But even expecting parents of singletons can borrow from this artfully crafted baby shower. In order to keep any animal-themed shower from erring on the side of cheesy, stick to a blank canvas backdrop of white, black, or another neutral. Gummy bears, Goldfish, and similar animal-theme snacks will look adorable yet understated served up in sleek vessels as shown here.
Succulent Baby Shower Theme
Photo: Baketini Bake Shop on Etsy
These days you can't leave the house without stumbling over someone's preciously pruned succulent decor. But succulents don't just look great perched on a windowsill—they lend themselves to a unique gender-neutral baby shower theme. Deck out cookies in succulent-green frosting—or try your hand at a flowering succulent cake! Look for the rest of the baby shower decor in the dollar section of your local Target. Easy and trendy!
Tea with the Parent-to-Be Baby Shower Theme
Photo: Momo Party
Why let kiddos have all the fun? Grownups love tea parties, too, and this cute theme does not disappoint. Deck out the space in pretty pastels or pops of floral print. Break out your best mix-matched china or opt for upscale paper goods from Coterie and pass the crumpets, macarons, and finger sandwiches with glee.
You Donut Know How Much You're Loved!
Photo: Tickled Pink
A donut theme is super sweet for a baby shower or sprinkle, and you can make it work for boys and girls. This party featured piles of tempting donuts throughout, and lots of pink and white, icing-inspired details. You can also DIY a photo or cake table backdrop by simply buying a plain white tablecloth and taping little sprinkle-like pieces of colored paper to it. Oh, and "donut" forget to serve coffee at this breakfast-y shower, no matter the time of day.
Lumberjack Baby Shower Theme
Photo: Sugar Fetish Cakery
Buffalo-plaid baby showers can seem like a dime a dozen in the baby shower world, so set your celebration apart with careful attention to detail and extra-special cake. Baby boots, buffalo plaid table cloths, and a hot cocoa bar are cozy touches.
Pastel Colours For Baby Shower
Pretty lavender table covers and backdrop
Elegant, crystal chandelier above the guest tables
White circular stand adorned with flowers and candles
Gorgeous floral arrangements, flower pedals, and candles on tables
Tall, elegant, clear candelabras on tables
Silver chargers at each place setting with white napkins and light pink napkin rings
Y-shaped long tables with amazing balloon garland decor separating them in the middle
Pink, purple, peach, and teal balloon garland adorned with pink and white roses and greenery, which cascaded down the table
Giant plush bear holding roses at the foot of the balloon garland
PASTEL BABY SHOWER DECORATIONS:
SEE MORE BABY SHOWER IDEAS HERE: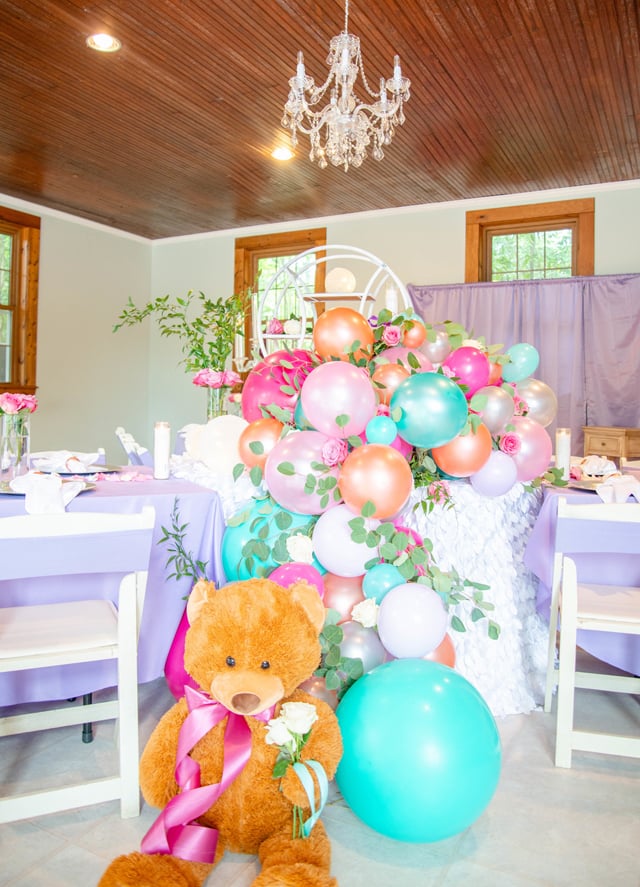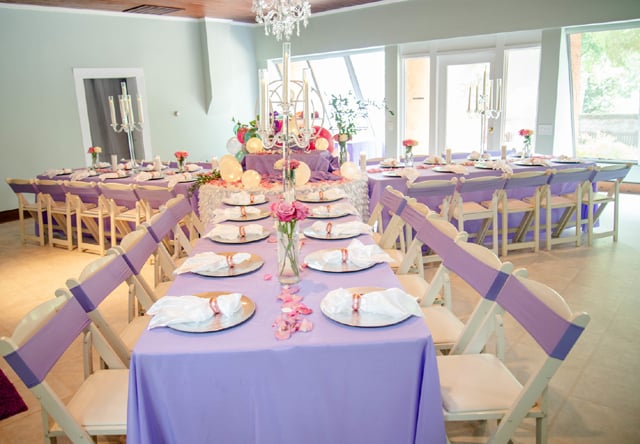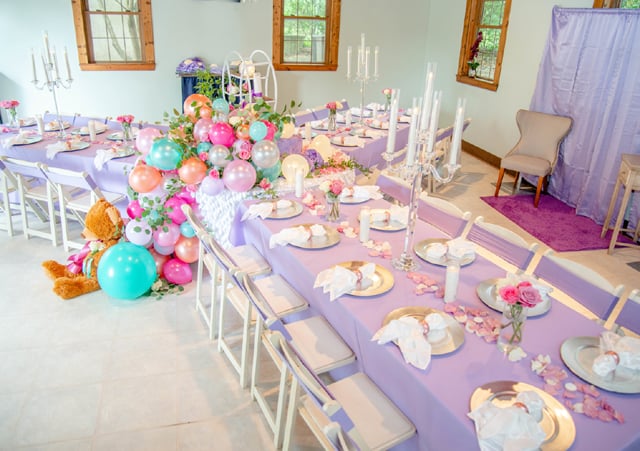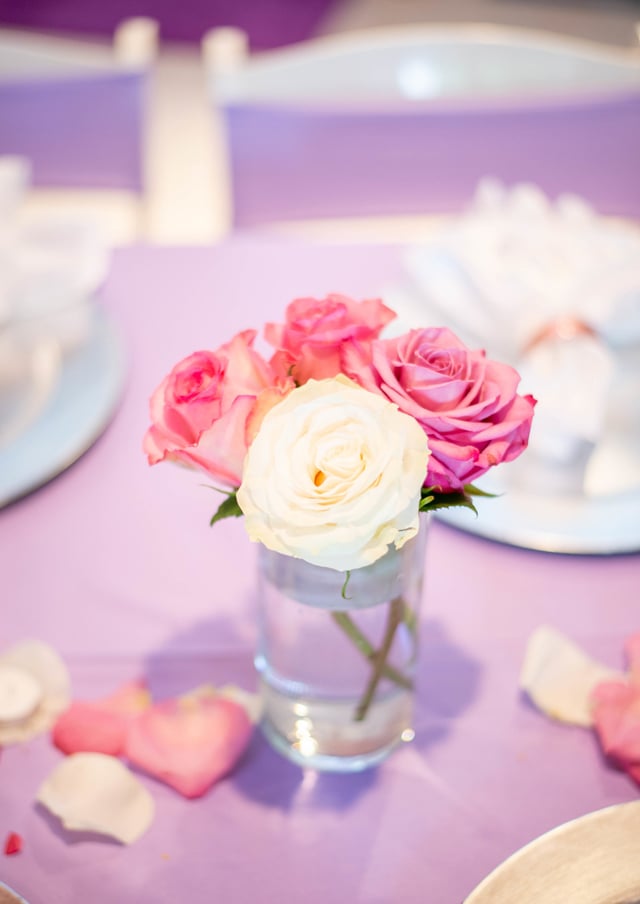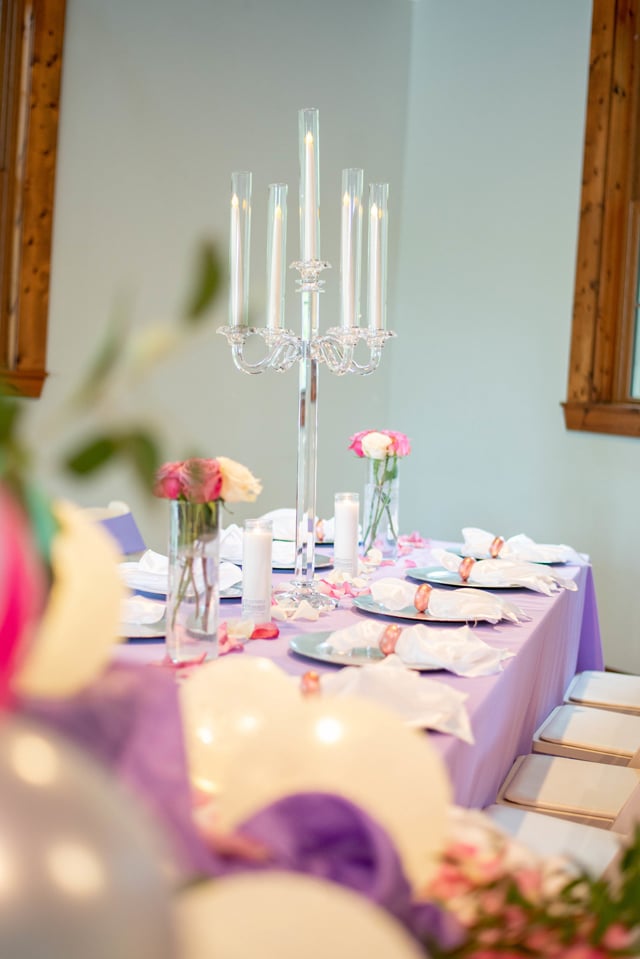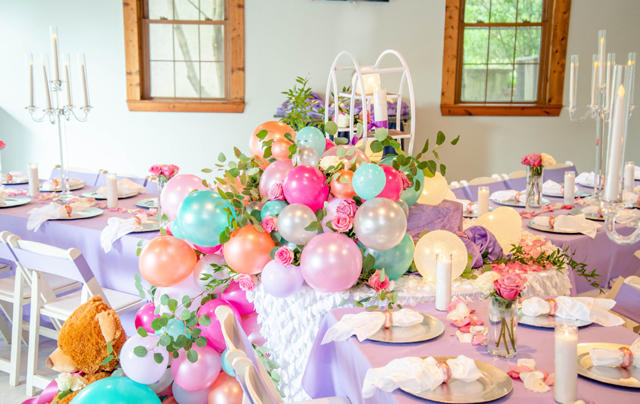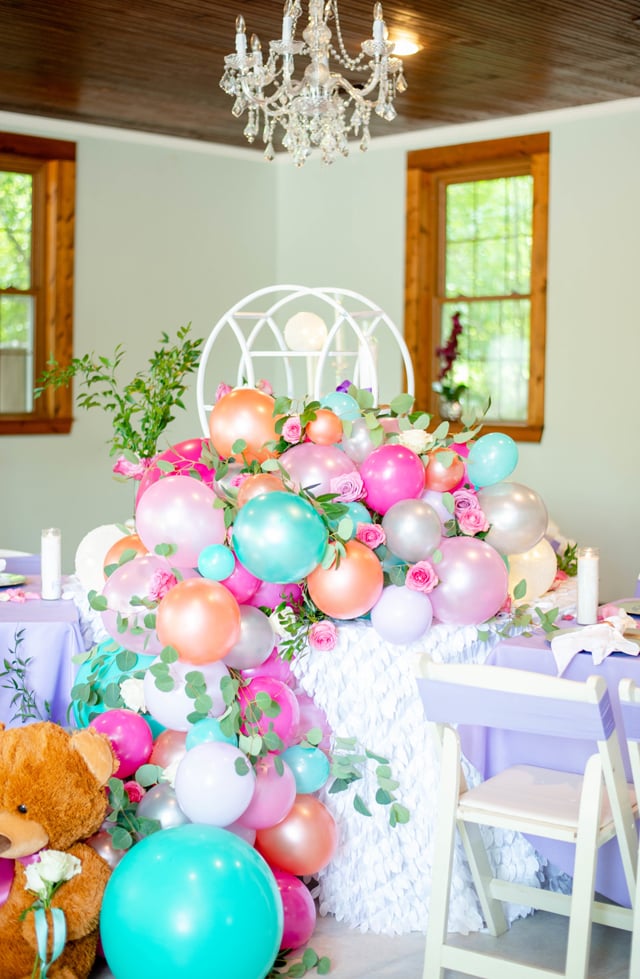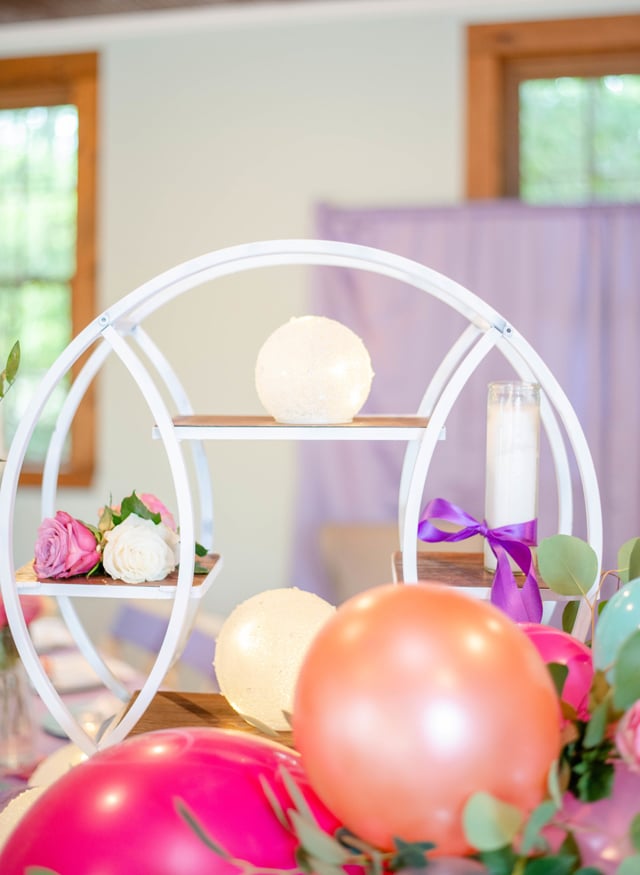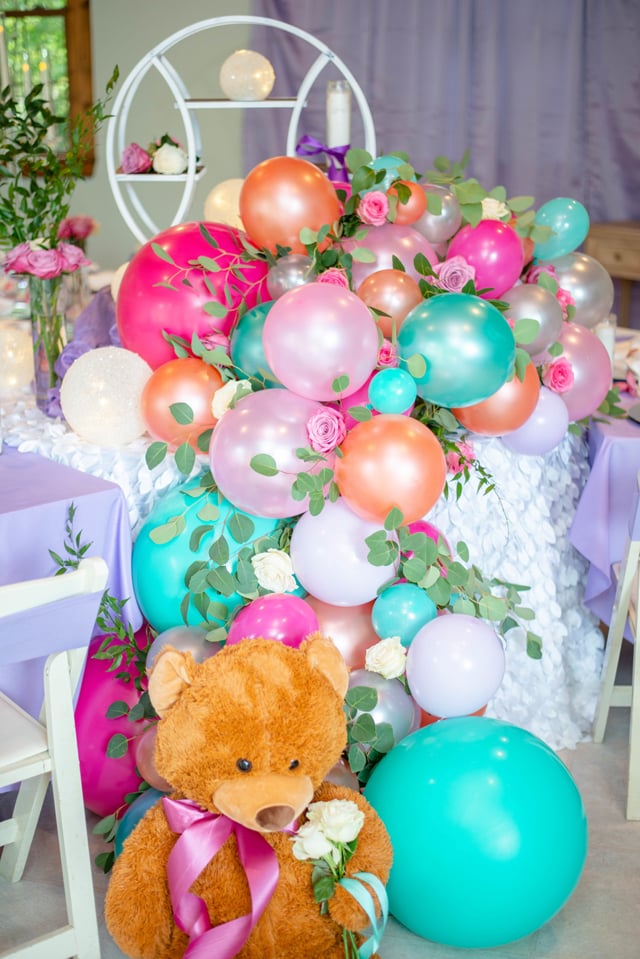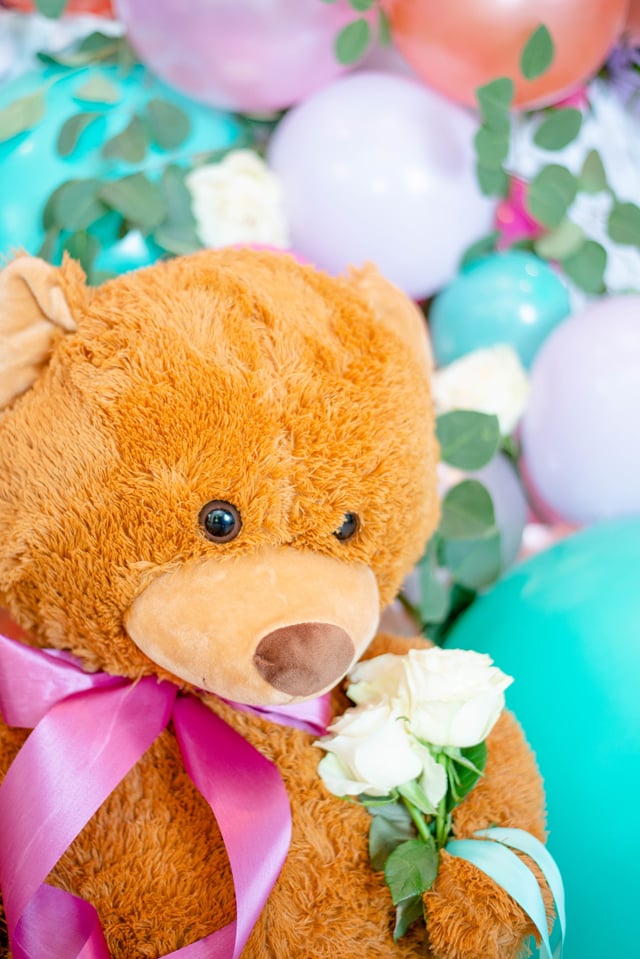 Theme Colours For Baby Shower
So, here we go, our top 12 baby shower themes for boys that we just absolutely love!
1. Blue Elephant Baby Shower
Elephants are a popular baby shower theme idea for boys and we can understand why – they're absolutely adorable. Mix this cute baby shower theme with a splash of blue and you have the perfect combination. Elephant baby shower decorations are cheap and affordable from online stores such as Amazon and Etsy but you can always give yourself a challenge with a bit of DIY.
Elephant tableware and accessories is a must but why not get creative and make an elephant baby shower cake or cupcakes. The expecting mother will adore this baby shower theme for boys and is the perfect idea that is affordable and can be kept to budget.
You can view more elephant baby shower theme ideas on Pinterest
2. Royal Prince
Every little boy is born a Prince, so what's a more fitting baby shower theme for a boy than a Royal Prince-themed party? Of course, this means you'll be on the hunt for crowns, and lots of them! We're talking crown cake toppers, crown party hats and favours and even crown-shaped cookies!
The colour theme? GOLD! We will want to see sparkles and glitter and lots of gold. Mix this with either a splash of blue or purple (if you want to be extra royal) and you're sorted.
This is another classic and classy blue baby shower theme for boys and will leave your guests feeling like royalty themselves. Decorations can be kept simple yet elegant but we always find a blue and gold balloon garland that will add an extra touch of glam to your baby shower.
You can view more royal prince baby shower themes for boys and party ideas on Pinterest.
3. Sweet Dreams
Another adorable baby shower theme for boys is a sweet dreams theme. Celebrate the arrival of a new baby boy with this lullaby-themed shower.
Twinkling fairy lights, soft colours, stars and moons are what makes this theme so precious, and with a name like sweet dreams, we can expect to see lots of sweet treats and gifts to match. Moon and star-shaped cookies, blue cloud-like cotton candy and pastel-coloured cupcakes will go perfectly.
This lovely baby shower theme just shouts happiness and calmness. You can even get creative and make personalised sweet bags that the guests can take home with them as an extra touch. The expecting mum and guests alike will absolutely love this theme and it's the ideal way to welcome a new life into this world. Go all out by getting a hilarious diaper cake for the occasion!
You can view more sweet dreams boys baby shower ideas on Pinterest.
4. Little Man
Proudly celebrate the soon arrival of your little man with a little man themed baby shower party. This great and modern theme should see lots of bow ties and moustaches added to the décor and decorations, as well as a complementary colour (we suggest blue, yellow or green). You can get fun and creative with the decorations and add moustaches to drinking straws which will leave everyone laughing!
This awesome theme brings a bit of fun to the table and you can celebrate getting ready to welcome the bun in your oven into the world. This is a popular theme that we have seen time and time again at our baby shower venue and every time it is a huge success!
View more baby shower themes for boys and little man parties on Pinterest.
5. Twinkle Twinkle Little Star
Similar to our sweet dreams theme, but with an added twinkle. Creating a star themed baby shower is a great way to surprise the expecting mother. Choose a white and pastel blue colour scheme with a splash of gold to give it that magical twinkle.
You can create a brilliant cloud backdrop by buying a white balloon arch along with gold glittery star decorations. Of course, there is also no question about what the party favours should be – stars. Star-shaped cookies and not forgetting the tasty chocolatey treat Magic Stars.
Star theme baby boy shower decorations are often affordable, places like Etsy has some super cute decorations you can purchase including a twinkle twinkle little star balloon set and adorable personalised star invitations that completely set the stage.
View more star baby shower themes for boys on Pinterest.
6. Nautical Themed
Ahoy matey! Get ready to welcome the newest member of the captain's crew to the team with fabulous nautical baby showers for a baby boy. We're expecting blue and white stripes, wooden anchors, sailor hats and a rubber ducky to be top of this ship-themed party list.
The baby shower cake for boys can be decorated with a swirl like frosting, giving the illusion of waves! Cake pops always go down a treat too and is something guests will love.
If you want to give the mum to be and her bump a gift to remember then a personalised printed top with the caption 'Ahoy, it's a boy!' will go down a treat. Another cheap and cheerful food idea? Croissants with googly eyes look suspiciously like crabs – crabwiches if you must.
You can view more baby shower themes for boy and nautical decorations on Pinterest.
7. Lego Construction
It is more or less inevitable that your baby boy will grow up loving the classic children favourite, Lego bricks. So what better way to throw a baby shower than by throwing a Lego construction themed party? You can get uber creative with this one and get a baby shower cake with Lego being incorporated into it, cookies and sweets with Lego men on and you can even give away party favours at the end filled with Lego bricks. The table decorated with lego men will make a cute feature.
If you are allowing children at your baby shower, then having a Lego building station is a great idea to keep the kids entertained whilst the adults can sit and eat and chatter away. Of course, this is a super colourful event, with the classic red, yellow, green and blue making a prominent appearance.
You can view more lego baby boy shower themes on Pinterest.
8. Jungle Mania
Animal themes are always a winner when looking for baby shower themes for boys, be that jungle or safari. We're expecting to see lots of green party decor at this event! With plants, monkeys and teddy bears.
A brilliant idea is to get framed pictures of all your favourite jungle animals, which can then be used in your little one's bedroom when he arrives. Etsy sells some really awesome decorations that don't cost the moon. This includes safari jungle animal prints and a tropical baby shower welcome sign!
This baby shower theme for boys is absolutely perfect for the summer, where you can host a party outside. Our venue is situated around 11 acres of stunning greenery, so it's the perfect place to host this theme!
You can view more jungle baby shower ideas for boys on Pinterest.
9. Little Pumpkin
Now, this is a seasonal baby shower theme, however, it is one of our favourites! If your baby shower is near Halloween, then a little pumpkin party is adorable. Carved out pumpkins make excellent flower vases, which creates an affordable, yet pretty table centrepiece. Orange is the standout colour and mini pumpkins make for great decorations!
You can also get creative with sweet treats – pretzels covered in orange chocolate look a lot like pumpkins and sticky toffee apples are a great way of staying within this seasonal theme. You can also sprinkle the table with autumn colours and leaves to give the décor an extra pop.
You can view more baby shower themes for boys and little pumpkin ideas on Pinterest.
10. Woodland Animals
A woodland themed baby shower is perfect for all you nature lovers and if you're a fan of cute little forest animals. With this theme comes a rustic and chic look, with shades of brown and twigs and pinecones being used at the main decorations and centrepieces. Wooden tree stumps also make for great food a dessert riser and will perfectly complement your theme. Add a splash of greenery to this and you're set to go.
You can easily find cute woodland cake toppers online and if you're a chocolate fan (who isn't?), then this woodland theme is the perfect excuse to have a gigantic tree stump chocolate cake and chocolate-covered strawberries with nuts sprinkled on the top to look like acorns.
You can view more baby shower themes for boys and woodland creatures on Pinterest.
11. Vintage Circus
Step right up! It's a magical event that deserves a magical theme. Vintage circus baby showers are fun, colourful and offer some creative baby shower games.
With red and white tulle, vintage circus posters and light up letters, it is sure to dazzle your guests. Food is easy, with there being lots of popcorn, cotton candy and sweet circus treats being readily available. Hiring out a vintage popcorn stand will also add an extra touch to this baby shower theme.
This is perfect to host in a marquee, which will give the illusion of being in a circus tent and you can easily decorate with red and white drapes and balloons.
You can view more circus baby shower ideas on Pinterest.
12. Easter Bunny
Another cute seasonal baby shower theme is Easter! Easter bunnies can be very adorable and are complimentary with pastel shades of blue, yellow, purple and green. Throw in a splash of orange of course, for the bunny's carrots and you have a stunning palette ready to wow your guests. Etsy do lots of bunny ear cupcake toppers that will look great on the dessert table.
As a party favour, you can give your guests a mini straw basket filled with chocolate eggs. This is a perfect theme if you are after a more neutral theme and want to steer away from the traditional 'It's a boy!' themes.
Do I need a boys baby shower theme?
Absolutely not! Although boys baby shower themes can be a fun way to decorate your event, a theme isn't a must-have. For a successful baby shower, all you need is your nearest and dearest around you. Baby showers are about celebrating the upcoming arrival of your latest family member.
Baby shower themes are a great way to help with ideas such as the food, decorations and games, but there is no need to have a set theme if it isn't your style!