Are you searching for the perfect place to celebrate your bundle of joy? Then look no further than these beautiful baby shower venues in Los Angeles! Beachside soirées, garden parties, and bistro afternoons are just a few of the ways you can host your baby shower in Los Angeles.
The vibrant city offers a wealth of stunning spots that are ideal for parents-to-be from all backgrounds. From lively Italian restaurants to contemporary-chic outdoor settings, you're sure to find the perfect venue that aligns with your unique vision.
Best Places for Baby Shower Los Angeles
Host a distinct celebration in Santuari, a restaurant imbued with Moroccan influences. In this beautiful baby shower venue, you and your guests can sit comfortably on white leather banquettes and soft brown couches. Rustic chandeliers and exposed wood beams add to the interior's captivating ambience.
Dine on coastal Californian cuisine infused with Mediterranean twists as you savor special time with loved ones here. The restaurant even includes a courtyard so that you can enjoy alfresco culinary experiences. The eye-catching venue can accommodate up to 250 guests for memorable gatherings. No matter the size of your party, this setting is sure to delight and dazzle.
Republique, 624 S La Brea Ave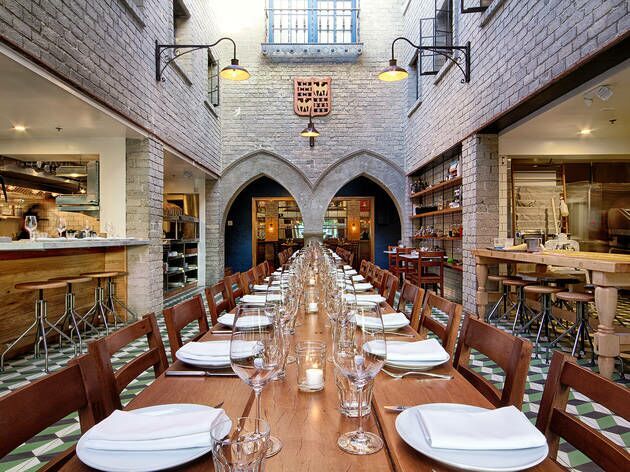 At the Republique, you can embrace l'art de vivre in the midst of Mid-City. The French-inspired restaurant specializes in modern plates served within a communal setting. Up to 34 friends and family members can gather around the lively dining room's long tables making the space perfect for a unique baby shower.
In this enchanting interior accented by historical architecture, you can enjoy exquisite French dishes, thoughtfully prepared with seasonal ingredients. Collaborate with Chefs Walter and Margarita Manzke to curate a bespoke menu that's unique to your event. The restaurant's building was initially designed to be Charlie Chaplin's office in 1928, so you're sure to share plenty of laughs and memories here!
Alimento, 1710 Silver Lake Blvd
Though the restaurant's menu appeals to upmarket tastes, you're sure to love the relaxed atmosphere at Alimento. The simple, modern aesthetic instills a serene vibe throughout the restaurant. Floor-to-ceiling windows, modern furnishings, and polished concrete floors fill the space, creating a familiar yet chic ambience in Los Angeles, CA.
The venue's organic tones and textures will not only look great on the day, but they'll also make for beautiful backgrounds for timeless photos. While here, you and up to 75 loved ones can enjoy Chef Zach's contemporary Italian cuisine. Dishes such as thoughtfully crafted pasta and grilled seafood bring the robust flavors of Europe to Los Angeles' Silver Lake neighborhood.
Bexx Secret Garden, 5113 Bakman Ave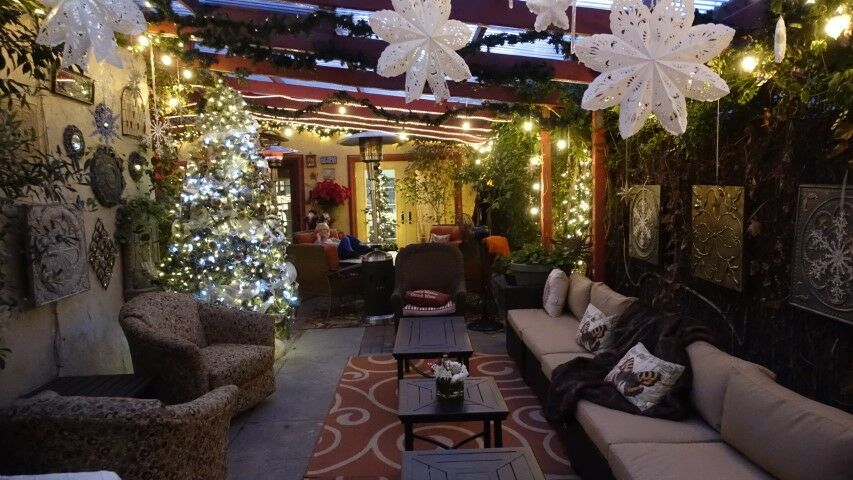 Located in the heart of North Hollywood's Art District, Bexx Secret Garden is ideal for mothers looking for a secluded retreat in the center of Los Angeles. Host anywhere between 10 to 80 guests here as you anticipate your bundle of joy. You and your loved ones are sure to enjoy the cozy couches and vibrant rugs, which offer a home-like atmosphere.
The venue's eclectic ambience can be enhanced to reflect your desired aesthetic, resulting in an event that's 100% you. Not only is this open space perfect for a baby shower, but keep it in mind for a birthday party or some fun dinner parties with friends.
Elephante, 1332 2nd St, Santa Monica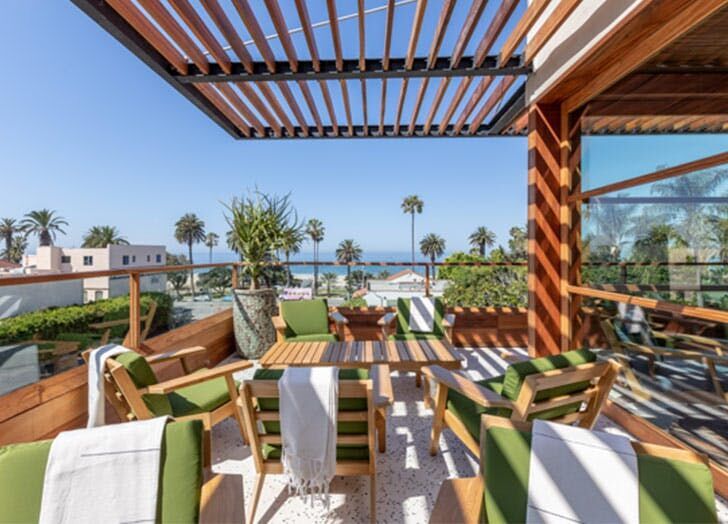 Treat yourself to the sights and sounds of the shoreline at Elephante, a Mediterranean-inspired bistro and outdoor patio in Santa Monica. Located just minutes from Venice Beach, the baby shower venue offers a relaxed yet stylish setting for special occasions. Inside, you'll love the brightly lit interiors that are accented by fashionable beach house furnishings.
At Elephante, you can host a shower for anywhere between 15 to 300 loved ones. Highlighted by a neutral color palette and subtle Continental charm, this soothing spot is sure to be a hit with your guest list. While spending time with each other, you and your crew will be able to enjoy tantalizing menu options inspired by coastal European and North African flavors.
Dal Rae Restaurant, 9023 Washington Blvd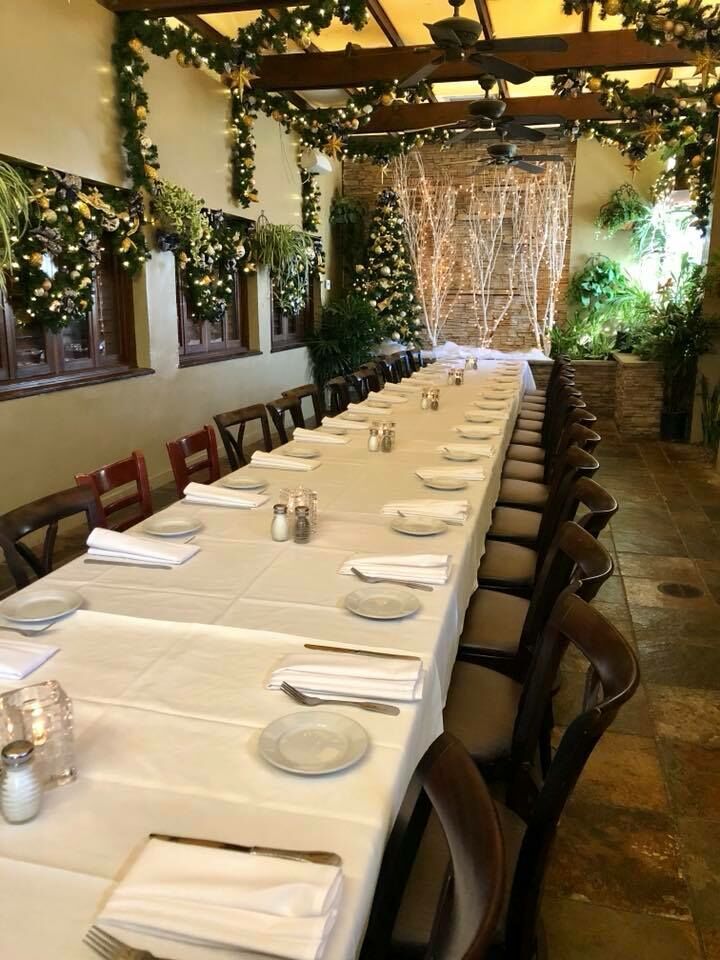 Share lively conversations and family-style meals while pampering yourself and your bump at the Dal Rae Restaurant's Garden Banquet Room. Leafy plants, exposed wood beams, and a beautiful waterfall wall create a naturally tranquil atmosphere, allowing you to focus on what's important on the special day.
Invite up to 34 guests to dine on tantalizing menu selections as you mingle, reminisce, and look to the future. Linens, décor, and floral accents can be provided by the restaurant to further enhance banquet room experiences. Whether you're hosting a morning meal or an evening soirée, this baby shower venue is sure to dazzle.
L'Opera Ristorante, 101 Pine Ave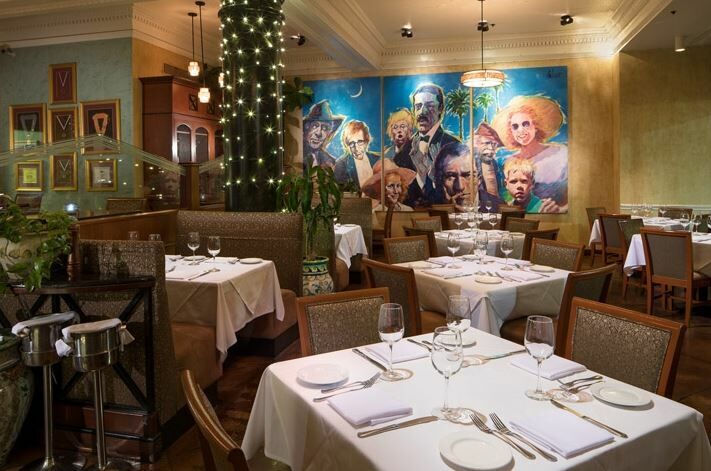 For more than 20 years, L'Opera Ristorante has been dedicated to providing the community with authentic Italian cuisine. So why not make this charming, family-oriented restaurant the setting for your baby shower? The Aldo Luongo Dining Room offers a semi-private space where you can share your day with up to 54 guests.
The Dining Room features a vibrant mural painted by Aldo Luongo and the ambience is made warm and inviting through glowing string lights. Choose from event catering packages or customized menus for a truly unique dining experience. To align with your one-of-a-kind vision, the space can be arranged to include a banquet setup or a long table.
AWA Oasia, 608 Mateo St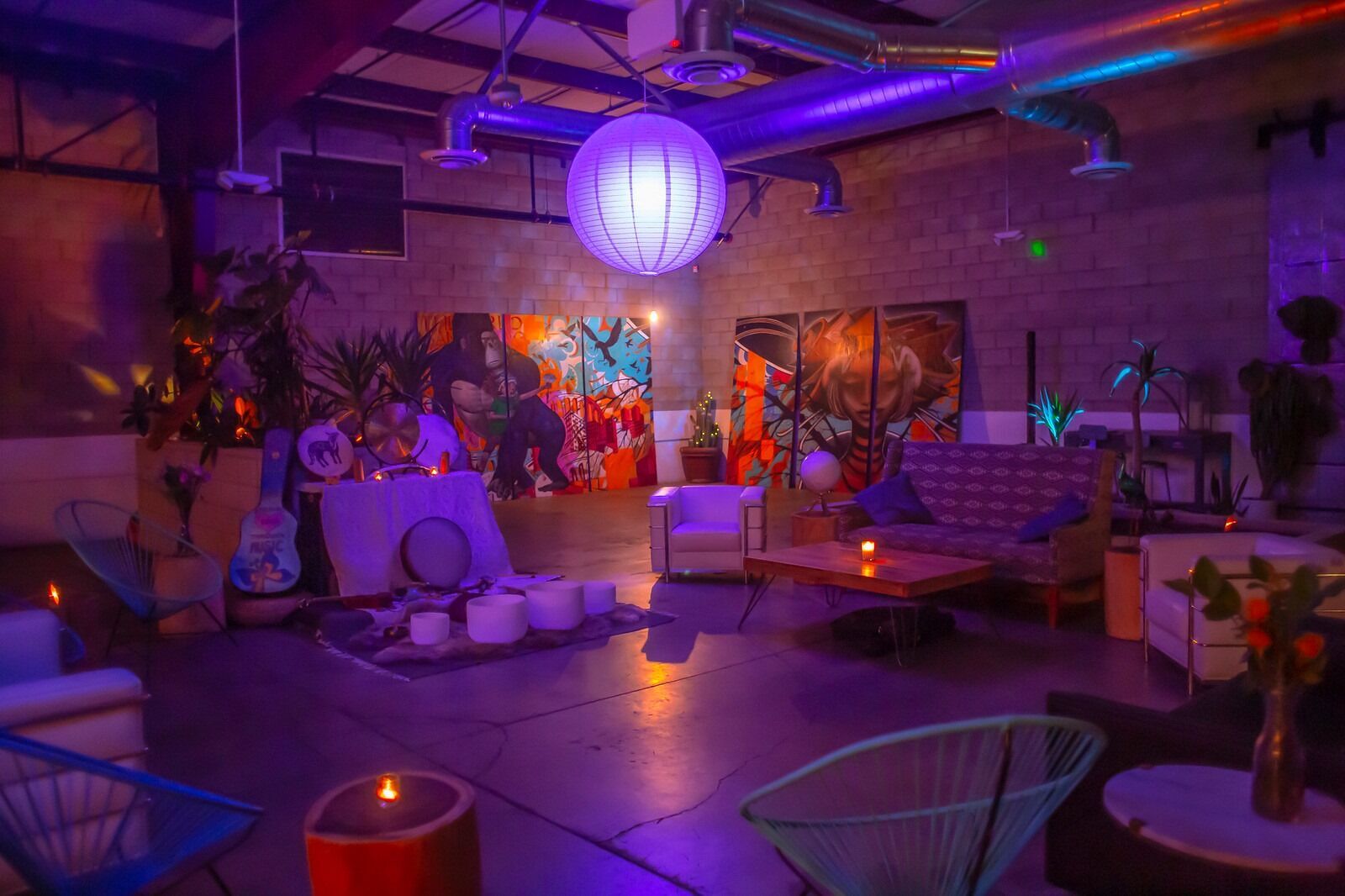 Celebrate your bundle of joy within an industrial-chic ambiance at AWA Oasia. Situated in the Art District, the interior reflects the area's vibrant energy. Hand-painted murals, various skylights, and art-covered walls define the space, resulting in an enlivened atmosphere. This baby shower venue even includes indoor gardens, highlighting its concrete architecture with natural elements.
Create new memories with up to 300 guests here as you and your bump are showered with love and joy. The versatile 14,000 square foot interior will allow you to curate the event of your dreams. Using the venue's on-site commercial kitchen, your preferred catering team can even whip up tasty treats or savory hors d'oeuvres for you and your loved ones.
Pretend City Children's Museum, 29 Hubble, Irvine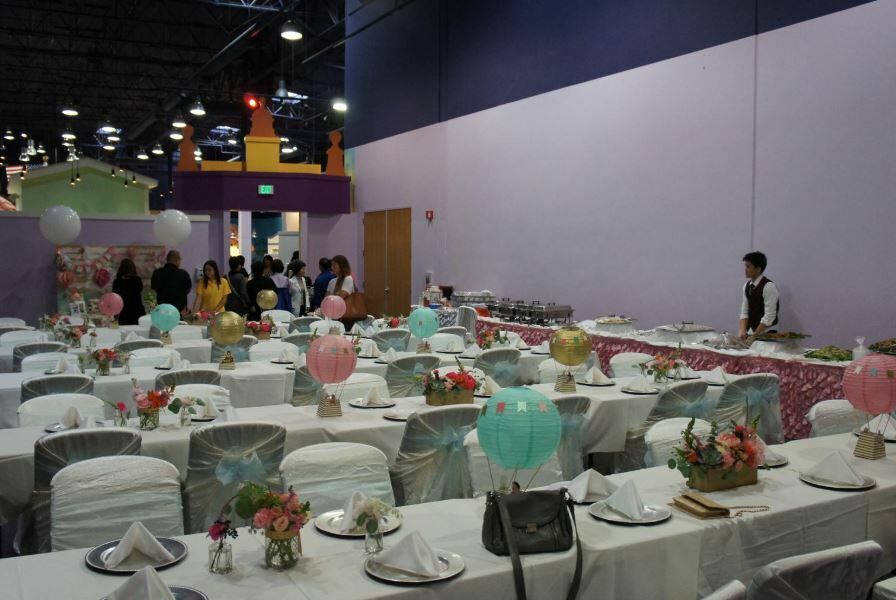 Just because your baby is still on the way doesn't mean you can't tap into your childlike wonder! Embrace your inner kid at the Pretend City Children's Museum located in Irvine. The fascinating venue is home to a charming miniature city that will spark joy for all ages. While mingling with loved ones, admire the museum's playfully detailed structures.
From intimate gatherings to elaborate soirees, the children's museum can comfortably host a diverse range of events. Up to 900 guests can celebrate your baby with you here. The venue's 15,000 square feet allow ample room for banquet setups, gift tables, interactive stations, and more.  Whimsical, quirky, and engaging, the venue is sure to spark joy. 
Free Places to Have a Baby Shower Near Me
Baby showers have continued to grow in popularity over the years, but the rising cost and extravagance can create needless stress which is the last thing you need during the throws of pregnancy. But for many, a baby shower provides a lovely time to celebrate the impending arrival of your new bundle of joy with your nearest and dearest. What's better than friends, cake and laughter? Sometimes a baby shower is just the thing you need in your last few weeks of peace…
The good news is that baby showers don't have to be the flashiest and most expensive affairs, whether you're on a budget or just wanting to throw a small baby shower, anyone can with these free places to host a baby shower that means, you shall go to your own baby shower!
1. A Garden
If you're hosting a baby shower in the summer then keeping it outdoors (weather permitting of course) in a garden is one of the easiest and most convenient ideas. Whether it's your own, a family members or a friends garden, you could do a lot on a budget in a garden with gazebos, balloon walls and plenty of homemade snacks and drinks. When you're in the late stages of pregnancy there's nothing like the comfort of being in a stones throw to a house either!
2. Home
If your baby shower is being hosted during the height of winter or the heavens open then hosting in the comfort of your own home is a no brainer! You have your home comforts, no distraction from other people and it's completely free! Forget fancy restaurants and venues, it's all about where the closest toilet is when you're pregnant!
3. A Park
Why not host a picnic themed baby shower at your local park? Pack up a lovely little spread, bring some games, props for photos and invite all your friends. A perfect venue for a baby shower in the summertime.
4. The Beach
Obviously depending on your guest list and that the beach has easy access for a mama to be, a beach is a gorgeous location for the beach lover, especially during spring/summer. You could tie it in with a beach BBQ, a floral dress code and lots of feel good vibes. Keep an eye on the tides before you plan what time you're going to head down there. Oh, and it's no beach themed baby shower without the obligatory ice cream!
5. A Restaurant or Cafe
If you have a smaller guest list then why not book a table in your fave cafe or restaurant? You don't need to book out the whole place for the venue and only need to cover what food and drink you're gonna choose when you're there, they may also be able to offer bulk discounts in advance depending on your party size. You can still take plenty of photos, decorate your table and have plenty of games. An afternoon tea would be a great idea too!
6. Unused Co Working/Community Spaces
Research co working spaces or unused community space, especially during weekends. Just run a quick google search and start asking around. If you have a big guest list then they might be willing to rent the space to you free of charge if it's not being used and it could be mutually beneficial, i.e social media coverage or potential guests that might be interested in the co working spaces if they are freelancers or professionals themselves.
We stumbled upon Accelerate places who offer free venue hire. They have locations in London, Manchester and Nottingham so if you're local to these areas then it is definitely worth checking them out and putting an enquiry in well in advance of your event date.
8. Come And Go Baby Shower
If you're worried you don't have enough room to host a baby shower at someone's house then why not have a come and go baby shower? The baby shower would go on for longer, but the idea would be that people can come and visit for a period of time and then leave so there is room for your other guests to come. If you have a wide mix of friends in different circles then socially this might work out as a better idea for you anyway.
Do you have any other top places you could recommend for hosting a free baby shower? Keep up to date with the latest news from BabyDam over on our Facebook page or Twitter!