Though the trend for baby going home outfits is an important tradition, it's a fairly modern one. Before the 20th century, the majority of births took place at home, so there was no need to purchase special clothing. Nowadays, choosing an outfit is among the first independent decisions many families make for their baby—so it's a major milestone for many people. Here's what you'll want to get—plus some adorable picks for the best baby going home outfits.
In this article:
Baby going home outfit basics
Best baby boy coming home outfits
Best baby girl coming home outfits
Best gender neutral baby coming home outfits
ADVERTISEMENT
Baby Going Home Outfit: The Basics
So what exactly should your baby coming home outfit include? "Outfits can vary based on what parents feel fits their family's style," says Melissa Gersin, RN, a former maternity nurse turned baby-product inventor. "As long as baby has on a diaper and is dressed appropriately for the weather, there's no right or wrong outfit." Some parents go all out dressing baby in a beautiful dress, while others just put baby in a basic onesie. But with all that new parents go through, getting baby dressed is, indeed, a major accomplishment, Gersin says.
Baby going home outfit essentials
Keep these bringing baby home outfit essentials prepared ahead of time so you can focus on enjoying those early moments with your new arrival:
• Onesie. "A onesie is a perfect, basic building block for clothing," Grauer says. "If baby is too cool, more thin layers of clothing can be added. If baby is warm, the onesie itself is the outfit." Not to mention that these all-in-one looks are utterly adorable!
• Hat. Even in warmer weather, newborns do well with a baby beanie or knot cap, since their tiny bodies can easily lose heat. If you buy a baby coming home outfit with an included hat, make sure it's small enough for baby's first days, as they sometimes run big, Grauer says.
• Socks. Babies don't easily keep socks on, but they'll need that extra layer of warmth, since "they receive little blood flow to their tootsies," Grauer says. You can also opt for booties, which may stay on better.
• Leave the mittens at home. You may worry about scratching, but Grauer says that newborns need their hands. "Those hands have been their friends and comfort for nine months and they can even help soothe a baby on that first ride home."
When you're figuring out your baby coming home outfit, you'll also want to consider these factors:
• Weather. Layers are key to anticipate temperature changes. Your newborn take-home outfit choice will vary based on where you live and current conditions. But it never hurts to consider packing an extra onesie or cardigan—just in case. A breathable cotton or muslin blanket is also a great item to have on hand.
• Comfort. "As most babies are likely just going right into a car seat, comfort is important too, so simple is best," Mitzner says.
• Easy on-off. Simplicity and function reign supreme. Babies need frequent diaper changes, and intricate ensembles make that process more complicated. Cuteness factor is great, but accessibility is key. What's more, newborns tend to be a bit floppy, and getting them dressed can be a little tricky at first.
ADVERTISEMENT
Baby going home outfit sizing
Buying the right size for the baby coming home outfit seems straightforward, but it can sometimes be a challenge. Most baby outfits run big these days, with the majority sized for a 3-month-old rather than an infant, Gersin says. This is especially the case for any outfits labeled 0-3 months. "Unless you know your baby will be 9 to 10 pounds at birth, it's best to only bring clothing labeled as 'newborn' to the hospital," she says.
If you're worried, bring two options for the newborn take-home outfit: one that's small and one that's a bit bigger. But there's no need to stress too much about this. "If the outfit is a bit too big, baby won't care and the outfit will function to keep baby warm and protected against the elements," Gersin says. And if the outfit is a wee bit small? You can make some simple adjustments as needed: Don't snap the onesie closed at the bottom, keep hoodies unzipped or scrap a too-snug sweater altogether.
Above all else, have fun shopping for baby's first outfit. Find something you love and enjoy this milestone moment. You'll be bringing baby home soon, and this is something to celebrate—so don't stress). Baby will look adorable no matter what you choose.
Best Baby Boy Coming Home Outfits
When looking for the best baby going home outfit, consider factors like the climate, material and style. If you're due in summer, natural fabrics like cotton and muslin are a great choice. For winter arrivals, opt for fleece-lined hats, cozy booties and bodysuits with long sleeves. Ready to start your search? Take a look at these cute baby boy coming home outfits for inspiration for every season.
Image: Courtesy Burt's Bees Baby
Newborn boy coming home outfit for spring
Rain or shine, this newborn take-home outfit for boys is sure to be a hit. The organic cotton fabric is super-soft and gentle on sensitive newborn skin. Plus, the wrap-style front and nickel-free snap fasteners won't irritate baby's umbilical cord stump. Bonus: This look comes with a matching hat for added warmth.
Get the look: Burt's Bees Baby Dotted Jacquard Stripe Organic Baby Jumpsuit & Knot Top Hat Set, $19, BurtsBeesBaby.com
Image: Courtesy Burt's Bees Baby/Monica an dAndy
ADVERTISEMENT
Newborn boy coming home outfit for summer
When things heat up, a short-sleeve romper is a great summer-ready newborn look. We adore this kimono-style romper by Monica & Andy—it's made from GOTs organic cotton, has easy snap-fasteners and comes in a range of cute prints. Pair it with booties and a knot cap to keep baby's extremities nice and warm.
Get the look: Monica and Andy Sweet Baby B Romper, $25, MonicaandAndy.com; Burt's Bees Baby Solid Adjustable Organic Baby Booties, $17, BurtsBeesBaby.com; Monica and Andy Top Knot Cap, $12, Monicaandndy.com
Image: Courtesy Old Navy
Newborn boy coming home outfit for fall
Dress your little cub in this darling bringing baby home outfit for fall. The footed onesie keeps baby cozy and warm, fold-over mittens prevent scratching, a two-way zipper prevents any new parent fluster and the autumnal animal print makes for a memorable photo. And get a load of that adorable beanie, complete with bear ears!
Get the look: Old Navy Unisex Printed Sleep & Play Footed One-Piece and Critter Beanie Set for Baby, $19, OldNavy.com
Image: Courtesy Barefoot Dreams
Newborn boy coming home outfit for winter
Keep your little man toasty warm with this four-piece look. The set includes a cardigan, pants, hat and a matching blanket crafted from luxuriously, soft cotton. Now that's a simple but swoon-worthy newborn take-home outfit if ever we saw one.
Get the look: Barefoot Dreams Cardigan, Pants, Beanie & Blanket Set, $99, Nordstrom.com
Best Baby Girl Coming Home Outfits
You might be tempted to go with an intricate lace-embellished, button-fastened dress for your little lady, but you'll want to make sure your choice is comfortable, seasonally appropriate and easy to put on and take off. Lucky for you, there are plenty of options that strike a balance between the pretty and the practical. Below, check out our favorite baby girl coming home outfits for all four seasons.
Image: Courtesy Honest Baby Clothing
Newborn girl coming home outfit for spring
This three-piece cotton outfit will keep baby cozy on a brisk spring day—and it's pretty cute to boot. The coordinated set includes a kimono-style top, pull-on footed pants and a sweet headband to complete the look. Better yet, the top has convenient fold-over cuffs to protect baby from fingernail scratches.
Get the look: Honest Baby 3-Piece Organic Cotton Side Snap Top, Footed Pant and Headband, $25, HonestBabyClothing.com
Image: Courtesy Kissy Kissy/Janie and Jack
ADVERTISEMENT
Newborn girl coming home outfit for summer
When it's warm outside and an extra layer isn't called for, a sleeveless romper is the way to go. Crafted from the finest Peruvian pima cotton, this one-piece has a delicate floral print and crotch snaps for easy diaper changes. Even in summertime, though, don't forget a lightweight newborn hat and socks.
Get the look: Kissy Kissy Garden Roses Ruffle Bubble, $39, KissyKissy.com; Kissy Kissy Garden Roses Hat, $12, KissyKissy.com; Janie and Jack Bow Sock, $9, JanieandJack.com
Image: Courtesy Tea Collection
Newborn girl coming home outfit for fall
When the weather begins to cool, a footie ensemble is the perfect baby coming home outfit. We like this mustard yellow pick from Tea Collection. It's got snap fasteners down the front, foldover mittens and a modern floral print. Plus, your little one will get plenty of everyday use out of this organic cotton one-piece. Complete the look with the matching hat.
Get the look: Tea Collection Footed Baby Romper, $27, TeaCollection.com; Tea Collection Baby Hat Set, $17, TeaCollection.com
Image: Courtesy Burt's Bees Baby/Boden USA/Zutano
Newborn girl coming home outfit for winter
A quilted romper will keep winter's chill at bay—and this piece's kimono-style design will make dressing a breeze. Add a baby bonnet and fluffy booties and you have a precious and practical newborn take-home outfit.
Get the look: Burt's Bees Baby Quilted Organic Cotton Romper, $22, Nordstrom.com; Zutano Cozie Furry Baby Bootie, $24, Zutano.com; Boden Baby Cashmere Fair Isle Bonnet, $60, BodenUSA.com
Best Gender Neutral Baby Coming Home Outfits
Whether you're waiting until the big day to find out baby's sex or simply want something beyond classic pink and blue apparel, there are tons of gender neutral clothes on offer. Here, our picks of the most adorable gender-neutral newborn coming home outfits, including options for each season.
Image: Courtesy Hanna Andersson/Baby Mori/Amazon
Gender neutral coming home outfit for spring
Your little one deserves the very best—that's why we love this adorable set made from pure, pima cotton. The bodysuit is decorated with original Winnie the Pooh artwork, that'll look lovely on boys and girls. Pair it with these honey-colored booties and a simple white hat for a timeless baby going home outfit.
Get the look: Disney Winnie the Pooh Wiggle Set, $46, HannaAndersson.com; Baby Mori Hat, $15, BabyMori.com; Luvable Friends Unisex Baby Cozy Fleece Booties, starting from $7, Amazon.com
Image: Courtesy Finn and Emma/Primary
ADVERTISEMENT
Gender neutral coming home outfit for summer
A cotton bodysuit in neutral tones is perfect for summer babies. Finn & Emma has a huge range of bold prints and patterns, including this cute option that reads "I'm new here." Add a pop of color with accessories like this red baby bonnet and rainbow socks.
Get the look: Finn & Emma I'm New Here Bodysuit, $22, FinnandEmma.com; Finn & Emma Bonnet Hat, $14, FinnandEmma.com; Primary Baby's First Sock Sunburst, $15 for a set of 2, Primary.com
Image: Courtesy Gap
Gender neutral coming home outfit for fall
A long sleeve top, beanie hat and pants with feet will keep your little one cute and cozy as the air turns crisp. Plus, that monochromatic baby bear print is perfect for boys and girls.
Get the look: Gap Baby 100% Organic Cotton Bear Outfit Set, $45, Gap.com
Image: Courtesy H&M/Old Navy
Gender neutral coming home outfit for winter
Searching for a special newborn take-home outfit? Jazz up a standard bodysuit and pant set with a gorgeous knitted sweater and hat, perfect for those blustery winter days.
Get the look: H&M 2-Piece Merino Wool Set, $50, HM.com; Old Navy Unisex 3-Piece Slub-Knit Bodysuit, Pants & Hat Layette Set for Baby, $19, OldNavy.com
What Is A Baby Coming Home Outfit
When you're picking out those newborn first outfits, it's important to look for features that are not only comfy for your little one, but will make your life a little easier, too. Rompers and all-in-ones are so simple to take off if baby spits up or has an accident, whilst sleepsuits or t-shirts with enveloped necklines will help you protect their head whilst you get them dressed. And if you're going for leggings, elasticated waistbands are comfy on their tummy, and easy for you to pull up, too.
Our top tip? Poppers and buttons on the front of your baby's outfit will mean you don't need to turn them over to fasten them, whilst zippers are an absolute breeze for you to pull up – ideal for 3am changes!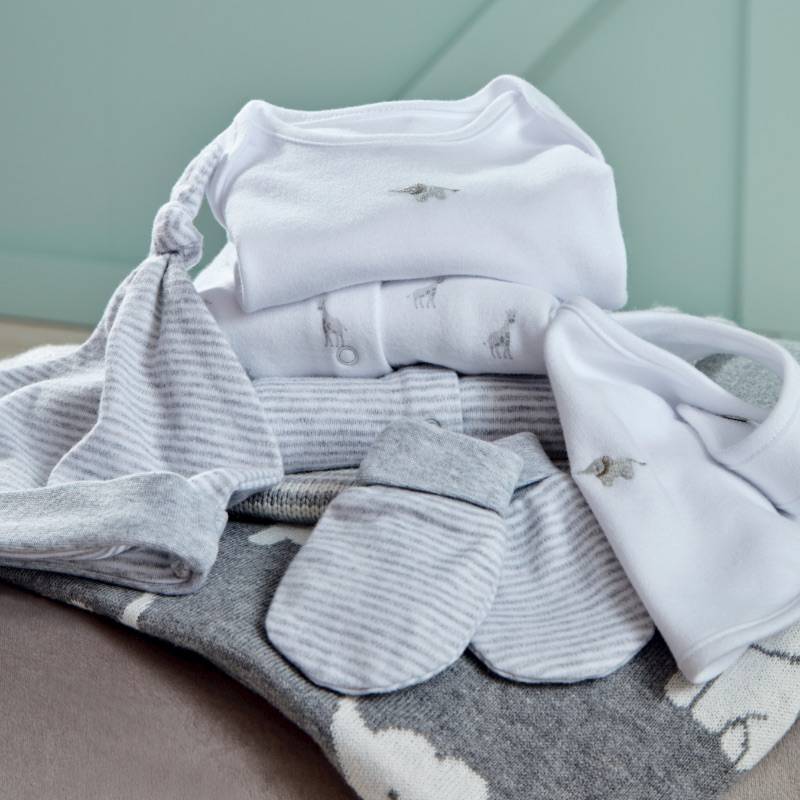 Newborn outfits | Soft, cosy cotton
Choosing an outfit for a newborn is all about snuggly cottons that won't irritate their delicate skin. Look out for fabrics that are anti-allergy and have heat-regulating properties, so they'll enjoy comfy nights and cosy cuddles.
All of our Welcome to the World newborn outfits are made with super-soft cottons and nickel-free poppers, so they'll be gentle on their skin. Not only will they feel lovely for baby to wear, but we've finished them with traditional design details and contemporary prints – perfect for their coming home outfit.
Shop Our Welcome To The World Range
Occasionwear | Special outfits for special occasions
If you fancy making more of a statement with your baby's first outfit, then our occasion wear collection has got you covered. With delicate party dresses and smart shirts, these pieces are perfect for welcome home parties – we even sell all-in-ones with super-smart details like bow ties and braces.
We've made sure that these outfits are still extra-comfy, so when it comes to sharing all of those first cuddles, your little one will be nice and snug.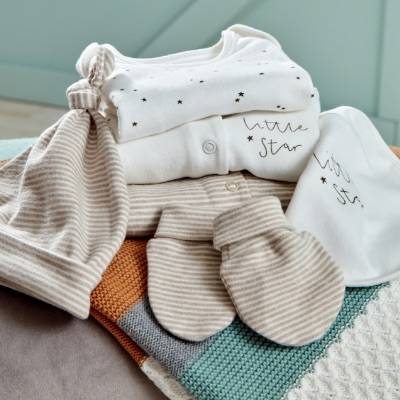 Baby Basics | Keeping things simple
Perfect for keeping things simple, baby basics such as rompers, sleepsuits, vests and all-in-ones will keep your little one layered up in cosy cotton – ideal for your baby's hospital outfit. Whether you're laying them down for a nap or enjoying cuddles, these fuss-free outfits won't get in the way.
Bringing your little one home from the hospital is a really special moment, and it's important that they feel comfy and secure in their new home. Our baby clothing has all been designed to look good and feel even better for them to wear. From rompers and babygrows to pyjamas, vests and all-in-ones, our offering provides the easiest way to keep your little one layered up and cosy. Available in multipacks, they're a great way to stock up on these newborn baby essentials.
Shop Our Baby Clothing Multipacks
---
Other clothing accessories to consider
Whether you're getting your little one ready to explore the world or you're enjoying playtime indoors, it's well worth stocking up on these essential accessories.
---
Hats
Perfect for keeping their little ears cosy. Go for thinner cottons indoors, and thicker knitted styles if you're taking them outside in cooler weather.
Scratch Mitts
These are little mittens that you pop over your baby's hands, designed to stop them from scratching their delicate skin with their fingernails.
Coats
Whatever the weather, it's worth keeping a layer handy. Go for thicker, lined styles in winter, and lighter, showerproof styles in summer.
---
Socks
Their little toes will need to stay nice and toasty whilst they're out and about, so invest in a few pairs of soft cotton socks.
Blankets
Perfect for throwing in your changing bag when you're heading out, a soft knitted blanket will make sure your little one stays cosy when it's time for a nap.
Booties
For extra-chilly days, a pair of soft cotton booties will give their feet another layer of warmth – pop them on over socks or over their bare feet.
---
Hopefully, we've been able to give you a few helpful suggestions to find the perfect coming home outfit. Whatever adorable baby clothing you choose though, the most exciting thing will be the moment you walk through that door with your newest bundle of joy.
What Is A Baby Coming Home Outfit
The name seems self-explanatory, but many new parents don't realize the importance of a baby take-home outfit until it's almost time for the baby to arrive because there are so many other things to prepare. A baby's take-home outfit is simply the clothing he or she wears to leave the hospital and be taken to their new home. When deciding on clothing for this day, think about what time of year it will be—in winter you may want to bring extra layers, especially if there's snow or particularly low temperatures in the forecast.
Tips For Selecting a Take-Home Outfit
Bring Layers
If your baby is going to be born in the summer, a simple, one-layer outfit will probably suffice. Select a long-sleeve Onesies® Brand bodysuit but bring a blanket or light jacket along just in case there's a breeze. For babies born in the spring or fall, short sleeves, a light jacket or a one-piece sleeper and a comfy blanket should be the perfect amount of clothing. In the winter, you'll want to take extra precautions to make sure your baby stays warm on the ride home. Long sleeves, long pants, a one-piece sleeper, a jacket and a blanket are all vital items to have on hand as well as a hat. Dress the baby in layers so that you can remove some of the clothing if it seems like your newborn is too warm.
Pack an Extra Outfit
Maybe you've already decided on the perfect baby take-home outfit. Don't get caught off guard if the outfit is too small for your baby. Newborn sizes can often be too small for infants who are born a bit larger. It's always a good idea to select two outfits—one slightly smaller and another slightly bigger to make sure your child has comfortable clothing in his or her size for the ride home from the hospital.
Don't Forget a Hat
Typically, your newborn will receive a hat from the hospital after birth. You can keep this cap on them during the ride home or bring along a thicker, warmer hat if the weather requires it. Your baby's body has not yet learned how to regulate its temperature as well as your adult body, so ensuring that your baby stays warm is important in his or her first few months of life.
Choose Comfort Over Style
Parents are often tempted to choose an adorable baby take-home outfit with decorations and accessories to make for cute photos and celebrate the special day. However, newborns have ultra sensitive skin, which means they should be dressed in comfortable, soft clothing to avoid irritating their fresh, smooth skin, especially so soon after birth. Gerber essentials made with organic cotton are particularly good clothing options for your newborn as organic clothing is guaranteed to be free from irritating dyes and chemicals.
Pick a Soft, Comfortable Blanket
No matter the season, you'll need to bring a warm blanket to accompany your baby take-home outfit. Even if it's warm outside, swaddling your baby in a lightweight blanket can help provide comfort and security as you bring your newborn out into the world for the first time. In the winter, you might want to consider a thicker blanket to wrap about baby during the trip to the car. Before securing him or her in the car seat, you should remove any bulky clothing to ensure that the car seat straps are snug and then you can wrap a warm blanket around the infant to keep them warm during the ride.
Avoid Clothing That Is Tight
As most expecting parents realize, newborn babies' necks are still very weak in the first few months of their life. Because your baby is so new to the world and still developing, you should try to select clothing that isn't too restricting near the neck area. Select a Onesies® Brand bodysuit with a lap-shoulder neckline to give baby plenty of room and put a sleeper with a zipper over it so you can unzip the outfit below baby's neckline.
Baby Coming Home Outfit Ideas
It is not easy for parents-to-be to consider all the aspects when shopping for a child they expect. For this reason, find below the factors that should be taken into account while selecting a baby homecoming outfit.
Season & weather: the latter is even more important than the season. The main rule of dressing a baby is to check the weather outside, not to follow the rules prescribed for a certain season. Hence, it is essential to check the possible weather forecast for the week when the birth is expected. If it is spring or autumn when the atmospheric conditions change fast, foresee a couple of coming home baby outfit options. We may recommend you choose one of the cute girl or boy rompers that can be put on separately in summer or dressed under an overall in the colder season.
Comfort for a baby: that is the most important aspect. An outfit should not be an obstacle for movements or irritate a newborn. Remember that birth itself is a huge stress for this tiny child. Now, it is the responsibility of parents to make sure that a child is in comfort.
Safety: it is of no less importance than the comfort is. Why should parents pay particular attention to this factor? In cold times, it is important to remember that overalls or jackets cannot be put on in a child's seat. They should be taken off as safety belts should be tightly fastened. It means that you should envisage that a baby homecoming outfit is warm enough so that you can put your baby in the seat, fasten the belts, and cover it with a blanket, for instance.
The convenience of mom: sometimes, coming home outfit for baby girl or boy is the first outfit a mom puts on her little baby after diapers and swaddling sheets. That is why the outfits with buttons and snaps can be chosen. Of course, it is not an easy task to dress your baby for the first time. This process should not be burdened with multiple ribbons, strings, and accessories.
Baby's gender: this can be taken into account contingent on your attitude to gender-biased clothes. Some parents would never buy coming home outfit for baby boy or girl as they prefer neutral unisex outfits. If you already know the gender of a baby you are expecting, then, it is a nice idea to acquire a dress or a nice gentleman set.
Baby Boy Coming Home Outfit: the Variety of Options for Gentlemen
When all the aspects of safety and comfort are taken into account, it is time to choose the design. The day of taking your son home is the day when lots of chores and routines are done for the first time. Your child gets acquainted with its room, gets to know relatives who may arrive to congratulate you. For the first time, parents will be left alone with their child without doctors and nurses in the hospital. That is, indeed, the day to be remembered forever.
When selecting a baby boy coming home from the hospital outfit, it is better to consider the plans for this day. Are you going to arrange a photoshoot? Do you plan to invite your parents home to get acquainted with their grandson? In these cases, it is reasonable to give preference to a festive design of a baby boy take me home outfit.
In the case of shooting, you can foresee special decorations at home and choose clothes accordingly. The pictures of newborns are so adorable. Besides, take into account that during the first days, your child will be calm and will sleep almost all the time. That is a perfect opportunity to take pictures. That is why a baby boy going home outfit can be the part of outfits for shooting. It is better if you get in touch with a photographer who is experienced in newborn photoshoots and will give you recommendations on take home outfit for baby boy or girl.
More Practical Approach to Welcome Home Outfit for Baby Girl or Boy
On the other hand, some parents give preference to convenient clothes. Hence, a newborn girl or baby boy coming home outfit should be practical and put on later. In such cases, it is possible to find a cute onesie, set or bodysuit of a 0 size. It can be daily worn until your child grows out of it. Besides, practical does not mean coarse. There are plenty of outfits that are quick to be put on and, at the same time, adorable.
When it comes to practicability, it is wise to think about the size, especially if you already know the expected weight and height. If these are more than average, a 0 size can be too small. Then, it is recommended to choose a going home outfit for baby boy and girl of 3-6 months. It can be slightly big when you take your child home. However, it will not be noticed. While the clothes can be worn for several weeks.
Following the same approach, parents should remember that all the accessories will be needed only to take pictures. That is why the newborn girl and baby boy homecoming outfit should not be abundant in additional details that will only make it hard to dress your child and put it in a car seat. Lots of parents have made one common mistake while choosing a going home outfit for baby girl or boy: inconvenient clothes that require too much effort to put them on. Finding easy-to-dress items does not require sacrificing their adorable looks. The prints and patterns of PJ's, onesies, and bodysuits make it possible to create any look — a stylish frock or enchanting dress. Hence, the comfort does not exclude cuteness.
Newborn Boy and Baby Girl Coming Home Outfit: Seasonal Approach
Depending on the season, the set of required clothes for a newborn is, undoubtedly, different. When you need to buy a girl or baby boy coming home outfit summer season foresees, this is one of the simplest tasks. You can opt for a bodysuit with any design or print that you like. The look can be complemented with pants, skirts or shorts, as well as cute and soft booties. These booties are just an accessory that your newborn child, most probably, will drop or lose. However, that is hard to resist buying them as they are so tiny and cute.
In summer, you can also purchase a jumpsuit or a nice dress as an outfit to take a baby girl home from the hospital. These days, these items can be embroidered, laced, and decorated so stylishly that an everyday piece of clothes becomes festive. As a newborn boy and baby girl coming home outfit summer requires to complement it with a hat to protect your child from the sun. Protection from the sun is one of the most essential rules of dressing a newborn in summer. Even, on the day of releasing from the hospital, it should not be disregarded.
Cold Seasons: Perfect Newborn Boy and Baby Girl Bringing Home Outfit
For colder seasons, it is necessary to take a blanket. It will be needed to put it on your baby when it is placed in the car seat. Besides, if the weather changes too often, a blanket can save from unexpected wind if your child is wrapped in it above a take home outfit for baby girl or boy.
What to choose as a newborn baby girl coming home outfit for cold seasons? Indeed, that is too hard to dress a tiny girl in leggings, dress, jacket. Consider a cute onesie with footies as a basic baby girl coming home from the hospital outfit. Besides, a onesie is a good choice for a newborn boy as well. It is not only adorable and easy-to-put-on but also practical and will be worn daily.
Then, it is possible to buy a fleece or cotton overall to be put on a basic newborn boy and baby girl coming home outfit. It is better to avoid buying warm clothes in a 0 size. Remember that your child will grow out of it too quickly. In cold seasons, do not forget about buying a hat that will match an overall.
Newborn Girl or Baby Boy Take Home Outfit in Winter
It is quite hard to get ready and dress a newborn in winter. Most infants, indeed, dislike being dressed. For this reason, if you are going to deliver your baby in winter, give preference to convenient items with zippers and snaps. That is the recommendation not only for choosing a boy or newborn baby girl take home outfit. That is a general piece of advice.
As for an overall for winter, choose a one-piece with a zipper. It is can be filled with a goose quill, Holofiber or other filling material. Hence, you will have no worries if your newborn is cold on the way home from the hospital, as well as during all the further strolls outside.
While selecting clothes for a newborn and his/her first trip home, there are lots of factors to be considered, both objective and subjective. Even if it seems that this dress will never be put on, but you want to buy it for your newborn daughter, then, it is better to indulge yourself and add it to the cart.
Choosing outfits for a newborn is the process beloved by many parents. Those who are going to have their first child tend to make many emotional purchases that are not practical. For this reason, it is wise to consider all the above aspects so that to avoid buying outfits that will be worn only once or even never.