The Tot2Walk Walking Aid For Babies is a child aid for their first steps. The handles are teardrop-shaped, allowing your little one to easily grip and push the walker, while maintaining balance and stability. The Tot2Walk Walking Aid For Babies has an adjustable handle height, allowing it to grow with your child. The walker also features a removable seat pad for washing.
What is Tot2Walk? Tot2Walk is a walking aid for your baby, designed to support and help them during the learning phase of their early years. It has innovative teardrop-shaped handles for easy gripping, and an ergonomic design which supports the childs balance and helps facilitate their first steps.
Not wanting your child to fall behind? No fear, Tot2Walk is here! Your little one's first steps are a precious moment, and the Tot2Walk walking aid is here to help. It supports, helps and encourages your baby or toddler to learn how to walk. With its innovative teardrop-shaped handles and wide base, it provides a comfortable support that allows your toddler complete freedom of movement.
The Tot2Walk teetering walker is the perfect first walker for developing your baby's balance and coordination. The unique teardrop shape of the handles supports and helps your baby through the learning phase, whilst also exercising their hand muscles by letting them grip onto the handles.
The Tot2Walk learning walker is a new and innovative soft, brightly colored teardrop-shaped hand grips for all children aged 6 months and up who are beginning to take their first steps. The Tot2Walk helps your kid keep their balance, as well as support them throughout the process of learning how to walk.
Baby Walking Assistant Good or Bad
A baby walker is a circular frame on wheels that seats a baby who has not learnt to walk yet.
Some people believe that baby walkers are useful for their babies, to entertain them and help teach them to walk. This is not true. Baby walkers can be dangerous and can actually delay your baby's walking development.
What is an exercise jumper?
An exercise jumper, also known as a jolly jumper or baby bouncer, is a device that holds a baby in sling seat with a spring or elastic. The device either comes in a standalone frame or can be attached to a door frame.
Like a baby walker, exercise jumpers can cause accidents and delay your baby's development.
How does a baby learn to walk?
Most babies pass the following milestones while learning to walk:
sitting
crawling, creeping or scooting
pulling themselves up to stand
moving around furniture or other stationary objects
This means that babies need to spend plenty of time on the floor, learning and practising these activities.
How can I help my baby's walking development?
Let your baby spend lots of time on the floor. It's a safe space for your baby to learn to roll, sit and pull themselves up to stand.
You can also place your baby close to soft furniture to help them with pulling-up.
If your baby is moving around, block off a safe area for them to play and move. You can also use a high-quality play pen or stationary activity centre.
Do baby walkers and jumpers help my baby learn to walk?
NO – baby walkers and jumpers don't help a baby develop their walking. In fact, walkers and jumpers can impede or delay your baby achieving these important milestones. The more time babies spend in a walker or a jumper, the more delay they experience.
Walkers and jumpers take your baby's time away from the floor so they miss out on practising important, repetitive movements needed for them to reach their walking milestones.
Babies tend to use their toes when they are in a walker or a jumper, which tightens their leg muscles and Achilles tendons (the thick cord at the back of the ankle) – this interferes with normal walking development. Once out of the device, they often want to keep using their toes, which is not how babies usually learn to walk.
When babies sit and pull themselves up, they are learning how to balance. A baby doesn't balance in a walker, delaying learning this important skill.
Being in a walker or jumper also means less time on hands and knees in a crawling or pre-crawling position. This is important to developing weight bearing through both the pelvis and shoulders.
A variety of important movements is needed when babies are developing their walking skills, but they get fewer chances to practise these in a walker or jumper than they would on the floor.
Read more
Learning to crawlCrawling is an important skill for your baby to learn and is a big milestone in their development.READ MORELEARNING TO CRAWLLearning to walkYour baby's first steps are one of the most exciting and memorable milestones in your child's development.READ MORELEARNING TO WALK
Are baby walkers and exercise jumpers dangerous?
Baby walkers and exercise jumpers are not recommended in Australia.
Baby walkers are considered unsafe because they move very quickly. Your baby is also taller when upright in a walker and can reach things they usually don't have access to. Potential dangers include:
falling down steps or stairs
crashing into something sharp or hard
tipping over while moving
being toppled by an older sibling
accessing electrical cords or cupboards with hazardous substances (such as cleaning supplies)
moving quickly to dangerous areas such as fireplaces, ovens, heaters or pools
being able to reach hot drinks on tables or other dangerous objects
Each year, many babies are injured in Australia when using walkers. Some sustain serious injuries caused by burns, cuts, head injuries, broken bones, poisoning and drownings; some even die.
Exercise jumpers can also cause serious injury to your baby, including:
falling out, causing head or limb injuries
getting fingers trapped in the springs
colliding with the door frame or furniture — pets or other children could also push your baby
Development delays caused by tight leg muscles and Achilles tendons can sometimes require physiotherapy treatment, being put in leg casts, or even corrective surgery.
Are baby walkers legal in Australia?
Despite not being recommended for use in Australia, they can still be purchased and are not illegal.
Child health experts and state and territory health departments recommend NOT using baby walkers or exercise jumpers.
What safety guidelines are there for baby walkers?
Baby walkers sold in Australia, must comply with Australian consumer product safety standards.
All walkers sold in Australia must have:
a braking mechanism to help stop it falling down stairs
specific labels with clear safety instructions about blocking access to stairs, keeping the baby in view all the time, using only on a flat surface without objects to tip over and keeping away from all objects that could burn
prior testing to make sure it doesn't easily tip or topple over
Parents are highly discouraged from using baby walkers. However, if you still decide to purchase one, please follow these guidelines:
NEVER leave your baby unattended.
ONLY use on a flat surface and block off access to steps or stairs
REMOVE all dangerous items from the area, such as electrical cords, hot drinks, cleaning chemicals, fires, heaters, pools or toilets
MAKE SURE the walker has a lock and a braking mechanism.
NEVER use a walker before your baby can sit, or after your baby can walk.
LIMIT your baby's time in the walker for NO longer than 15 minutes.
Where can I get more information about baby walkers?
Speak to your doctor or child health nurse to learn more about how best to help your baby learn how to walk.
Baby Walking Assistant Mothercare
Watch out, world, baby's on the move! When your little one starts to pull themselves up to walk around, having toys that encourage them to do so can be an engaging, lively way to introduce them to moving those chubby little stems. For years, the standard walking toy — the walker — was thought to be your only option. But since those have proven to be an unsafe and unwise choice, parents are left to wonder which walking toys are best and which are actually safe?
WHAT TO CONSIDER
First and foremost, make sure that your child is in a secure area when they're using their walking toys. In other words, make sure they're not near stairs, pets, or the stove when using these toys. And as already mentioned, sit-in walkers with wheels are a recipe for disaster. In fact, they should never be employed, according to the American Academy of Pediatrics (AAP).
You want a walking toy that does not elevate your child near anything they could pull down on themselves, one that encourages movement but doesn't put them at risk for falls, and ideally, one that has safeties built-in to keep them protected, like a parent's involvement, or slow-moving parts. Thankfully, there are a ton on the market, and we found several walking toys that aren't just fun — they're functional too!
1
MOST POPULAR
VTech Sit-to-Stand Learning Walker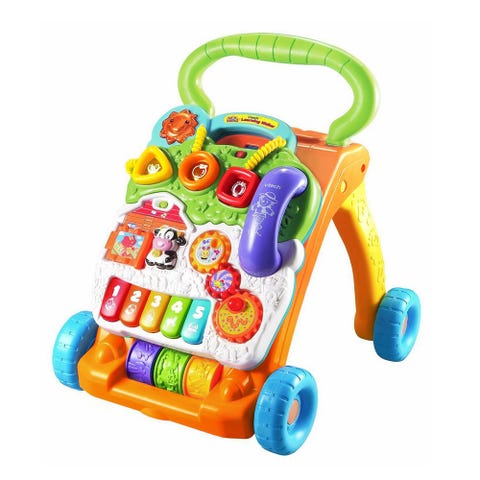 This wildly popular learning walking toy will bring hours of entertainment along wherever your baby goes. The activity center on the front of the toy includes piano keys, a telephone, shape sorters, light-up buttons, sing-along songs, and more. It's available in blue, lavender, orange, or pink.
We sifted through plenty of the 11,000 raving reviews, and it looks like this gadget truly doubles as a fully immersive entertainment toy. It's like buying two products in one.
More: Give Your Sweetie a Place to Hang Out With These Floor Seats for Babies
2
BEST WOODEN PUSH TOY
Melissa & Doug Deluxe Chomp and Clack Alligator Wooden Push Toy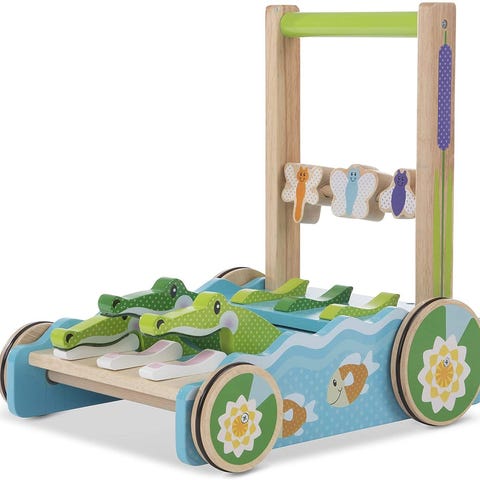 $75 AT AMAZON$42 AT WALMART$65 AT ZAPPOS
This push toy by Melissa & Doug features three chomping, wooden alligators that snap with every step! The gentle clacking noise the toy makes as it moves will keep your baby motivated to keep strolling forward. The wheels are slow-moving and require a lot of effort, so your little one isn't going to be winning any races.
ADVERTISEMENT – CONTINUE READING BELOW
3
BEST JUMPER
Jolly Jumper — The Original Baby Exerciser with Stand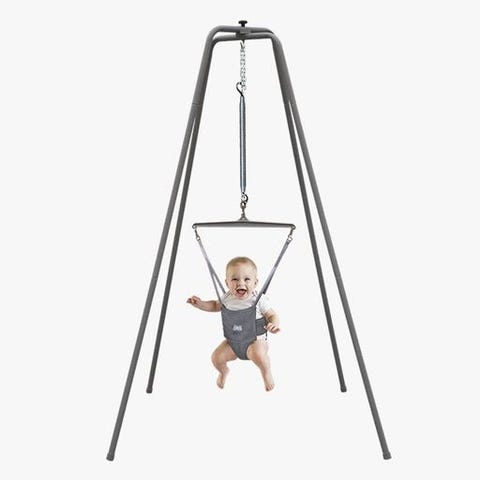 Our executive director, Christine Anderson, said her son went absolutely bananas for this toy. She wrote, "Babies are exhausting. If you need 10 to 15 minutes of hands-free time and your baby needs to get some wiggles out, we highly recommend the Jolly Jumper. We took it on vacation and hung it from a bathroom doorway. We took it camping and hung it over a tree limb. I'm dreading the day we have to pack it away! On that note, you should retire your Jolly Jumper when baby starts to walk."
Sold.
4
GREAT DESIGN
Bright Starts Giggling Gourmet 4-in-1 Shop 'n Cook Walker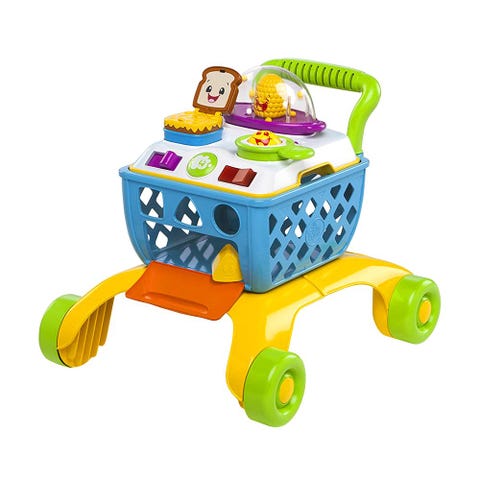 $40 AT WALMART$36 AT WALMART$50 AT BED BATH AND BEYOND
This super cute baby-walking toy includes quirky features, like freshly popped popcorn. Every time the walker is in motion, your baby will get a kick out of the crackling popcorn that looks like it's popping right off of the cob. Lock the cart legs in place to turn it into a stationary activity center. Kids tend to just roll this one back and forth to get the popcorn popping, which helps them stand and position without encouraging them to take off.
This baby-walking toy has hundreds of positive reviews, and reviewers like that it can grow with your baby, which means if you have a babe who is brand-new at walking, she'll get plenty of use out of it until she's a seasoned walker.
5
GREAT THEME
Baby Shark Melody Activity Walker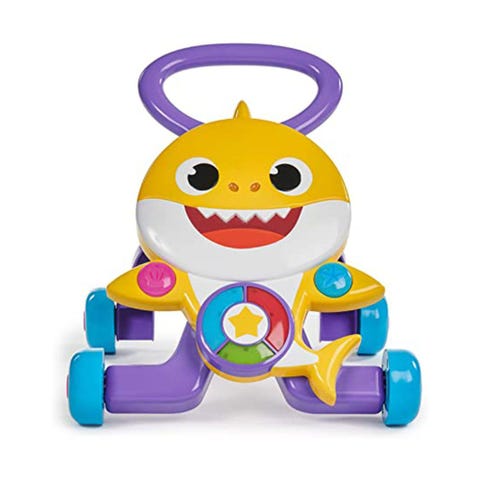 $52 AT AMAZON$51 AT WALMART$40 AT BED BATH AND BEYOND
Your little baby shark will feel encouraged to hop up and start walking with this interactive activity toy. When your baby starts to push the baby shark, the lights and tunes will be activated and when they stop, so do the jams. It's basically a baby party on wheels, so your little one will feel encouraged to get moving and grooving.
These wheels don't provide a ton of traction, so they aren't the easiest to get going — but that's actually a good thing.
ADVERTISEMENT – CONTINUE READING BELOW
6
FUN FOR YEARS TO COME
Melissa & Doug Toy Shopping Cart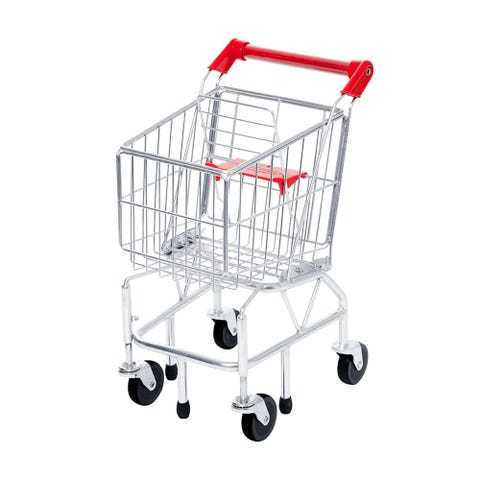 $53 AT AMAZON$80 AT WALMART$85 AT NORDSTROM
This smooth-rolling shopping cart is the perfect walking toy for little ones who are starting to get the hang of strutting around. With thousands of positive reviews across the web, this sturdy toy is perfect for tots through the early childhood years.
And see those little legs by the wheels? They slow down your tot.
7
BEST BLOCK WALKING TOY
labebe Baby Wooden Walker with Wheel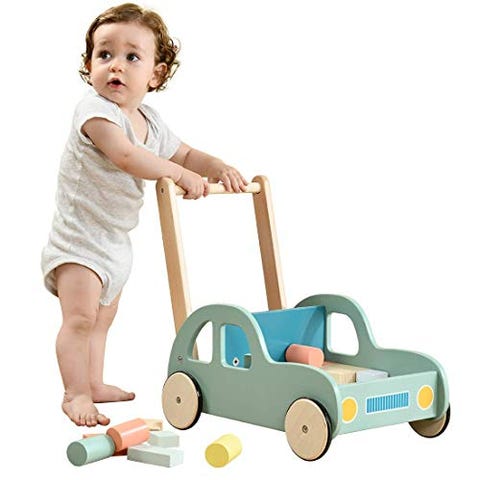 This baby-walking toy has built-in obstacles in the form of blocks, which means there's a great chance that your kid will build a wall of blocks just to ram through it. It's really teaching them so much, right?
Plus, storage is a part of the toy. Will they end up just being tossed in a pile on the adorable baby fox? Of course. It's a win all around.
8
BEST FAKE-OUT
Baby Einstein Around We Grow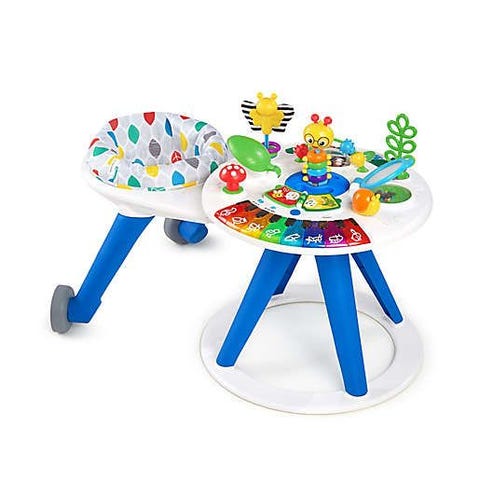 $97 AT AMAZON$109 AT WALMART$110 AT BED BATH AND BEYOND
Your child will truly believe they're going places with this walking toy. The walking equivalent of a fake iPhone, this spinning activity center allows your child a great amount of movement while also providing them with plenty to do.
My neighbor has this very toy on their porch, and I can tell you that the joy that this brings to their almost-toddler is a thing to behold. It's just so much fun to watch him play with the keyboard, chew on the leaves, and spin around all evening.
9
MOST CHIC
Wonder & Wise by Asweets Baby Activity Walker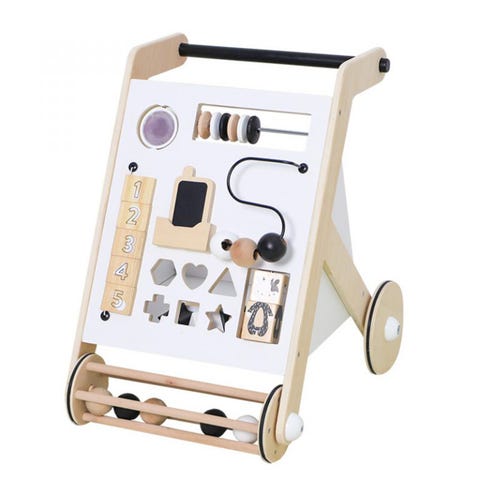 Who gave this walking toy the right to be so chic? Just look at her — she's a stunner with that black, white, and natural wood color scheme. It looks like someone opened up a Scandinavian toy company with a crew of fancy designers just to make this activity center.

Plus, the little bouncing balls in the front? They are the same sort of action as the popcorn toy. Back-and-forth motion works best with this baby-walking toy, and kids love it.
CAT BOWEN Parenting EditorCat Bowen is the parenting editor at BestProducts.com where she researches all of the best products for families from pre-conception through their teen years, focusing on matching scientific evidence with real-life needs.
LATIFAH MILES Parenting EditorLatifah is the former parenting editor at BestProducts.com where she spent her time researching and testing the latest, greatest, and coolest products created to make parenting a breeze; her work has been featured on Cosmopolitan, Romper, and Elite Daily.