The best pregnancy announcement caption ever: "Dad and I are really excited to announce that we're having a baby! We've been trying for a while, so it's pretty incredible how on-time God wanted us to be."
The soon-to-be parents are excited to be starting their journey of becoming a family! Pregnancy has been exciting but transition is tough. You are ready for this journey and will make great parents! I'm going to be a new dad! I never thought I could feel this happy.
First Time Pregnancy Announcement Captions
Congratulations to the happy parents-to-be! Hey! It's a girl!
Cute pregnancy announcements
You've kept your lips sealed for long enough. It's time for the big reveal – you just want to shout it from the rooftops! Deciding what to say can seem like a bit of a challenge. Are you the sort to go ga-ga for babies? Do you think your friends and family would appreciate some kind of cutesy announcement? A cute message is probably the classic way to go. After all, babies are super… cute! Read on for some of the most heartwarming quotes on the internet.
● Dreams do come true.
● Roses are red, violets are blue, on (baby's due date) our little miracle is due.
● Ten little fingers, ten perfect toes, fill our hearts with love that overflows.
● The best is yet to come… (baby's due date).
● A grand adventure is about to begin… in (baby's due month and year).
● We're adding a new little pumpkin to our patch in (baby's due month and year).
● We've been busy as a bee, and now there are three.
● Pink or blue? We simply can't say. We're so excited for our delivery day.
● Best present ever. Coming… (baby's due date – great for Christmas babies).
● In (baby's due month), our family will hear the pitter-patter of little feet.
● Being pregnant means every day is another day closer to meeting the love of my life.
● First came love, then came you.
● You + me = three.
● Even miracles take a little time. #babyontheway
● A baby is something you carry inside you for nine months, in your arms for three years, and in your heart until the day you die.
Funny pregnancy announcements
It's true that babies are cute. But something inside you may just want to rebel against the fluffy reveal and embrace your inner joker. You could send a generic text message, but maybe you want to make it a bit more memorable. You should probably consider how your nearest and dearest would react. Do they like a good chuckle as much as you do? Here are some short and sweet one-liners to help you spill the beans with a bit of fun.
● I'm afraid we haven't been social distancing (lockdown humor).
● I like big bumps, and I cannot lie!
● There's nothing like a brand new pair of genes. That's right, we are expecting.
● (This year), the year I grow a human but still cannot keep any of my plants alive.
● We're going from a pair to three of a kind, and it's going to be a full house.
● We are pregnant! Don't be sad for us. It was on purpose.
● Wanted to keep you in the loop: we'll soon be adding to our troop.
● I grow humans. What's your superpower?
● You can stop asking when we're going to have a baby now…
● Player 3 has entered the game.
● (Daddy's name) is going to be a daddy and I'm pretty sure it's mine.
● She's having cravings, and I'm checking our savings. Looks like a baby's on the way.
2nd pregnancy announcements
OK, so you've been through the whole announcement thing once (maybe more) before. The second time around is just as special but you're going to want a quirky message to tell the world. Here are a few suggestions to help you spread the word. Some of these lines will also work for subsequent children.
● And then there were (baby number).
● We're making room for one more!
● Soon to be due. Soon to be two.
● Every troublemaker needs a partner in crime!
● We're so full of glee. Our family's gonna be three.
● 1 more to adore.
● You've got a friend in me (great caption for a sibling).
● Promoted to big sister/brother (another lovely quote to come from a sibling).
● Mummy has a bun in the oven.
● Pink or blue? Either will do! Mommy's expecting #2!
● Only child expiring soon!
● I'm so adorable, my parents decided to make another one!
Pregnancy announcement quote for Facebook
Some of your friends and family may not be close-by and social media is the way you keep everyone updated. Or you're the kind who lives their life in hashtags and status updates. Let's be honest, big news reveals are the kind of thing Facebook and Instagram were made for! Pair one of these quotes with an appropriate photo and watch the likes come rolling in.
● (Great with a photo) I'm as happy as can be because I'm going to have a new baby sister to play with me. Mommy and Daddy are excited too. We couldn't wait to share the news with you.
● Pink or Blue? We simply can't say. We're so excited for our delivery day.
● Roses are red, violets are blue, on (baby's due date) our little miracle is due.
● Not fat. Just… PREGNANT!
● We're resting up while we can. We'll be missing a lot of sleep starting in (baby's due month).
● This is the day we both have been waiting for so long. We are so glad right now to let you know that we are expecting a baby. Pray for us!
● I always wondered what it would be like to be pregnant. Now I know!
● When you become a mother, you stop being the picture and start being the frame.
● Ten little fingers, ten little toes. With love and grace, our family grows. This precious soul, so sweet and new. This little life, a dream come true.
● Our home has been blessed, my beloved wife is expecting a baby and we want to share this joy with you.
Religious pregnancy announcement quotes
Humorous and cute messages are all very well, but it's true that having a baby is indeed a blessing. You may want to share the happy news in a more traditional and respectful fashion, observing yours and other's beliefs. We have collated a handful of appropriate passages that you may find fitting for the occasion.
● God's most beautiful thoughts bloom into children.
● Heaven has smiled down on us.
● For this child, I prayed, and the Lord has granted me my petition that I made to him.
● Behold, children are a heritage from the Lord, the fruit of the womb a reward.
● Grandchildren are the crown of the aged, and the glory of children is their fathers.
● As you do not know the way the spirit comes to the bones in the womb of a woman with child, so you do not know the work of God who makes everything.
● Like newborn infants, long for the pure spiritual milk, that by it you may grow up into salvation.
We hope that you have found something that you love amongst this selection.
First Baby Announcement Captions
Welcome to the world, baby! You might be the first one to experience a new child, but you're not the only one who understands the excitement and pressure of having a kid. "The most beautiful & happy delivery of my dreams"
Your child is the best thing that has ever happened to you. She is your greatest accomplishment and will be the most important thing in your life as they grow up. You'll love her so much it won't seem possible at times, but every moment spent with her is worth it. You're about to become a parent, and it can be hard to imagine that you might ever sleep again.
First Pregnancy Announcement Quotes
Making a pregnancy announcement with quotes is a fun and unique way to share the big news. You can use it as an announcement on social media, in your email newsletter, or collage for sharing at a shower. There are so many options to create!
For my darling parents to be, congratulations on your pregnancy! Your little family will always be in our hearts and minds. When you find out that you are pregnant, keep it between your partner and close family and friends at first. This is a very exciting time in your life, and others may be jealous or upset if they don't find out at the same time as you.
it is so amazing to be a mom now i can understand better my parents why they did what they did. thank you for everything this is the most special gift in my life. I can tell by the way you held my hand on the ride home, that you're already falling for me.
What To Caption Your Pregnancy Announcement
You're growing a whole new life inside of you and we're so excited for you to share your journey with the world. Here's how to find the perfect caption for your pregnancy announcement. "I'm pregnant—Ankur, I'm so excited to be bringing our first child into the world. Thank you for supporting me every step of this journey, I know it won't always be easy, but we have what it takes to make it! Here's to our family growing bigger! 😊❤️"
Congratulations on your pregnancy! What a blessing it's been to share in this exciting time with you. You've come a long way from the first days of finding out, to the initial confusion and shock, to the worries about how the next nine months will go. But now that your little one is growing inside of you and you're on your way to meet them face to face, it seems that all of your worries have melted away. This pregnancy will go by so fast, but we're here to help you savor every moment along the way. Pregnancy is one of the most stunning, beautiful things in the world. Now is your chance to share it with everyone.
'We're so happy to announce that we're expecting! Baby x is going to be the luckiest kid ever.' My heart is bursting with love every time I look at this beautiful little miracle. What's even better is that we got to experience the miracle of life together, raising our little family. We never knew how amazing it would be to witness the magic of pregnancy or being a parent! And we are so proud to announce the arrival of our new son, Dashiell.
Give your loved ones the gift of a new baby. Caption your pregnancy announcement with a photo, a name and a due date, and share it with everyone who cares deeply about you. What can you say about the miracle of life? Tell everyone about your pregnancy with this customizable pregnancy announcement.
Nothing like sharing the news with friends and family through a beautiful, colorful announcement. I'm so happy to share this news. We can't wait for you to meet our sweet baby.
First Pregnancy Captions
No two pregnancies are alike, but you'll enjoy these captions while looking forward to becoming a mom. Bump to Baby! This is a book of comfort and encouragement designed specifically for pregnant women who have been given a diagnosis of fetal alcohol syndrome.
Express the happiness having your first child brings with these announcements.
Our little sweet pea makes us a family of three.
We are about to experience the joys of parenthood, and we couldn't be more excited. Our first baby is due [date].
There are many great firsts in life: first steps, first car, first kiss, and now first baby. We are excited to announce ours is due on [date].
We've been busy as a bee, and now there are three.
We want you to know,
We'll be a trio
[date].
Two has been fun, but now we're adding a son.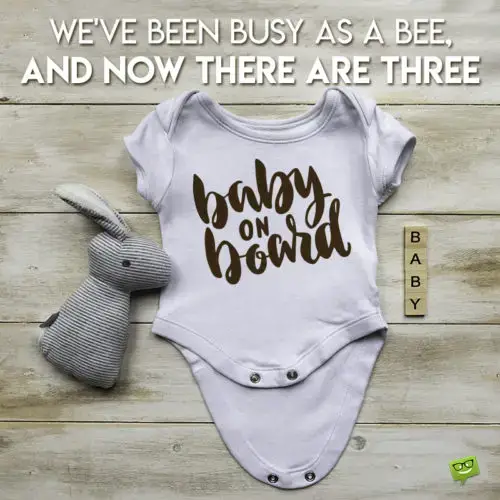 Will we have a she, or will we have a he?
All we know is that we're parents to be! FINALLY!https://7246d20bb5cae6f3d2de4f7dfef37ad1.safeframe.googlesyndication.com/safeframe/1-0-38/html/container.html
We're adding a high chair to our table for two.
As two become three,
Love is the key.
Baby [name] already has the key to our hearts.
For the first time, we understand the depth of unconditional love. Our beautiful baby has already stolen our hearts and we can't wait to meet him/her on [date].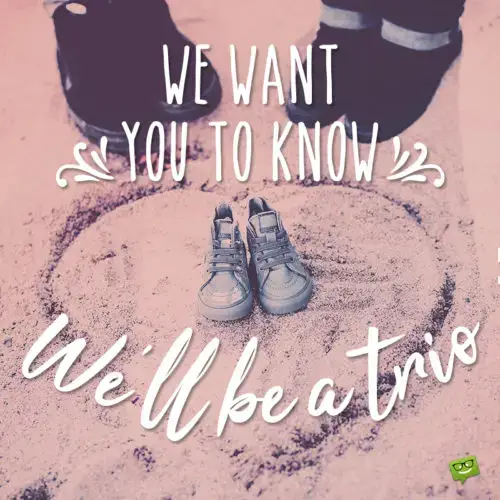 Sentimental Pregnancy Announcements Quotes to Share
There is no better time to be sentimental than when expecting the birth of your child, and these announcements will touch hearts.
With tears of joy and dreams of the future, we proudly announce that we are expecting.
The happiness in our hearts grows and grows;
We're adding ten little fingers and ten little toes.
As our baby quietly grows beneath his/her mother's heart, our thoughts turn to thanksgiving for this new season of life.
With love in our hearts,
A new chapter starts.
It is with great joy that we announce we are expecting.
If you have noticed a glow on our faces, it's because we are dreaming of life with our baby who is due [date].
The blessings only a baby brings are filling us with the most amazing joy.
My soul has already met you, there beneath my heart. Baby [name] is due [date].
Look what the sonogram reveals! We are in love head over heels.
We already heard our baby's heartbeat,
Next is the patter of little feet.
We're expressing our glee, 'cause we're parents to be.
We can't wait to tell you with joy over the moon,
That our bundle of joy is coming soon.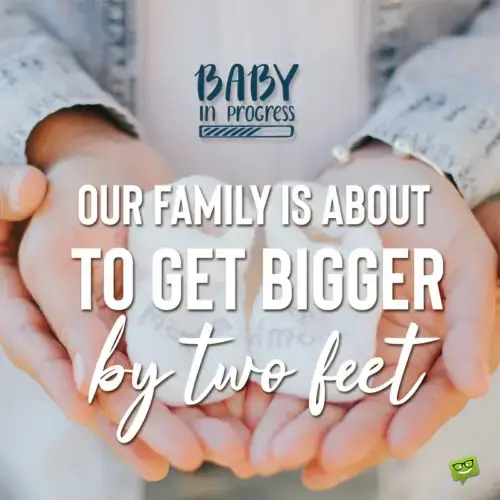 Funny Ways to Announce a Pregnancy
Use these announcements to add a little humor to your pregnancy announcement.
We're going from a pair to three of a kind and it's going to be a full house.
We enjoyed our time on the beach so much that we brought back a little son.
Due to our lovin' there's a bun in the oven.
Our little circus is about to have three rings.
Break out the pickles and ice cream.
We'll soon be finding out how little sleep we can get by on. Our little alarm clock is due [date].
Wanted to keep you in the loop: we'll soon be adding to our troop.
The time has come to buy some Legos,
We just found out the wife is preggo!
Our family is about to get bigger by two feet.
Guess what?
Baby butt!
It will be worth the wait,
[Date] is our due date!
She's having cravings,
And I'm checking our savings.
Looks like a baby's on the way [date].
It's time for the news to drop:
[Mother's name] is going to pop!
There's a new vibe coming to our tribe on [date].
Adding a baby multiplies love. If we did the math right, ours is due [date].
Inspiring Pregnancy Announcement Captions
Babies bring inspiration and hope and so will these announcements.
We both have amazing parents, and so now we have big shoes to fill.
God has chosen us to be parents, and we couldn't be happier.
Gazing into the tiny face of our child will reveal the magnitude of our blessings.
When prayers are answered, and miracles happen, only God can receive the glory. Thanks to His grace, our bundle of joy will be arriving [date].
Our hands can't wait to hold our precious baby due [date].
The simplicity of love is found in a baby's face. We can't wait to see ours due [date].
God has knit together a little one to join our family, and our hearts are overflowing with gratitude.
Our baby is already holding us by the heart. We can't wait to meet him/her around [date].
We didn't know we could love each other any more, but building a family has taught us otherwise. Baby Number [number] coming [date].
Our baby is a tiny bundle of dreams soon to be delivered from our hearts into our arms. [Date]
We've dreamed of being called mommy and daddy for a long time, and finally hope has smiled on us. We begin our new roles on [date].
Falling in love with my little pumpkin has been the greatest journey of my life. Every moment is so precious, and I'm so blessed to have her as my little bean! Soon, you'll be able to hold this little one in your arms.