Wholesome sweet potatoes are a classic baby favorite. They're sweeter in flavor than white potatoes yet still mild, and they take on a fluffy texture when mixed with breast milk or formula.
Sweet potatoes are also a superfood thanks to their incredible nutrition profile. They are high in fiber, which helps to keep your baby feeling full, and they are packed with vitamins A, B5, B6, C, E, beta carotene, potassium, and antioxidants. Not to mention, it's a fantastic source of fiber, protein, and water, which can help with hydration.
One marvelous aspect of sweet potatoes is that they freeze exceptionally well. You can easily freeze single-serve portions for your baby's future meals by whipping up a big batch of sweet potato puree. The sweet potato will retain its nutritional profile, texture, and flavor after thawing.
Here's how to make sweet potato puree.
Ways to Save Money on Baby Food
Step 1: Select & Buy the Sweet Potato
Sweet potatoes are available year-round, but the peak growing season is fall. Look for sweet potatoes (or yams) that are small or medium in size and that are free of cracks or soft spots. One medium sweet potato yields about five ounces of puree, but if you're unsure, use the grocery store scales to weigh them.
Sweet potatoes are great for storage because, in the right conditions, they can last a long time before you cook them. If you don't plan to make your puree immediately, that's OK! Just make sure you store the sweet potatoes in a cool, dark place. They need to stay away from sunlight to prevent them from turning green.
When Do Babies Start Eating Solid Food?
Step 2: Wash and Prep the Sweet Potato
Rinse the sweet potato in cold water. Scrub the skin with a small vegetable brush to remove dirt. Rinse again, then peel with a veggie peeler. You don't want to peel dirty skins because the peeling can push harmful bacteria and germs into the flesh as you peel them.
Dice into small, 1/2 to 1-inch-sized chunks, making the step easier and faster.
15 Easy Homemade Baby Food Recipes
Step 3: Cook the Sweet Potato
Bring water to a boil in a medium saucepan. Reduce heat (until bubbles are soft) and cook sweet potato chunks until tender (about 15 minutes). Drain sweet potatoes and rinse them with cold water for three minutes to stop the cooking process.
The longer you cook the sweet potatoes after they reach peak softness, the more nutrients will cook out of them. To keep the vitamins and minerals, rinse your cooked sweet potatoes in cold water to stop the cooking process. Touch the chunks and make sure they don't feel warm to the touch.
Baby's First Foods: How to Introduce Solids
Step 4: Puree the Sweet Potato
Puree cooked sweet potato in a food processor or blender until smooth. Add water as needed to reach desired consistency. You can also add breast milk or formula to add more protein and nutrients.
If you plan to freeze your sweet potato puree, make sure to skip the addition of breast milk or formula as it may not freeze well. Instead, freeze the cooked sweet potato puree in ice cube trays and when you thaw them, add the milk before serving to your baby.
Once your baby is ready for finger foods, typically around 10 months, you can serve them sweet potato that's been cooked and cut into tiny pieces.
Step 5: Awesome Additions to Sweet Potato Puree
Sweet potatoes are delicious alone or mixed with a variety of other veggies, fruits, meats, and spices. Make sure your baby is old enough to eat mixed foods before you try these.
Try mixing sweet potato puree with:
Dash of cinnamon
Raisins
Applesauce (with or without yogurt)
Full-fat Greek yogurt and butternut squash
Peaches
Rice
Lentils
Broccoli
Peas
Green beans
Beef
Chicken
A Guide to Using Baby Food Feeders and the Best Picks
Step 6: Refrigerate or Freeze Leftover Sweet Potato Puree
After cooking and pureeing the sweet potatoes, put them in a glass or BPA-free plastic container and store them in the fridge for up to three days. When ready to serve your baby, you can add breast milk or formula to thin the sweet potatoes out while adding some protein and other nutrients.
If you plan to freeze your sweet potatoes, scrape the cooled, pureed mash into ice cube trays, creating perfect portions and freeze. Once frozen, you can pop the cubes out and store them in a freezer bag for up to three months.
To thaw, simply take the number of cubes you want, put them in a covered bowl, and let them thaw slowly in the fridge overnight for the next day or at room temperature. Once thawed, you can add breast milk, formula, or other additions like fruit, cinnamon, or rice.
Is Boiled Sweet Potato Good For Babies?
Are sweet potatoes healthy for babies? Yes. Sweet potatoes contain an array of nutrients and are especially high in beta-carotene—a nutrient that the body converts to vitamin A, which babies need for healthy eyesight, skin, and immune health.
Is It Better To Steam Or Boil Sweet Potatoes For Baby?
Steaming is one of the best ways to prepare sweet potato for baby. This method of cooking preserves the most of it vitamins as there is less contact with water and has a short exposure to heat.
How To Make Sweet Potato Puree For Baby
Sweet Potato Puree is a delicious and versatile puree that is easily made using only one ingredient. Whether you are looking for a tasty side dish, a healthy baby puree, or a nutrient-rich addition to baked goods, yogurt or oatmeal, sweet potato puree is a great choice.
https://e646a0ef27420cd17f3866d1677bacc2.safeframe.googlesyndication.com/safeframe/1-0-40/html/container.html
Jump to:
REASONS TO LOVE THIS PUREE
Nutritious – Sweet potato is a healthy pantry staple, containing a good mix of nutrients and vitamins. It is high in dietary fibre and a good source of Vitamin A, Vitamin C, Vitamin B6 and Potassium
Versatile – Enjoy as a side dish, stirred into sauces, as a pie topper added to baking, top oatmeal or serve as a baby puree.
Easy to Make – Bake sweet potato until soft, then puree in a food processor or blender.
Delicious – Sweet potatoes are naturally sweet and baking the potato gives a richer, sweeter flavour compared to other cooking methods.
VIDEO TUTORIAL
Sweet Potato Puree
Play Video
INGREDIENTS
Making homemade sweet potato puree is easy and you only need one ingredient – sweet potato!
If you are going to bake with sweet potato puree, stick with just sweet potato. However, if you are serving it as a side dish or baby puree, you might choose to add some extra ingredients such as butter, oil, herbs and spices.
STEP BY STEP INSTRUCTIONS (WITH PHOTOS)
There are several ways to cook a sweet potato and all methods will work for pureeing but, in my opinion, roasting provides the best-tasting puree.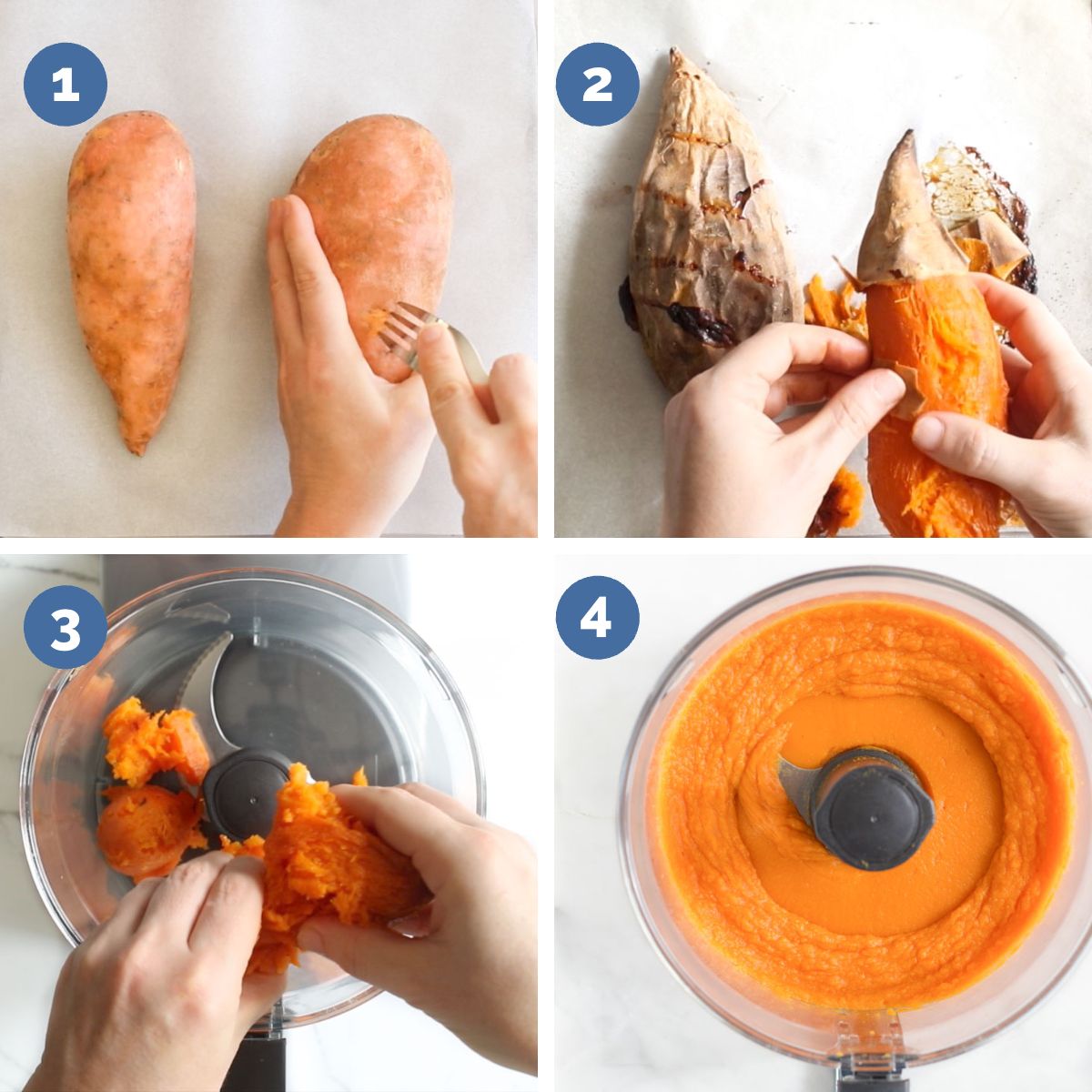 Wash and dry the potatoes. Using a fork, pierce the potatoes several times, on both sides. Place in the oven and roast for around 50 mins or until the potato is wrinkled and tender.
Allow the sweet potatoes to cool for around 10 minutes and then peel the potato
Place the flesh in a food processor.
Blend until smooth.
GREAT WAYS TO USE SWEET POTATO PUREE
Add to Oatmeal with a little cinnamon for a warm and comforting start to the morning.
Use in baking – Great for adding sweetness, using as a binding agent and for adding moisture to baked goods.
Add to risotto – Adds a different, yet tasty, touch to a risotto. This sweet potato and mushroom risotto looks amazing!
Stir into Sauces – Add some creaminess and sweetness to a range of different sauces such as this Butternut Squash Mac and Cheese.
Mix into smoothies – Sweet Potato goes well with a range of smoothie ingredients and will make a smoothie ultra creamy.
Extra Smooth Pie Topping – Great for kids with textural issues. Use it to top this Lentil and Sweet Potato Shepherds Pie
Use as an Egg Replacement in Baking – Learn more in this egg substitution guide.
RECIPES USING SWEET POTATO PUREE
STORAGE INSTRUCTIONS
Refrigerate: Place in an airtight container and refrigerate for up to three days.
Freeze: Spoon the puree into ice-cube trays and freeze until solid. Once they're fully frozen, quickly pop them all out and place the frozen cubes into a freezer bag or container and return to the freezer.