Planning a baby shower in Houston is easy when you have a handy list of the best venues for your soirée. We've found 12 spots that are perfect for celebrating your growing family in style. Whether you like classic Southern luxury or chic Spanish-fashion, we've got locales to suit every taste. So mark "find a party venue" off of your list of things to do — you'll be plenty busy soon enough!
Affordable Baby Shower Venues
photo courtesy of Hotel Zaza Museum District
We love this chic boutique hotel in the energetic Museum District. The Ultimate Ransom Room offers a cozy space with a classic Texas design.
Ultimate Ransom Capacity: 100 (seated) – 120 (standing)
photo courtesy of Madera Estates
This Spanish inspired estate, surrounded by woodlands, creates a charming atmosphere for a picture-perfect baby shower. Madera Estates' distinct architectural details — traditional Spanish doorways, a cozy covered-terrace, and the grand outdoor fireplace — offer stunning photo ops at every turn.
Madera Estates Capacity: 500 (seated) – 500 (standing)
photo courtesy of Caracol
Caracol combines a lively atmosphere with upscale dining. This award-winning, Mexican restaurant will work closely with you to create a personalized menu for your baby shower.
Calamar Room Capacity: 60 (seated) – 75 (standing)
photographer: Binford Creative Photography
Nothing says sophistication like a sky-high view of Houston. The Legacy Room, located on the 35th floor of the Total Plaza, is perfect for an intimate baby shower brimming with elegance.
Legacy Room Capacity: 30 (seated) – 40 (standing)
photo courtesy of House of Blues Houston
We love the energetic vibe and delicious Southern-style cooking at the House of Blues Houston. The Elwood room's bright boho-inspired murals and panoramic wall of windows make for a spectacular one-of-a-kind backdrop.
Elwood Room Capacity: 30 (seated) – 40 (standing)
photo courtesy of Instagram
Tiny Boxwood's private Ivy Room is filled with rustic country details like wicker chairs, shiplap walls, and exposed wooden beams. This intimate space feels like an inviting country getaway for a picture-perfect baby shower.
The Ivy Room Capacity: 20 (seated) – 20 (standing)
photo courtesy of 5226 Elm Courtyard
5226 Elm's award-winning architecture takes eye-catching details to the next level. An enchanting lily-pad pond, bulb string lights, and towering palm trees create an impressive atmosphere.
Courtyard Terrace Capacity: 70 (seated) – 70 (standing)
photo courtesy of Fig & Olive
Transform this bright, Mediterranean-style space into the baby shower of your dreams. This trendy restaurant is known for its flavorful Mediterranean bites and delightful ambiance. We love how the White Room's all-white walls offer infinite decorating possibilities.
The White Room Capacity: 40 (seated) – 42 (standing)
photo courtesy of The St. Regis Houston
This five-star hotel will awe your guests with its classic design and luxury services. Choose from various event spaces, like the elegant Conservatory room. It's floor-to-ceiling windows let in plenty of natural light for a sunny, upscale atmosphere.
Ambassador Meeting Room Capacity: 65 (seated) – 80 (standing)
photo courtesy of Ouisie's Table
The quaint atmosphere at this Houston restaurant venue creates the sweetest backdrop for your intimate baby shower. Ousie's serves Southern favorites on a cozy screened-in porch overlooking a lush private garden.
Lucy's Porch Capacity: 95 (seated)
photo courtesy of The Hobby Center of the Performing Arts
The Hobby Center for the Performing Arts
This versatile event space in downtown Houston can easily accommodate various styles and event capacities. With floor-to-ceiling windows, the space offers lots of natural light and endless city views.
Founders Club Capacity: 170 (seated) – 200 (standing)
Baby Shower Venues Houston Outdoor
Oh baby! If you're planning a baby shower in the Houston area, this is your sign to book a venue as soon as possible. Finding the perfect location for any type of celebration is one of the most crucial steps in the event planning process, so you won't want to leave this detail to the last minute.
Don't know where to begin? We've put together a list of unique baby shower venues in Houston that will ensure you celebrate your little bundle of joy in style. With options including cozy restaurants, enchanted gardens, and private art galleries, find your dream venue for a baby shower or sprinkle available for booking below.
READ MORE:
Here are some unique and exciting baby shower venues in Houston:
Sara's Inn, 941 Heights Blvd
You can never go wrong hosting a celebration at a Victorian style mansion. Sara's Inn is a sophisticated party venue that provides a picture perfect setting for a baby shower. Walls of windows, chandeliers, and crown moldings help blend antique design elements with a modern aesthetic.
Spanning almost 1,800 square feet, Sara's Inn can accommodate up to 80 guests in its garden pavilion, rooftop balcony, and parlor room. Work with the dedicated venue staff to make planning a baby shower at this gorgeous mansion as easy as possible.
Ouisie's Table – Lucy's Porch, 3939 San Felipe St.
The warm and welcoming ambience at Ouisie's Table – Lucy's Porch creates a beautiful setting for a baby shower. The sunroom-style space can accommodate up to 95 guests in its 900 square feet that's illuminated with natural lighting. Wooden floors and wicker furniture also add to the rustic and outdoor aesthetic for a very neutral event space.
Guests can enjoy mouth-watering cuisine made by the talented in-house culinary team who can create a wide variety of meals and sweet treats. From hors d'oeuvres to dessert, Ouisie's Table is known for their delicious menu that is made from scratch.
Wooster's Garden, 3315 Milam St
Wooster's Garden is a modern and vibrant cocktail bar that features private rooms for life's special events. This Instagram-worthy location offers a vintage and rustic atmosphere, creating a unique setting for a baby shower. Known for their delicious bites and stylish setting, Wooster's Garden is not your ordinary bar.
The 4,500 square foot space is ideal for larger celebrations with the ability to accommodate up to 150 guests. Natural lighting floods the interior and is furnished with wooden tables, chairs, and inviting greenery throughout the space. Take advantage of the helpful waitstaff, kitchen access, and on-site food services for a buffet-style meal that all guests will enjoy.
The Doshi House – Garden, 3419 Emancipation Ave
Nestled right in the heart of Houston is The Doshi House – Garden. This Texas cafe is known for their amazing vegan cuisine that uses fresh, locally sourced ingredients for a healthy and unique dining experience. The culinary team is passionate about preparing the best plant-based dishes that all guests will be able to enjoy.
The 1,750 square foot garden space can host up to 60 guests and is complete with rustic furniture and floral decor. The contemporary atmosphere offers a rural-meets-urban style that makes a perfect venue with natural beauty to celebrate a baby shower.
The Tasting Room (City Centre) – Chef's Table, 818 Town and Country Blvd Suite 100
For a small and intimate baby shower, The Tasting Room (City Centre) – Chef's Table provides the perfect setting. Invite up to 35 guests to welcome the bundle of joy in this upscale yet laid-back restaurant.
With unique decor, floor-to-ceiling windows, and red velvet curtains, this venue is reminiscent of an old-school theater. Work with on-site food and beverage services, an event manager, and staffing to help your celebration come to life and ensure everything runs smoothly. Choose from a buffet, chef stations, DIY food bars, family style, or plated meal options to help create the perfect baby shower.
McIntyre's Heights, 1230 W 20th St, Houston
McIntyre's Heights is a trendy and versatile venue that can host any type of event, even baby showers. For a casual and laid-back celebration, this space is reminiscent of a traditional sports bar with a modern twist.
The 7,000 square foot venue can accommodate up to 500 guests in its indoor and outdoor areas. Featuring birch textured walls, a sleek marble bar, and porch swings, McIntyre's Heights exudes an industrial-chic vibe that makes a perfect backdrop for a celebration. With high definition TV screens, arcade games, and colorful patio seating, there is something for everyone at this unique party venue.
Off The Wall Gallery, 5015 Westheimer Rd #2208
Enjoy a private art show during an upcoming baby shower at Off The Wall Gallery. This venue boasts an extraordinary collection of art work ranging from the 20th century to contemporary pieces.
With darkwood floors and white walls, this gallery blends together industrial and modern aesthetics for a one of a kind venue. Sculptures, paintings, and drawings line the blank walls to decorate this location, featuring artists including Pablo Picasso, Andy Warhol, and Salvador Dali. Take advantage of the space's flexible floor plan to customize the layout to your liking that can accommodate up to 200 guests.
Ousie's Table – The Bear's Garden, 3939 San Felipe St
Tranquil and charming is the ambience at Ousie's Table – The Bear's Garden. This open-air event space includes picturesque scenery, rustic greenery, and is illuminated by bistro-style string lighting to give it a complete enchanted garden feeling.
Host between 60 and 80 guests in the traditional 1,100 square foot space to celebrate an upcoming baby shower, gender reveal, or sprinkle. Work with Ousie's Table's events coordinator, food, and beverage services to help bring the vision of your event to life. Choose from buffets or a seated dinner that will feature a range of cuisines for guests to enjoy.
Hodge Podge Lodge, 300 Prairie St, Montgomery
This historic venue in Montgomery, TX is a sophisticated estate that brings a level of elegance to any event. Dating back to 1854, Hodge Podge Lodge boasts many original features from the Civil War era that every party guest will appreciate.
The 2,400 square foot venue includes neatly manicured grounds, covered reception space, as well as a spacious lawn that creates a picturesque setting. Invite between 50 and 150 guests in this indoor and outdoor space and enjoy celebrating the little bundle of joy at this elegant venue.
Hummingbird Tea Room & Bakery, 30420 FM2978, Suite 160, The Woodlands
Host a small get together for a baby shower or sprinkle at Hummingbird Tea Room & Bakery in Magnolia, TX. This private room offers a classic ambience with vintage furniture and a colorful floral wall for a whimsical touch.
View all of the bakery's delectable treats through their traditional display case that will have your mouth watering. Invite up to 25 guests for an afternoon of tea, pastries, and other locally-sourced food for a one of a kind tea party experience. Choose from dining family style or plated meals for an intimate baby shower with loved ones.
Bisong Art Gallery, 1305 Sterrett St
Bisong Art Gallery was meant for private and intimate celebrations, especially baby showers. With exposed brick walls, a rotating selection of paintings, and tons of natural lighting, this gallery blends together an urban vibe with an artsy atmosphere.
The 1,200 square foot space can accommodate between 60 and 80 guests in their indoor and outdoor areas that also includes a flexible layout to customize during the planning process. Decorate the space to your liking with the venue's selection of colored linens, flower arrangements, and lighting options so you can design your dream celebration.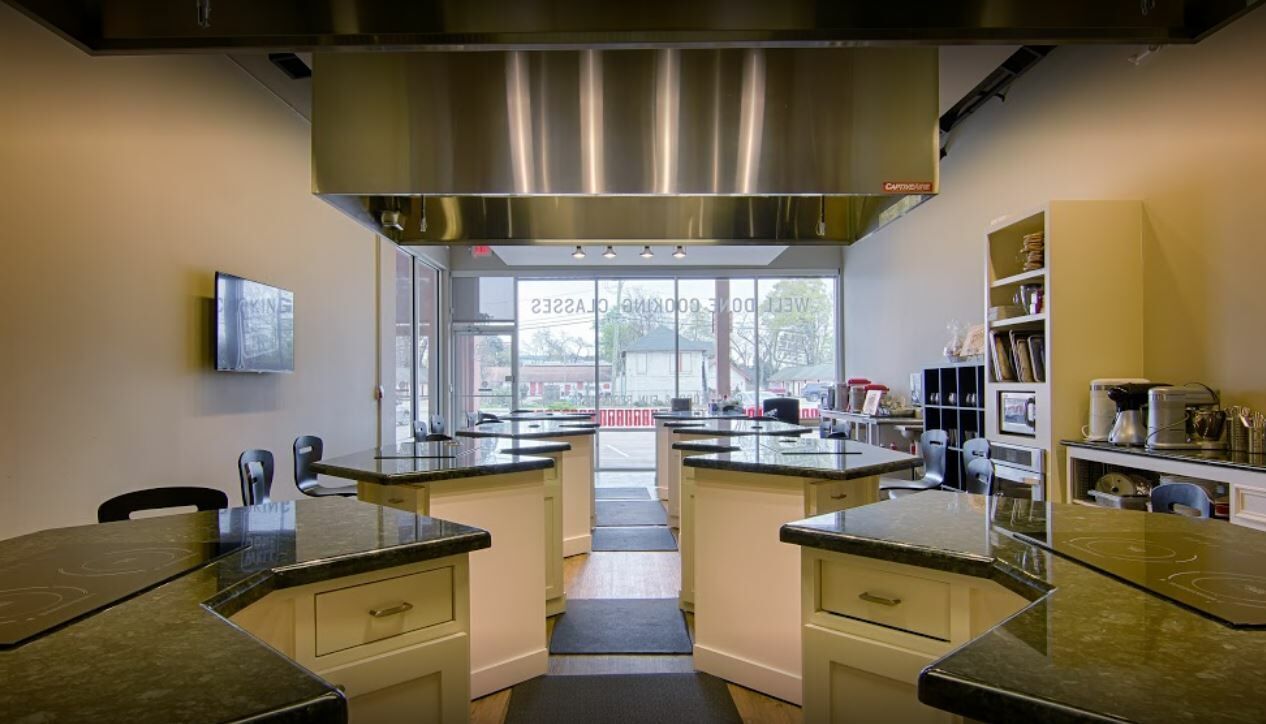 Well Done Cooking Classes, 2811 Airline Dr Suite 5
For the mama-to-be who loves to cook, host an upcoming baby shower at Well Done Cooking Classes in Houston. This unique venue offers interactive cooking classes for any type of private event—including baby showers!
The 1,400 square foot commercial kitchen area can accommodate between 8 and 40 guests for a one of a kind and memorable cooking experience. The professional culinary instructors will take guests through recipes step-by-step ranging from your favorite dinners, desserts, or even teach you how to make homemade baby food!
Asia Society TX Center – Water Garden Terrace, 1370 Southmore Blvd
How magical does the Water Garden Terrace sound to welcome a new bundle of joy? This clean and minimalistic space features light marble floors and large windows to see views of the surrounding grounds. This room is vibrant yet tranquil—perfect for a sophisticated baby shower.
Invite up to 110 guests in this one-of-a-kind space and work with the event manager to help bring the vision of your celebration to life. If you are planning an artsy, elegant or whimsical baby shower, this venue makes the ideal location.